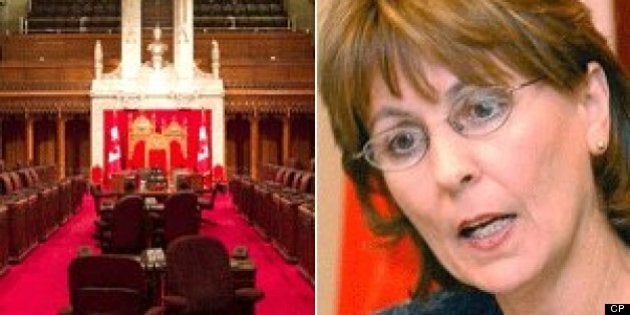 The Conservative chair of a Senate committee that has met just twice in two years wants to know whether she and her-vice chair should really be pocketing thousands in extra money each year.
The committee rarely meets more than once a year — sometimes not at all — but its chair and vice-chair annually collect $11,200 and $5,600 respectively whether it meets or not.
UPDATE: Two days after The Huffington Post Canada reported that two senators were together earning $16,800 a year to chair a committee that rarely meets, the Conservative deputy leader in the Senate Claude Carignan announced he'll bring forward a motion next week stripping the Senate Selection committee's chair and vice-chair of their extra remuneration.
Now, chair Elizabeth Marshall has asked another Senate committee to study whether that practice is appropriate.
On Tuesday, the Standing committee met for the first time in 2013 to strip Senator Mike Duffy of his membership on two committees, Rules and Agriculture. The Selection committee is mandated to meet every parliamentary session to rubber stamp membership decisions on the Senate's various committees. Before Tuesday, it hadn't met since June 9, 2011 when it sat for 15 minutes. It didn't meet in 2012 — although Marshall and her vice-chair, Liberal Senator Jim Munson, still earned extra money.
Marshall already collects a $135,200 salary and receives another $11,200 to serve as the government's whip in the Senate. Munson, her counterpart, receives $6,600 to serve as the Liberal's whip in addition to his $135,200 paycheque. The $11,200 and $5,600 they both earn to chair the Selection committee is on top of their remuneration.
Marshall told HuffPost Wednesday she had a brief meeting with Liberal Senator David Smith, the chair of the Standing Committee on Rules, Procedures and the Rights of Parliament, on Tuesday and asked him whether his committee could study her $11,200 annual top-up.
"I met with the Chair of the Standing Committee on Rules and discussed our conversation of last week. I requested that the Rules Committee look at the rules covering the Select Committee and the compensation attached to it," she told HuffPost in an email.
"It is too early to give you an update but as soon as I know something, I will let you know," she added.
NDP ethics critic Charlie Angus called the extra cash "outrageous."
Gregory Thomas, the federal director of the Canadian Taxpayers Federation, said the payments were "ridiculous" and called on the Senate to end the practice.
"They need to give the money back right away," he said.
The Senate is already grappling with a legitimacy crisis.
In a speech to colleagues, the Government Leader in the upper house Marjory LeBreton said things in the Senate were going to change to bring the institution into the 21st century.
"The this-is-the-way-it-has-always-been-done just doesn't cut it anymore," LeBreton said while explaining a number of changes to the Senate's living and travel expense claims.
"The Senate of Canada, honourable colleagues, is not an old boys' club," she said. "It is a public institution that is meant to serve the public and ought to be accountable to the public. We must act and be seen to be acting in the public interest."
Marshall, a former auditor general in Newfoundland and Labrador, said she was surprised to find out last week from HuffPost that the whips on the House of Commons side are not paid extra money to track committee memberships.
Membership lists in the House are also rubber stamped by another committee, Procedure and House Affairs, that is charged with studying a number of other substantive files.
Smith told HuffPost his committee will look into it but it might take a while. The Rules committee is currently studying the issue of an RCMP witness discouraged from testifying on workplace harassment by the Force.
"I'll have to discuss it with members of our committee but we will review it," Smith said. "We have quite an agenda right now and several other things coming our way because of other controversies that you are aware of so it is not up to me to decide on the order."
Still, Smith said he felt "the other things are a little bit more pressing."
On Wednesday, the NDP launched a new campaigned aimed at Senate abolition.
NDP Leader Thomas Mulcair said his party would "work on" abolition if elected to government.
"Unlike Stephen Harper who talked about abolition before he formed government and went on to name the largest number of senators in Canadian history, we are going to actually do it," Mulcair pledged.
Harper has made 59 Senate appointments since 2006. Fifty-seven Conservative senators have been appointed to the upper house, including two who chose to resign to run in a federal election but lost their bids and were promptly re-appointed. Former Liberal Prime Minister Jean Chretien appointed 75 senators to the red chamber.
"Nobody, given the news of the past months, is in favour of a simple status quo defence of the Senate," Liberal Leader Justin Trudeau told reporters Wednesday. He said his plan, whatever it is, would be revealed in an election platform.
Conservative Senator Bob Runciman told HuffPost he hopes the Supreme Court will pronounce itself very quickly on the question of Senate abolition. Prime Minister Stephen Harper referred his reform plans to the top court earlier this year and also asked about the feasibility of abolition.
Opposition leaders, like Mulcair, are using Senate abolition for their own political purpose knowing full well it's impossible to achieve, Runciman suggested.
"If the court confirms the difficulty (impossibility?) of abolition, opposition leaders and premiers who've advocated that position will be revealed as proponents of status quo," he wrote in an email.