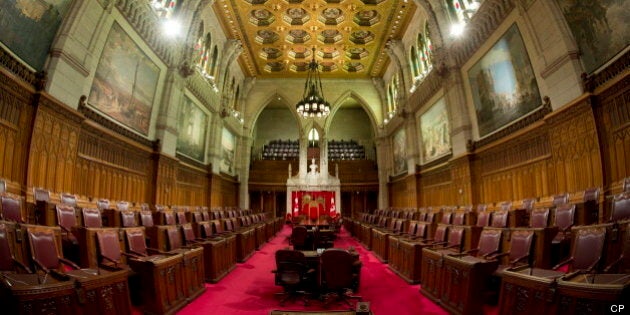 OTTAWA — It could be the most expensive meeting on Parliament Hill.
Two senators are each pocketing several thousand dollars annually to head a committee that meets once a year – and sometimes not at all.
Conservative Senator Elizabeth Marshall, the Tory whip, receives $11,200 annually to serve as the chair of the Senate's selection committee. That is on top of her $135,200 salary and the $11,200 she receives to serve as the Government's whip. Her counterpart, Senator Jim Munson, the Liberals' whip, receives $5,600 to serve as the vice-chair of the selection committee in addition to his $135,200 paycheque and the $6,600 he receives as whip.
The Senate selection committee last met – for 15 minutes – on June 9, 2011, right after the federal election. The meeting was to establish membership lists for all the Senate's other committees, although, in actual fact, they simply rubber stamped decisions that the party leaders' offices had already made.
The committee didn't meet at all in 2012. It's first meeting of 2013 is scheduled for Tuesday, a date that didn't appear on the schedule until after HuffPost made inquiries last week about the committee's work.
"For a committee where the chair is making $33,000 a meeting, it's outrageous," NDP ethics critic Charlie Angus told HuffPost.
Gregory Thomas, the federal director of the Canadian Taxpayers Federation, called the practice "unacceptable."
It's "ridiculous" to pay them annually for chairing a committee that doesn't even meet some years, he said. "They need to give the money back right away. And they need to end the practice."
Conservative Senator Don Plett told The Huffington Post Canada he was not aware that Marshall and Munson were collecting extra pay to preside over the selection committee. Plett said he didn't get any money to serve as deputy chair of the weekly veterans affairs subcommittee.
"I think I should definitely get extra money," he said half-jokingly.
There are a lot of rules that need to be changed in the Senate, Plett added.
Should chairs that do a lot of extra work be compensated? "I think they should, if they do a lot of extra work...There should be some overall reforms," he said.
Marshall told HuffPost that "things can change" but that, right now, this is the way the Selection committee works.
"It's in the rules of the Senate, and the salary is in the legislation, I can only tell you what I do," she said.
Marshall said she views her role as committee chair as being one that ensures Conservative senators show up to the committees to which they are assigned, and she views her role as whip as being one that ensures that Tory senators are present in the upper chamber when they have to be.
Munson told HuffPost the same thing.
"Each side has a shared responsibility for the membership selection of committees, the daily management of the committees and their effective functioning. There are procedures in place where I can fill the committees on a daily or weekly basis. Memberships often changes. Because the work of the committees is of such value, I continuously monitor their work," Munson wrote in an email.
Munson said his primary function as whip is "managing caucus for Senate sittings, votes, question period, helping prepare opposition policy, and office accommodation."
On the House of Commons' side, both functions are performed by the party whips. There is no selection committee. Instead, membership on Commons committees is voted upon and changed when required at the procedure and House affairs committee – which meets twice a week, has a relatively busy workload and which also studies legislation. Party whips monitor the attendance of their MPs in the House and in committees.
Angus said the selection committee is a further example of the Senate's being "an old boys' club filled with partisan hacks who devise elaborate ways of spending taxpayers money on themselves."
"What's even more outrageous is Canadians have no ability to find out what they are up to, to hold them to account or even to fire them for this type of abuse," he said. "When you have a system that doesn't have any accountability, this is the type of abuse that becomes normal."
Before the federal election was called in March, 2011, the Senate selection's previous meeting had been on March 4, 2010. It met that time for 21 minutes. Now retired Conservative senator Consiglio Di Nino was then chair. Munson was still vice-chair. In 2009, the standing seletion committee met three times – for one minute on Sept. 30, for 20 minutes on Feb. 10 and for four minutes on Feb. 3. It did not meet in 2008.