SEPT-ÎLES, Que. – The Quebec government is expected to make a decision any day now on the development of Canada's largest open-pit mine near an inhabited area.
Environment Minister David Heurtel is trying to balance a difficult economic situation in Quebec's North Shore with serious environmental concerns. If it is approved, the Arnaud mining project will extract apatite, phosphate minerals used for fertilizers, roughly six kilometers as the crow flies from downtown Sept-Îles.
The Bureau d'audiences publiques sur l'environnement (BAPE), an independent agency that reports to the Ministry, said in a report last year that the project was "unacceptable" in its present form. The risk of water contamination and landslides are simply too high, said BAPE, an advisory body that has no decision-making power.
Sept-Îles is located in Quebec's northeastern territories, approximately 600 kilometers from Quebec City. Its economy is heavily dependent on mining by large, multinational companies, but it has taken a severe blow with recent layoffs at Cliffs Natural Resources.
According to its supporters, the Arnaud mine would create jobs and diversify the local economy. But opponents say having an open-pit mine within city limits is too risky. Sept-Îles currently has just one source of drinking water and no alternatives in case of contamination. The possibility of landslides damaging nearby power lines could seriously compromise Hydro-Québec's electricity supply for the rest of the province.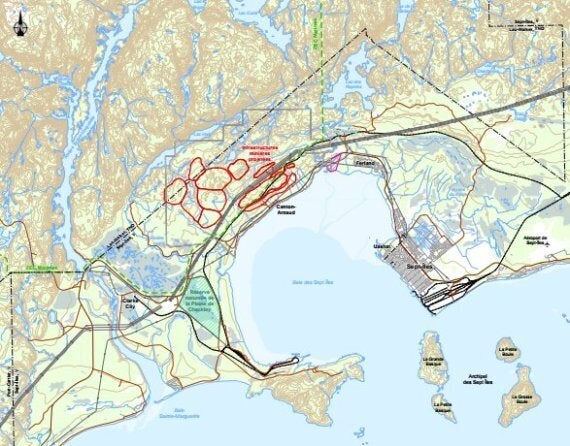 A Genivar map of Mine Arnaud's and the municipal boundaries nearby. Source: Genivar Inc.
Investissement Québec (IQ) and Yara International ASA, a Norwegian fertilizer multinational, are the shareholders in Mine Arnaud Inc. If the project is approved, the phosphate rock will travel from Sept-Îles to Norway to be transformed into fertilizer. The mine is expected to be in operation for 23 to 30 years.
Several people interviewed by Le Huffington Post Québec expressed concern over past and present corruption accusations against Yara, as well as the financial risk involved for IQ.
Yara was found guilty in January, 2014, of corruption in Libya, India and Russia, and sentenced to pay 295 million kroner ($48.5 million US) in damages, something unheard of in Norway's corporate history. Four high-ranking officials within the company were also indicted for their involvement and are currently on trial.
Investissement Québec spokesperson Chantal Corbeil doesn't believe the recent indictments for corruption are a cause for concern. She says the multinational acted quickly when it discovered irregularities.
Needless to say, locals are divided about the Arnaud project and have been publicly going head to head with each other over the past year.
Sept-Îles Mayor Réjean Porlier was elected on the promise of a referendum on this issue, which was subsequently rejected by his council members, who were all in favor of the apatite open-pit mine.
Porlier has not taken a stance on the project. He believes citizens should have the right to decide, as they will be living with the mine's daily consequences.
But with no actual referendum on the agenda, Porlier is left to deal with angry citizens alternately complaining about an economy in decline or about the project's environmental risks.
This "dialogue of the deaf" will only be resolved when the government makes a formal decision about the mine.
Le Huffington Post Québec met with people on both sides of the debate to understand the origins of this rift.
FOR: A "breath of fresh air" for the workers
Dominic Lemieux, coordinator of the Syndicat des Métallos, the metalworkers union in eastern Quebec, believes the Arnaud mine will diversify and jump-start the local economy. Supporters estimate 300 people will be hired.
"If the price of iron drops any lower, and companies begin to rationalize, it will be terrible. We won't be able to compensate for the loss with a tourism economy," he stated.
In an open letter he co-signed and published in Le Soleil last October, Dominic Lemieux called on the government not to let Sept-Îles die if it's serious about reviving Quebec's Plan Nord.
In fact, recent layoffs at Cliffs Natural Resources, both at the pellet factory in Sept-Îles and at the mine at Lake Bloom, in Fermont, hurt households in the region as 600 jobs disappeared. For the metalworkers, the Arnaud mine is a dream solution, as it will create wealth and attract local investment. A referendum in Sept-Îles would only spoil things, Lemieux says.
"We'll have a good society when there are more jobs; there will be less poverty, everyone will pay their taxes and everyone will be happy," concludes the coordinator.
AGAINST: A project that's too environmentally risky
Francine Vigneault, a Sept-Îles native, is taking charge to stop the spectre of a mining project taking place within city limits.
The creator of a Facebook page opposing the Arnaud mine, Vigneault is worried about the environmental risks associated with an open-pit operation so close to the city and Sept- Îles bay. She believes it is "unimaginable" that there would be no accidents, which could jeopardize route 138 – the only road that leads to the city – and cut off residents from the rest of Quebec.
Not to mention the possibility of landslides near Hydro-Québec power lines, which could lead to widespread blackouts in Quebec, as reported by Le Devoir, a problem which goes far beyond this North Shore city.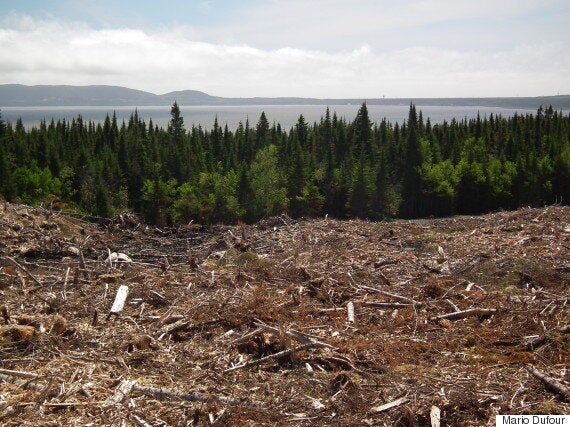 A view of Mine Arnaud. Photo by Mario Dufour.
Vigneault goes back to the report: "BAPE said it wasn't acceptable. That doesn't mean there are a few details that need correcting, it means you have to change everything. It doesn't mean you change jewelry, you have to get a whole new dress!"
In her view, a referendum would make known the opinion of residents who often have to remain silent in order not to harm their employer or clients. "With the problems and disputes we have in town, you can't always say yes or no. In a voting booth, there's no one else around," she says.
FOR: Helping businesses in Sept-Îles
When Le Huffington Post Québec visited the area last November, "Go Mine Arnaud" signs had just been planted in front of both businesses and homes. Financed by the Sept-Îles Chamber of Commerce (CCSI) and supported by Sept-Îles' economic development center (DÉSI), it is meant to be a way for citizens to show their support for the project.
Entrepreneurs have an otherwise pessimistic outlook. "At the present time, we don't have anything on the table other than the Arnaud mine in the short term," says Russell Tremblay, spokesperson for DÉSI.
He believes as well that the jobs lost due to the Cliffs layoffs will be offset by hiring at Arnaud, in addition to revitalizing the city's economy.
He is adamant that DÉSI is not making any financial contributions to the "Go Mine Arnaud" campaign.
"But if we were, it would be in line with our mandate," Tremblay suggests. "An economic development organization actually doing economic development, good grief, what a crime!"
AGAINST: A "hole" in the city
In an out-of-the-way corner of a local restaurant, architectural technician Mario Dufour opens his briefcase. With photos, diagrams and charts as supporting documents, he has worked for the last four years to show what impact the Arnaud mining project will have on the landscape in Sept-Îles.
A 40-foot screening mound will be erected to hide the open pit of the mine, which will change the view of the Uashat Innu reserve, within city limits.
For Dufour, this addition to the landscape is simply unacceptable. "We will inherit one of the ugliest panoramic views in Quebec," he says.
"It's as if we were to make a hole right in the middle of Mount Royal, in Montreal. You would protest. It's the same thing here."
Referendum or not, he plans to leave Sept-Îles if Mine Arnaud is authorized by the Couillard government. "I will never accept this project. It's identity theft, and they [Investissement Québec and Yara International] are taking it from us. If that happens, I'm packing my bags and leaving."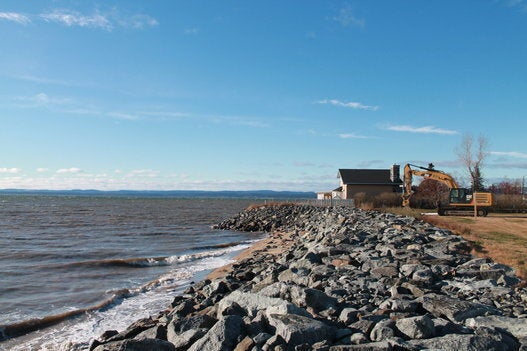 HuffPost Quebec in Sept-Iles