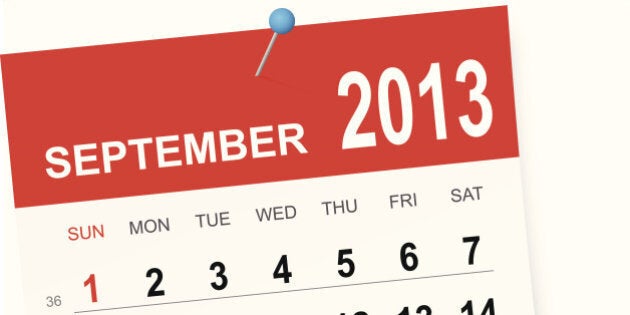 It's the middle of August and we still have some time left in the summer...but... September is lurking around the corner. Do you feel it? Beckoning, taunting and making its presence known.
Is that a good thing or bad thing? I guess it depends on how you feel. As for me -- I'm of two minds: I don't want to see summer end but I do love fall and September does bring lots of new energy, projects and......oh yeah, also a ton of stuff to do (work, home, etc).
This yin-yang feeling feels familiar. Kind of like the feeling that sometimes comes on a Sunday. You know when you are still in weekend mode but you are also very aware of Monday and the busy week ahead. Some days that charges you up and other times it can bog you down.
In the broader calendar view, September represents "back to work/school/busy life." So August is like Sunday. The desire to stay in weekend or summer mode and the pull to get ready for what's next.
Do you feel the same? Perhaps still in summer mode but starting to feel the pull and weight of the "busy season" ahead of us? Maybe like many you are feeling a tinge of anxiety (or even full blown blues) thinking about the busy season that's just around the bend.
6 Tips to Beat the Back to September Blues.
If you are feeling a bit of the "back to September" angst, I've got a few tips to help you maximize what's left of your summer AND get positively charged up and ready for "the busy season" (September!).
1) Maximize and Savour the Now:
As you look ahead and get ready for September, make sure you focus on and enjoy all there is in the now. Summer is still here. The days are still long. The air warm and....well, you get the point. There's lots still to enjoy in summer so make the most of it while it's here. Try to really tune in and savour all the summer pleasures -- big and small.
For myself it's all about the small stuff this summer. This wasn't a summer with big holidays or tonnes of time off so I am really focusing on savouring the little stuff like the "fruits of the season" -- literally! Those cherries (yum!), seasonal corn (more yum!), a bike ride in the warm evening air, bbqs with friends, family, and more.
2) Bring Some "Summer" Forward to the "Off Season":
Many years ago I coached someone who was feeling the sadness and sense of loss associated with closing down the cottage at the end of summer. I asked her how she could bring some "cottage-like" experience forward into the rest of the year. This idea energized her and she thought of several strategies for "cottage-like" living back in the city.
Likewise, I tried this out too one particular year after enjoying a cottage vacation. I decided to make at least one weekend a month a "cottage-themed" break from the regular routine. For me this meant I would not wear a watch or be on any particular schedule for a full weekend; I might even skip the gym and just laze around reading till I felt like "moving"; and I'd only read what I felt like (no "should" reading), I'd cook -- fun stuff and only if I felt like it; I'd take my time on my run or walk in the beautiful ravine that has some very "cottage-like" foliage and landscape -- and not worry about other errands or tasks I had to get to that day; and a bunch of other things that felt like "cottage-time" to me.
Summer is so short so get creative and come up with ways to bring the joys you get from your summer time into your life in the "off" seasons. Of course, there are a whole bunch of joys to be had in the fall and winter seasons too - but we'll leave that for another post. Right now we are doing the 'summer thing'.
Anxiety or back to work blues can highjack your summer mojo at any moment. Avoid the stress triggers by taking some time to get organized -- or at least to do something to feel more organized and prepared. Having the to-do's in your head can create a feeling of disorder and chaos and trigger a 'yikes' attack. Get the burden out of your head and write it down. Make your lists, your plans and choose the date when you will be in action getting your 'stuff' done. Having a plan is sometimes as simple as that. As laid out in my book, Ease, our brains love when we get organized. You will experience more calm, peace of mind, clearer thinking. Free up your brain and mind to enjoy the moment you are in. This is about being mindful - not mind full!
If August is like Monday, then September is like January (oh boy...are you still with me!!??). Seriously - like the New Year, September is a perfect time to refresh your goals and have something to look forward to. Goals can energize us, recharge our mojo and give us a sense of purpose. Think about personal and professional goals and they need not be big goals. Tiny ones work too. In fact, check out my article on Tiny Goals here and see if you can include a few tiny ones in the mix -- and experience big shifts in your energy and mojo.
It's easy to be off our schedules in the summer but as September approaches you will need to have your brain at its greatest performing capacity. That means get your zzzzz's. The average adult needs an average of 7-9 quality hours of sleep. So make sure you get to sleep and do what you can to stay asleep. I know it's not as easy at it sounds for many people. I dedicate one of the 'tool's in my book, Ease. I will also be talking about it in my upcoming Ease Talk teleclasses (complimentary!) which leads me to the next point.
6) Go "back to school" and sign up for a class:
Learning something new whether it's related to a personal interest or something for your work can be very energizing and fun too -- especially if you are meeting other like-minded people with similar interests. Spark your interest and sign up for a class that you will enjoy in this "back-to-school" season.
Here's to enjoying the rest of your summer and getting charged up for fall -- with Ease!
Eileen Chadnick is a work-life and career coach and principal of Big Cheese Coaching in Toronto and author of a new book, Ease: Manage Overwhelm in Times of "Crazy Busy". Follow her at facebook.com/bigcheesecoaching