Could it be that spring is finally arriving?
For many people, the arrival of spring means getting outside of the house and moving more. It may also mean transitioning from heavier comfort foods, to lighter, energy giving options.
That doesn't mean you need to give up cookies! Well, not all cookies at least. The recipe I will share here is rich in calcium, and doesn't contain any dairy at all. It gets its calcium from the lowly sesame seed, a nutritional powerhouse!
Sesame seeds, by the gram, contain nearly 10x the calcium that cow's milk does. Sesame is a primary source of phytonutrients such as omega-6 fatty acids, flavonoid phenolic anti-oxidants, vitamins, and dietary fiber with health promoting properties.
Not only are sesame seeds an excellent source of calcium, copper and a very good source of manganese, but they are also a good source of magnesium, iron, phosphorus, vitamin B1, zinc, molybdenum, selenium, and dietary fibre.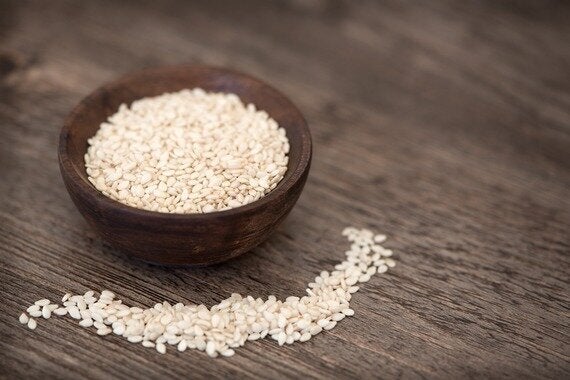 The only challenge, for many people, is figuring out how to add them to their diets.
I developed this protein and calcium rich cookie for that reason. It's such a delicious cookie; the sweet maple is enhanced by the spice of cinnamon, bringing out the undertones of the nutty tasting sesame seeds. And then, a surprise -- a gooey apple butter middle!
You will love these gluten-free, dairy-free, egg-free vegan energy cookies. Every bite has wholesome goodness baked in. Filled with nutrients that are good for your bones (they're high in calcium), heart and immune system, you won't be able to stop at just one cookie!
Calcium-Rich Energy Cookies
2 cups whole grain brown rice flour
1 cup ground almonds
1/2 cup ground pecans
1 cup sesame seeds
1 teaspoon sea salt
2 teaspoons cinnamon
1 tablespoon vanilla
1/2 cup tahini (ground sesame paste)
1/2 cup pure maple syrup
Apple Butter
1. Add dry ingredients to a large bowl and mix well.
2. Add tahini and maple syrup and mix well.
3. Massage cookie mixture with hands to release oils of ground nuts until mixture sticks together to form a ball. Add a splash of water if too dry.
4. Spoon cookie mixture into 1 inch balls on non-stick cookie pan.
5. Flatten balls with fork and form "thumbprint" in middle of cookie and fill with a dollop of apple butter.
6. Bake at 350 degrees F for 10-12 minutes or until golden.
If you'd prefer to enjoy sesame in a more savoury context, try out my recipe for Lime & Sea Salt Avocado Hummus.
Avocados and chickpeas are two more foods that should be on everyone's regular food rotation.
Lime & Sea Salt Avocado Hummus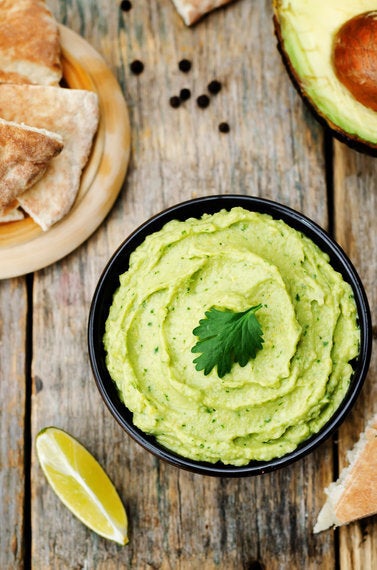 1 (15 oz.) can chick peas, well drained
2 medium ripe avocados, cored and peeled
3 Tbsp. each of olive oil, fresh lime juice and tahini
½ tsp. lime zest (take a lime and grate the peel on a cheese grater)
2 cloves garlic, peeled and crushed
½ tsp. each of sea salt, cumin, cayenne pepper and freshly ground black pepper
1. Pulse chickpeas, avocados, olive oil, tahini, lime juice, lime zest, garlic and all spices in a food processor until smooth.
2. Serve with fresh veggies or gluten free crackers.
Want to learn more about living SMART? Learn to see food not as the enemy in your health journey, but as a friend, with Kathy Smart's five-week Live the Smart Way Program.
Follow HuffPost Canada Blogs on Facebook