Seth Meyers can't believe U.S. President Donald Trump has been trying to pick a fight with Canada.
"Everyone thinks of Canada as being wonderful," Trump said.
"And so do I, I love Canada. But they've outsmarted our politicians for many years."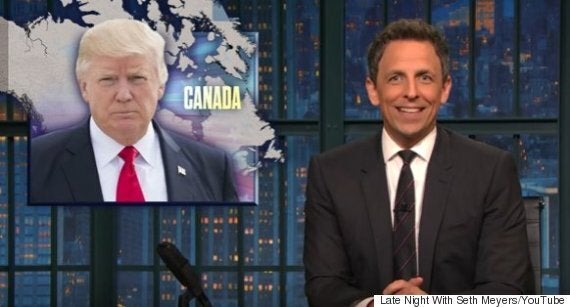 But Meyers mocked the U.S. president for saying The Great White North had been "rough" on its southern neighbour.
"Canada's been rough on us?" Meyers asked.
"Come on. The worst thing Canada's ever done is try to pass off ham as bacon."
Meyers continued, pointing out that the worst thing the U.S. ever did to Canada happened last year, when American NHL teams edged out all of their Canadian rivals to make the Stanley Cup playoffs (ignoring the fact that many of the teams' best players are Canadian, but we digress).
"It's like all the jokes we made before the election are starting to come true: 'Oh, if we elect Trump, we're going to end up fighting with Canada,'" he quipped.
Watch the entire "Late Night With Seth Meyers" segment in the video above.