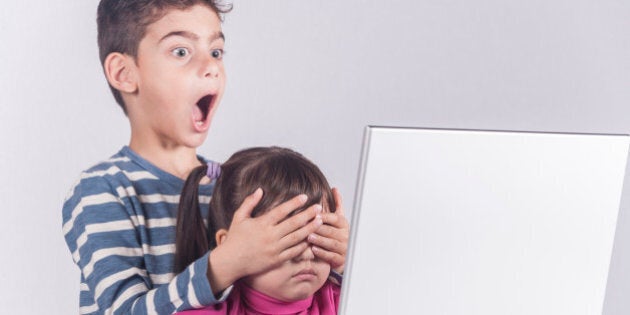 As technology advances, the cyber-driven world is taking over many aspects of life online. It is more important now than ever before to have a discussion about online safety for kids with your entire family. Making a family approach to such a topic will help everyone feel as if you are treating them equally.
Discussing the Dangers of the Internet
Before you start putting locks and limits on your family's internet use, have an honest discussion with them. This is something everyone needs to be aware of to protect themselves online and off with the possibility of cyber identity theft.
Make sure you have plenty of time to have the discussion. Do not have it on a night where the family schedule is packed.
Give everyone a chance to talk.
Discuss the limits and rules of using the internet for fun.
Speak with older children about their schooling needs for the net. Set their limits accordingly.
Make sure everyone understands the dangers of talking online as well as sharing personal information.
Set Boundaries for Everyone in the House
After discussing the dangers of the internet, talk about limiting everyone in the home. Yes, you parents need to follow the same guidelines so that your children do not see them as unfair.
Set a specific time limit on internet usage for fun. This will help ward off potential internet addiction.
Adjust the time limit for homework or work activities only. Make sure the user gets off the computer at the completion of the assignment for a while.
Limit the number and type of social media accounts. Keep an active eye on your children's online habits by friending them online. This will also help prevent things like cyberbullying.
Introduce gaming options that have educational benefits. Do not allow them to make in-game purchases.
Use Provided Tools to Protect Young Children
As part of setting internet limits, if you have young children in the home use the tools provided to guide their usage. Many browsers have parental settings that you can adjust for the age of your children.
Note, some of these settings may interfere with your older children finishing assignments, so be mindful of their work.
Cyberbullying is NOT Okay
One of the biggest problems in a cyber-driven society is cyberbullying. Thanks to the internet, the school yard bully can now cause terror away from school. As parents, you should keep a watchful eye on your children's body language when they are online and when they are off. If something seems out of the norm, talk to them.
Have an open door policy so your child knows they can talk to you about a bully.
Document the event and keep a log to see if this is a one-time event or a constant occurrence.
Make sure you understand your child's school policy on cyberbullying.
Healthy Alternatives to the Internet
Bored minds want more internet time. Prevent this from occurring by introducing some healthy alternatives to the internet.
Family bike rides or walks. This is a great way to get everyone offline and back outdoors. Take family bike rides or walks around the neighborhood for quality bonding time and good low impact exercise. You can create scavenger hunts or other activities along the way so nobody gets bored.
Getting in the car and exploring the area. Get out and explore. No matter the season, there is always something to do indoors or out. Find something new about your hometown or discover a location that has always been on the must visit list.
Read to and with children. Reading is a great way to engage their minds in creative thinking. If your children need a little incentive, try setting a certain amount of books and a reward. For instance, if they read 20 books in a given time frame, you will take them to their favorite restaurant.
Gaming is not just an online option. Board games are an amazing way to bond with kids and create funny, lifelong memories. Introduce the new generation to some of your favorites or have them pick a new one to try.
The internet is here to stay whether parents wish it was gone or not. Set up a strategy for online safety that works for your children and family. Add in some flexibility so the strategy grows with younger family members. You need to be as aware of your children's lives online as they do offline.
Follow HuffPost Canada Blogs on Facebook