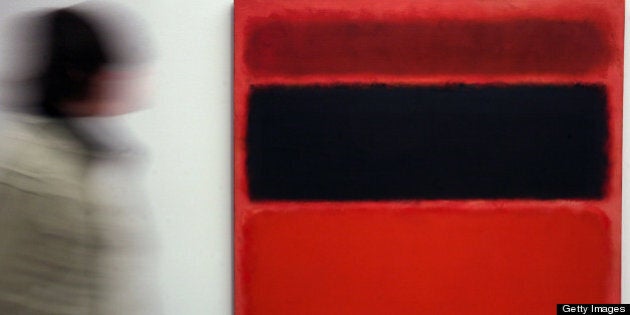 Oh, Canada. Yes, we all felt the nationalistic pride this past week as we celebrated our nations' 146th birthday. And what a better time to turn the spotlight on some "arts maven" Canadians that you may not know, but should.
Who better to share their thoughts then some make it happen folks who are at the pulse of the magic that is going on in our country. The secret nuggets that are just blooming. Here are their picks of what you should know. There were so many great suggestions; this will be a two part column. Part one follows below. Grab a pen.
Arts & entertainment lawyer Paul E. Bain at Dickinson Wright LLP & visual arts visionary shines the light on a Canadian, mid-career sculptor, finally getting his due. Time for an art crawl? David Armstrong Six (DA6) new works are currently (and until August 11) on display at The Museum of Canadian Contemporary Art after a previous run in Berlin. MoCCA is pairing Armstrong Six's work with sculptures by Louise Bourgeois, on loan from the National Gallery of Canada. According to Bain, DA6 more than holds his own with one of the giants of 20th century art equating it to local band playing a set on stage with the Rolling Stones. Seems like it's worth the trip.
Buy Canadian did you say? Allison Freeman, Director, Marketing - TIFF is all about fashion (which did you know in some circles is not privy to funding as an "arts"- fix this now please). Welcome to Vocado a great boutique in Toronto's Liberty Village (featuring mostly Canadian designers), who is also launching an online store this year. Undies anyone? Freeman tells us that KnixWear, a multi-tasking underwear line, just raised $60K through Indiegogo, and secured Hudson's Bay as a retail partner - which was the first time in history a major retailer placed an order through a crowdfunding site. Freeman looks the part so let's take her word for it and be "red carpet ready" all the time.
Oh to find one that inspires us. Well, Andrew Weir, VP, Communications, Tourism Toronto has been wowed by photographer Eamon MacMahon these days. Weir tells us that MacMachon remains committed to showing his work here and recently had much talked about exhibitions at Contact Photography Festival, Magenta Flash Forward Festival and an outdoor installation at Harbourfront Centre. He was also one of the first artists to make his work available through the innovative Toronto-based site Eye Buy Art. Have you checked this out? Do. Weir feels MacMahon is part of a next wave of Toronto artists who help keep the city in the top echelon of photography centres. We are converted. Check this out now.
Did you say the arts makes us see the world differently? Jeanhy Shim- President, Housing Lab Toronto and make it happen real estate maven has currently been inspired by some great work being done at Woodgreen Community Services around innovation in the "arts space". Shim told us that Woodgreen recently attended a social services convention in France to learn just how they use and leverage the "arts" as a powerful communication and education tool to give their clients a voice while also educating the wider public.
Poetry is back front and centre these days we hear. Che Kothari, "Mr. Arts Movement Maker" of the moment, and also one of the key drivers & founders of the Manifesto Community Projects cannot say enough about poet Mustafa Ahmed . Kothari tells us Ahmed is a street-wise sage hailing from Toronto's Regent Park, of Sudanese background and a poet with genuine lyrical prowess. He started his career at the early age of 12 (he is only 16 now), and in just a few short years he has already collaborated on songs with the likes of The Barenaked Ladies, Nelly Furtado and Broken Social Scene. What's next? Recording his poetry for the first time and experimenting with musicians and beats. Some albums maybe later this year. Making a living creating poetry. We like.
Belt it out. Elio Iannacci, Features and Culture Editor, FASHION magazine is standing up & applauding for MC/singer-songwriter Isis Salam. According to Iannacci, Salam (the past front woman of Thunderheist) is a super nova on stage and (wait for it) her songs can hold their own against any of Kanye's AND she can hit notes just as strongly as Rihanna. High expectations? Salam's next album and tour are both slated to launch this year.
Funny, smart and witty we are as Canadians, right? Brett Hendrie, newly appointed Executive Director of Hot Docs, wants us to watch the films of screenwriter Elan Mastai. And why? A recent rough cut viewing of his recent film The F Word did the trick. Written by Mastai and directed by Michael Dowse (Goon), it stars Daniel Radcliffe (Harry Potter), Zoe Kazan (Ruby Sparks), Adam Driver (HBO's Girls),and Rafe Spall (Life of Pi). Shot in Toronto & Dublin, Hendrie feels its offbeat and refreshingly clever script will make it sure to be one of the best received Canadian films of the year. Setting the bar high, eh? Mastai also wrote The Samaritan which came out last year. The F Word will premiere later this year. Elan is currently writing movies for Alan Ball, Ira Glass, and Will Smith & Jackie Chan. He lives in Toronto for any of you actors out there who want to audition though we were not given his home address.
So, how many of these did you know of? All good. No judgements. But now you do, so check out these very discerningly curated Canadians who are doing great things. It may lead to a new like or favourite of yours. And if so, be a good Canadian and share the love.

What I Would Change About Canada