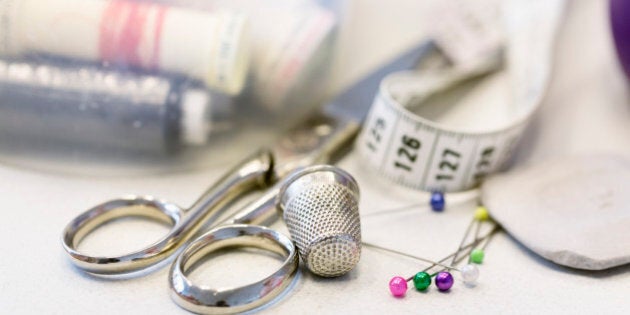 When I was a little girl, one of my favourite toys was an electronic "sewing machine" that stitched yarn through pieces of paper.
The toy let me pretend to be "just like my Mommy", like so many little girls dream of being. My mom was an avid seamstress, and as she sewed clothes and house linens, I made my own paper masterpieces.
When I was a bit older, I tried my hand at a real sewing machine. It didn't go very well, so I left anything beyond a few flicks of a needle and thread to the more patient hands of my mom and younger sister.
Throughout the years, my mother's stitches have been there for many important occasions.
At Christmas there were new pyjamas that magically appeared on our beds, even though we'd never seen Mom working on them. During school plays, many of the actresses would be adorned in my mom's painstaking creations. And the dresses she made for me have played starring roles at formals, birthdays and work events.
This past summer, she lovingly sewed my sister's unconventionally beautiful pink wedding dress. My mom's work has always been an irreplaceable part of our best moments.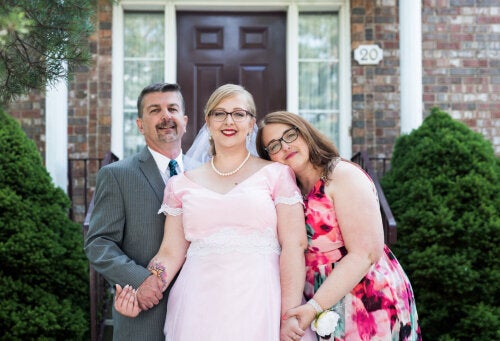 As Mother's Day approaches, I've been thinking about the role my mom has played in my life. So when I stumbled across this photo of a little boy in Northern Armenia with a toy sewing machine, it took me straight back to sitting at the kitchen table with my own model, as my mother carefully pieced together a fabric masterpiece.
Sewing her way out of poverty
Jemma, the little boy's mom, is a seamstress too, and her skill has helped lift her entire family of nine out of poverty. Her husband has been ill for a long time, so she is the only bread-winner.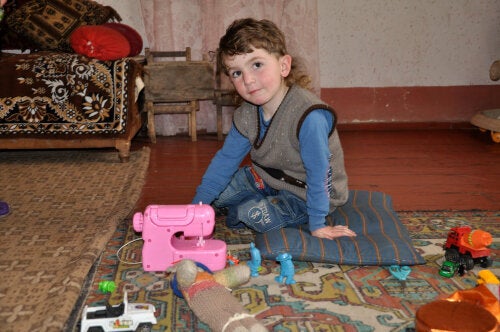 One of Jemma's children plays with their toy sewing machine. (Photo/ Ani Chitemyan)
Jemma described the way her family used to live up until a few months ago. "We used to have only one bed the children were sleeping right on the floor...and we were taking turns to eat."
Work was scarce, and the mother of seven couldn't make ends meet, even with her considerable skills in sewing.
Then, about seven months ago, Jemma received a visit from a World Vision social worker. The worker enrolled the family in a program that provided beds, a table, potato seeds for a kitchen garden, but, most importantly, a sewing machine and fabric.
"Once I used to work in a sewing factory, and when World Vision's social worker asked about my needs, I told her, that if I had a sewing machine and some fabric, I could sew linen and kitchenware to sell it in the village," Jemma told us.
Armed with the tools of her trade, a newly empowered Jemma started a business right there in her home. Sewing house linens, she is able to earn enough to help feed her family.
"My co-villagers either pay me by cash, or barter with food - dairy or meat. I have already started buying fabric with my own earned money. I have regular clients," Jemma shared.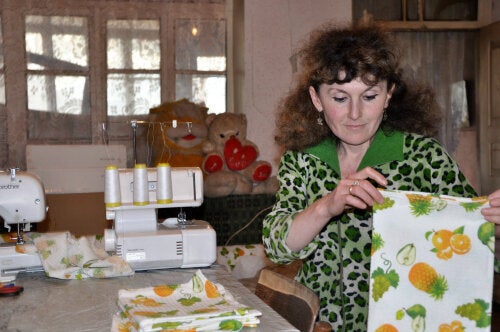 Jemma with some of the household items she sews with her new supplies. (Photo/Ani Chitemyan)
The courage and resourcefulness of Jemma and other moms like her can't help but remind me of my own mother. I never doubted growing up that I was loved, not only because my parents told me, but because Mom showed her care for me in every stitch she sewed. I may not be able to sew like Mom, but I still dream of being just like her by actively loving people in practical ways.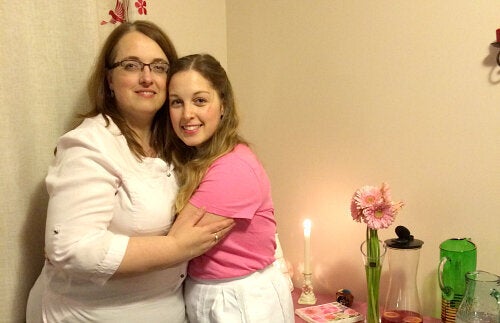 My mom and I. (Photo/Radford family)
This Mother's Day, I'm planning on wearing one of my mother's creations for another important event: meeting my mother-in-law for the first time. I hope to wear the butterfly print dress my mom made as my husband's mother and I get to know each other.
For me, that's what my mom has really been sewing all these years: Memories.
Follow HuffPost Canada Blogs on Facebook