Sex-ed has become a hot political topic across the country.
At the same time as tens of thousands of Ontario school students staged walkouts to protest the return of an outrageously outdated health curriculum, social conservatives in British Columbia are banding together to run municipal election platforms against LGBTQ curriculum content.
For many parents, voters and politicians, sex-ed is understood as part of the health and wellbeing of young people. At the same time, we're seeing a rise in the exploitation of people's fears with misinformation to win political points.
What young people stand to lose in this fight is clear: health, safety and wellbeing. Sex-ed, when done well, saves lives. Comprehensive and inclusive sex-ed leads to declining STI and unintended pregnancy rates, the prevention of gender-based violence, and increased school safety for LGBTQ students. When sex-ed uses an explicit human rights-based approach, it even increases open dialogue with parents about sex and relationships.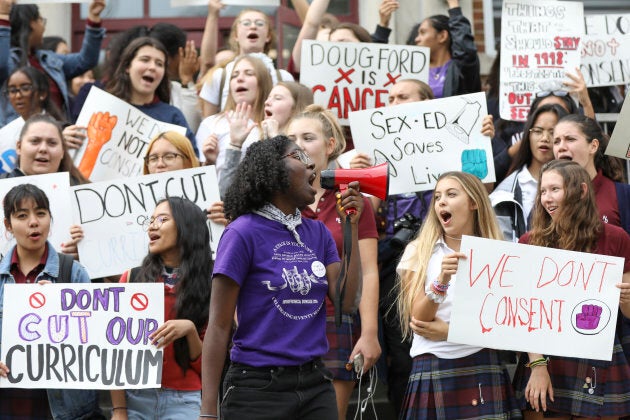 Those very facts should be enough to end the debate. Yet despite the research and overwhelming parental support for sex-ed in schools, a small but vocal minority who want it abolished are being rewarded by a disproportionate amount of media attention and political success.
The backlash to a resource that was developed in collaboration with the B.C. Ministry of Education to create safer learning environments for LGBTQ students is disturbingly similar to what transpired in Ontario.
Rallies are being held in front of the provincial legislature, rampant misinformation about the content of the toolkit and lesson plans is spreading, and political platforms are being built to roll-back the resource in schools where it's currently being used and to ban it from schools where it isn't.
The lobbying success of these groups in B.C., like Ontario, is a symptom of the growing political influence of a once-fringe brand of social conservatism. Conservatives are being told that their worldview is under attack and that the classroom is an appropriate venue to wage war against the human rights of women, girls and LGBTQ youth.
A genuine fight for human rights and freedoms is never won at the expense of others.
The morality showdown is cleverly cloaked in language appropriated from a human rights lexicon. Parental rights are pitted against the health and rights of young people, as if it's a zero-sum game. Freedom of parental expression is invoked to curtail freedom of gender expression. Freedom of religion is used to undermine support for sexual minorities and the notion that a robust health education will benefit all of our children.
Misinformation about what is being taught is being used to gain political support under the guise of protecting children.
In the end it comes down to this: human rights are interconnected and equal, they extend only insofar as they don't harm another person. A genuine fight for human rights and freedoms is never won at the expense of others.
Freedom of expression, for example, cannot override people's right to health, to education and to live free from violence and discrimination; it cannot override the right to sex-ed, which is enshrined in international human rights laws and protected by global experts such as the World Health Organization.
In Ontario, bolstered by the many complaints made by young people and parents, the Ontario Human Rights Commission filed a notice of intervention last week with the Human Rights Tribunal of Ontario to protect the rights of girls and LGBTQ students who will suffer the most from sub-par sex-ed.
In B.C., resistance to backlash has taken the form of a youth-led campaign called "Sex ed is Our Right."
Every one of us is entitled to receive relevant, accurate education and health information throughout our lives, and no government has the authority to deny it to an entire generation.
Resistance matters and your voice counts. If you believe in every person's right to live a safe, healthy life that is free from violence, make yourself heard. Young people need you.
Have you been affected personally by this or another issue? Share your story on HuffPost Canada blogs. We feature the best of Canadian opinion and perspectives. Find out how to contribute here.