Most adolescents, it seems, go through some sort of teenage rebellion. For some, rebellion means wild hair and piercings. For others, it's tattoos and skipping classes, or (for the early habit-forming types), it's drinking and smoking. From there, things get progressively darker -- drugs, sex, running away, or worse -- being taken.
For Ed Smith, every parent's worst nightmare has been his family's reality for the past two decades.
Ed's daughter, Cheri, was a typical pre-teen in a supportive Christian home. Maybe even above average. She was involved in church and was a leader in her youth group. She was a peer leader at school, and sang in the city junior choir. With loving siblings and caring parents, she was part of an "ideal" middle-class Canadian family.
But everything changed in the ninth grade.
Halfway through her first year of high school, Cherie's behaviour changed drastically. Her clothing changed, and she became defiantly disrespectful. Her parents took her to a counsellor, whose advice was to "just love her and she'll get through it." Many years later, her parents would learn that she had been sexually assaulted by a peer in her youth group.
At age 17, Cheri attended the summer fair in Regina, where she met a blonde-haired, blue-eyed, 18-year-old-boy.
"She came home and declared that she was in love," says Smith. "Within weeks, she packed her bags. She told us that her boyfriend was going to be coming into some money soon, and then she was gone. We had no legal way to keep her at home, and she left us crying on the doorstep."
"As I watched your film, it was so obvious," Smith says. "My daughter was trafficked by the typical 'lover boy' scenario -- a guy poses as a boyfriend, drives a wedge in the family, and takes off with the girl."
The boyfriend, it turned out, was a "popcorn pimp" -- a newly-minted trafficker -- and he reported to a higher-up pimp in Montreal. The pimp's sister, also a working girl, taught Cheri the ropes. "He took her to Edmonton, and turned her out on the streets."
Two weeks went by, and Smith was contacted by the Calgary police -- the pimp had been moving her from city to city, but his daughter had been picked up on an under-age street crawl.
Smith brought his teen home, but her pimp had heavily addicted her to drugs (a common practice with "new girls"), and she tried to turn tricks from the family home. She ran away two weeks later, as soon as her pimp was released from jail.
Cheri worked all winter as a street-walking prostitute on the windy streets of Winnipeg, continuing to support her trafficker. The police sent her back home again and Smith tried to get her into drug rehab, but had no legal ability to keep her there. She started selling sex in Regina, but she never had two dimes to rub together -- between the drug addiction and her pimp, she lived in destitute conditions.
"We used to drive around town, just looking for her. We'd take her out for coffee on cold nights, and she'd tell us that she loved him, that he needed her, and that she'd do whatever he asked."
After a few weeks of not feeling well, Smith convinced his daughter to see a doctor. She was pregnant, and she had an STD. In light of her age and illness, the doctor suggested an abortion, but Cheri insisted on keeping the baby. She was convinced that, when her trafficker's baby was born, he'd let her stop selling sex.
"She continued to turn tricks while pregnant," Smith said. "She was arrested again, but didn't show up in court -- pimps don't exactly want their girls testifying, and will go to great lengths to keep them from the witness box."
The pimp moved her to Victoria along with a couple of other girls, and Cheri's phone calls stopped.
"My wife spent two weeks looking for her. Many of the street-walking girls knew Cheri, but no one knew where she was. One of the girls had even filed a missing persons report, but the police never notified us. Cherri was six months pregnant at the time, so we just waited. And waited and waited. We suspected that she'd get in contact when the baby was born."
A few weeks later, the police arrived at their door. They reported that a man had been horseback riding in Saanich, just north of Victoria, and had come across the remains of a body. Cheri had been beaten to death, along with the baby inside her.
Just two weeks after her 18th birthday, it was all over.
"No one has ever been charged," Smith reports. "The police had a couple leads, but never ever materialized. They're quite certain it was a john."
In the years since Cheri's death, they've told her story over one thousand times. The pain of Cheri's death and the fight to try and stop sex trafficking has taken an emotional and physical toll on their family. "As we started to tell our story, we started getting phone calls from other parents with kids in similar situations," Smith says. "We have a massive trafficking problem in our nation."
Smith has strong thoughts on the decriminalization of prostitution in Canada, an issue currently before the Supreme Court of Canada.
"I'm very much opposed to full legalization," says Smith. "Even within a legal context, prostitution still would have destroyed Cheri's life. I'm part of Freedom Catalyst Regina, and I work with the John Schools here in Regina and in Saskatoon, and I hear prostitution survivor stories on a regular basis. Prostitution has demolished all of them -- their outlook for a normal life is pretty much obliterated, even with the best counsel and support."
So what should Canada, and every other nation, do to combat trafficking and prostitution?
"I'm very much convinced that we need to bring the Nordic Model to Canada -- these girls need support and services, and we definitely need to go after demand. If we criminalized demand, less people will pay for sex. If no one paid for sex, no one would have pimped my daughter. If demand dried up, my daughter would still be alive today."
For Smith, the nightmare can never be undone. But it can be prevented for other families. Like the rest of the abolitionist community, he's on a mission to prevent as much sexual exploitation as possible.
"We need to wake up," Smith says. "We need to end the nightmare."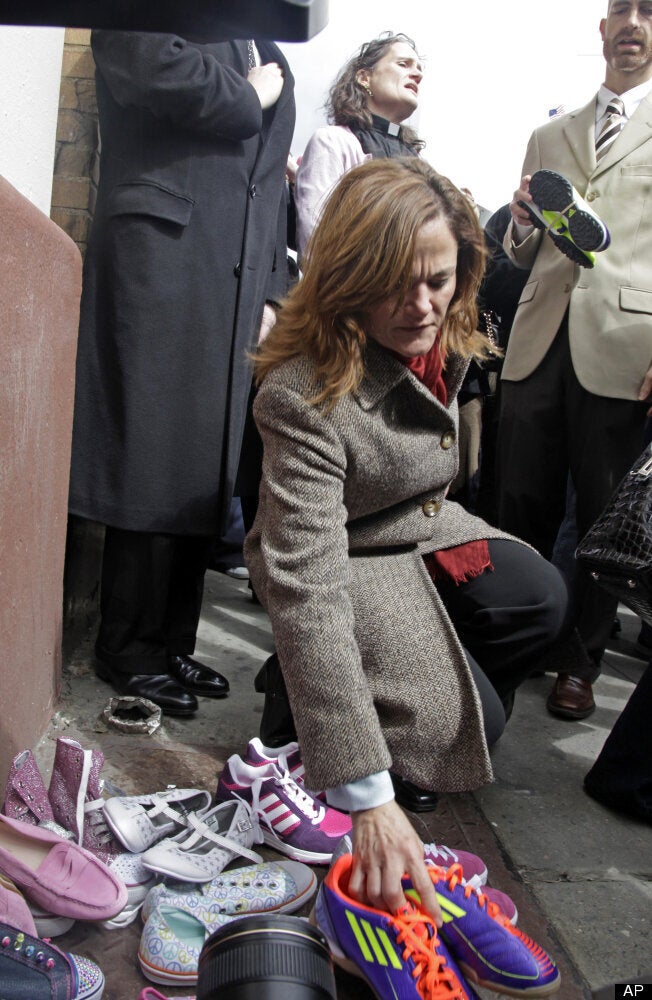 The Faces Of Sex Trafficking