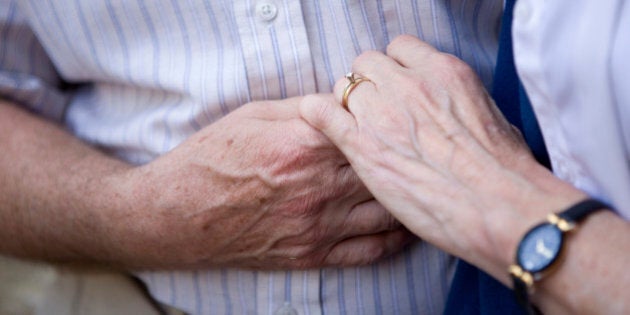 There are plenty of articles about sex and aging. I have written a few myself. For women, the advice seems to boil down to "use lube"; and for men, "consider Viagra." But erectile dysfunction is not inevitable; neither are dryness and vaginal atrophy.
According to this article on testosterone therapy for women ,
Although sexual problems generally increase with aging, distressing sexual problems peak in midlife women (aged 45-64 y) and are lowest in women aged 65 years or older.
Lest one might think distress is lower in this age category because we have given up on sex, some of us who are 65 and older are having regular and satisfying sexual activity with no need for aids of any kind.
Distaste about sex and aging is fuelled by stereotypes.
Granted, older people may be ambivalent about aging and sexuality. Slyly, or perhaps subconsciously, some of us seek compliments by making constant reference to our age. Some struggle mightily to maintain health through diet and exercise; and sexiness through cosmetic surgery, fast cars, high heels and hip replacements. Some (women) work really well with their aging beauty; for others, it's a fight to the death.
Still others cultivate the sexlessness of old age.
Distaste about sex and aging is fuelled by stereotypes. Robin Williams' brilliant bit on Viagra is funny but also disparaging: the comic juxtaposition of sex and age. The "Cat in the Hat on Aging" is not much better.
In his book of poetry, The First Little Bastard to Call me Gramps, CBC broadcaster Bill Richardson bemoans aging in the same vein. Mr. Richardson and his interviewer laughed heartily over "pizza dough" skin and the horror of imagining older people having sex. I was not amused.
Granted, everyone's definition of "having sex" is different. LGBTQ people do not have the monopoly on opening up the language. As long as we have skin and nerve endings, we can delight each other with languorous kisses, caresses, genital and anal play -- and call it what we like.
There may be challenges to some of our sexual activities: physical challenges like disabilities; specific conditions like diabetes, stroke or high blood pressure and changing hormones; there may be pain, limited mobility, incontinence, difficulty with erections/lubrication. There may be societal challenges, like body image, lack of privacy, societal disapproval or expectations.
But there are also some real advantages.
If pregnancy was once an issue, it is no longer.
If you don't conform to the societal version of beauty, neither does your partner.
We've learned to take our time.
By now, we have a pretty good idea of what pleases us.
Over time, we have developed more skills to please others.
We are learning to be more creative.
The newly single can put old routines aside
Many older people have lost their long-term partner to divorce or death. With a bit of courage and a lot of luck, they can seek and find a new partner. A new partner can really get the juices flowing no matter one's age. It's exciting to explore a new body and see the delight in someone's eyes as they explore yours. Moreover, with a new partner, we have a chance to finally get it right, communicating about safer sex, for example; but above all -- communicating about pleasure. While the need for accommodation may require discussion, we can also talk about what's on or off the menu. We can try new out sexual positions, fantasies, role plays -- that we may never have had the courage to mention in a previous relationship. We can see the beauty in each other and feel free to say it out loud. (I don't know what their sex life will be like, but when Downton Abbey's butler, Carson says he finds Mrs. Hughes beautiful, we see it too.) We can savour long sessions of lovemaking in the privacy of our older adult cocoon.
Orgasm is lovely. Multiple orgasm is lovelier. The goal of "getting there" is controversial. The language itself is goal-oriented; viz., "achieving orgasm". I would argue that enjoying the moment -- the long, lovely moment of a sexual session -- is the goal rather than any particular sensation. Watching your partner's pleasure, or keeping your eyes closed to concentrate on those sensations, paying attention to each other's ongoing pleasure, are in themselves a satisfying turn-on.
Like any two people making love, having sex, or whatever they choose to call it, older people seek to give and to take pleasure. Our generation remembers Alex Comfort's original Joy of Sex and we are now quietly (or not so quietly) contributing to the latest edition.
Follow HuffPost Canada Blogs on Facebook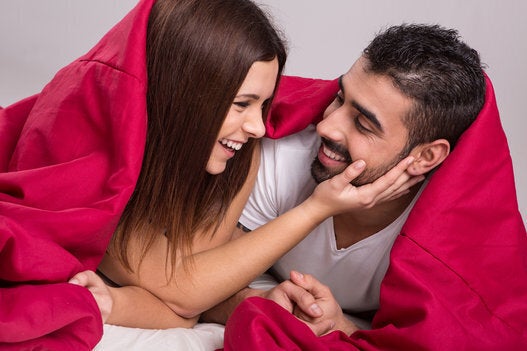 Myths And Facts About Modern Sex