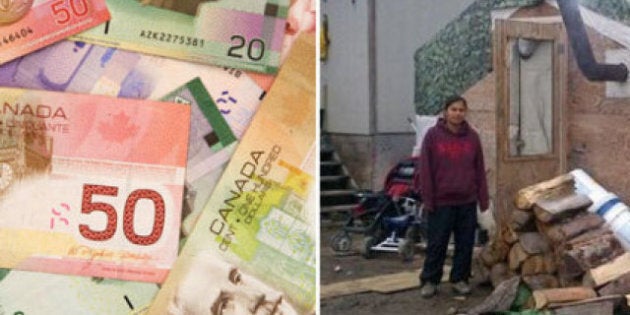 As a shout-out to the 600th birthday of Joan of Arc, CBC's George Strombolopolous compiled a list of the five teen girls who kicked ass in history. It wasn't a comprehensive list by any means (after all, Buffy the Vampire Slayer was thrown in as a cultural nod). But alongside Anne Frank, Joan of Arc, and Mary Shelley, Strombo put Shannen Koostachin in the number one spot.
Never heard of Shannen Koostachin? Then you probably hadn't heard about Attawapiskat until the housing crisis made international headlines. If you talked to your kids, however, they probably could have given you the heads up. In classrooms across this country, the story of Shannen is told. She is seen as the Rosa Parks of this generation. Shannen's fight for a school in Attawapiskat has become the subject of books and documentaries.
What makes Shannen's story all the more remarkable is that she made this mark in such a tragically narrow time frame. She was just 13 years old when she publicly challenged Indian Affairs Minister Chuck Strahl over his decision to cancel a grade school project in Attawapiskat. At 14, she was nominated for the International Children's Peace Prize for her work to end the systemic under-funding of First Nation school children. Little more than a year later, she was dead, killed in a horrific motor vehicle accident in Northern Ontario.
Following her death, the Shannen's Dream campaign was born. It is a national campaign to promote education rights for Aboriginal students.
Hello, my name is Shannen Koostachin and I am from the Attawapiskat First Nation. I would like to talk to you about what it is like to be a child who grows up never seeing a real school. I want to tell you what it is like to never have the chance to feel excited about being educated.
This is how the girl who had never seen a real school introduced herself to an auditorium full of youth leaders and academics that had come to hear her speak at the "Education is a Human Right Forum" in Toronto. Shannen didn't want to be a leader. She just wanted the right to go to a "comfy" school.
It's hard to feel pride when your classrooms are cold, and the mice run over our lunches. It's hard to feel like you could have a chance to grow up to be somebody important when you don't have proper resources like libraries and science labs. You know that kids in other communities have proper schools. So you begin to feel as if you are a child who doesn't count for anything.
Shannen went to school along with 400 other students in makeshift portables set up in the shadow of the abandoned J.R. Nakogee grade school. The school had been operated by the federal government. Under their watch, a diesel line broke under the school, resulting in massive diesel contamination. But the Feds stalled on taking action. The contamination spread until the school grounds were so badly contaminated they were classified as a Class 1 threat to human health.
Indian Affairs insisted the school was safe, despite the fact that children were passing out from the benzene fumes. In 2000, the parents pulled their children from the school and the Band condemned the building.
Eight years later, the children were still playing in this toxic field and waiting for a real school.
Federal officials knew all about the dreadful education conditions in Attawapiskat. The situation had been documented in numerous reports. Three Indian Affairs Ministers (Robert Nault, Andy Scott, Jim Prentice) had promised to build a school. But the reality was, it just wasn't a priority. In reserves across northern Canada, the horror story of condemned schools and under-funded classrooms was the norm.
But this wasn't good enough for Attawapiskat. The community had been working for years to get a proper school built. By 2007, it seemed like the project was a go. Senior bureaucrats had given the green light. Details were being worked out with architects and education experts. But then late 2007, Chuck Strahl took over the Indian Affairs portfolio and the school project was terminated. When the news was broken to the kids in the icy portables, young Shannen and her friends decided to fight back.
They held a demonstration in the snow. It was -40 outside. Nobody outside the community seemed to hear the children's cry for justice. But the Attawapiskat kids decided that they would keep fighting. And so began a simple grassroots campaign to engage other young people in helping them fight for a school. They used YouTube videos to tell the story of their plight.
They asked students to start local letter-writing campaigns of solidarity. Within two months, more than 100 schools were involved. Soon there were tens of thousands letters being written. Many Attawapiskat youth participated in the campaign but Shannen emerged as the voice of the forgotten children:
I would like to talk to you what it is like to be a child who grows up never seeing a real school. I want to tell you what it is like to never have the chance to feel excited about being educated. That's why some of our students begin to give up in grade 4 and grade 5. They just stop going to school. Imagine that. Imagine a child who feels they have no future even at that young age. We want our younger brothers and sisters to go to school thinking that school is a time for hopes and dreams of the future. Every kid deserves this.
Indian Affairs attempted to derail the "Students Helping Students" campaign with a misinformation and spin counter-offensive. Access to information documents reveal that, at one point, officials looked into hiring Hill and Knowlton to spearhead the counter attack.
Like the response to the Attawapiskat housing crisis of 2010, they attempted to drown journalists in seemingly impressive numbers spent on education. But by now they weren't just fighting Shannen and her friends; national education leaders like Catherine Fife (President of the Ontario Public School Boards Association) were wading into the fight.
Shannen had shone a spotlight on the federal government's chronic mismanagement of the educational rights of First Nation children. The Parliamentary Budget Officer undertook a devastating analysis of mismanagement of First Nation education. As one beleaguered bureaucrat noted, "We've been looking into this (the cancellation of the school) and it's not a good story."
And just like the Attawapiskat crisis of 2010, they demanded that bureaucrats "deliver the lines. Stick to them to the letter." By June 2008, Minister Strahl agreed to meet a delegation from the Band. Little did he know that he was in for a showdown with a 13-year-old.
"How do you like my office?" he asked casually at the beginning of the meeting.
Shannen spoke up. "I wish my brothers and sisters had a classroom as nice as this."
Strahl told the delegation that a school wasn't in the cards, that honouring an eight-year commitment wasn't a priority. Shannen walked out of the meeting and onto the steps of Parliament Hill where a rally numbering 5,000 were waiting.
"I looked Chuck Strahl in the eye," she declared to thunderous applause, "and I could tell he was nervous. I told him we're not going away. We're not giving up."
It was an iconic image -- a young girl in pigtails standing under the Peace Tower. She was calling out a government for abandoning children to toxic and dilapidated portables.
Shannen spoke at schools and rallies. She met labour leaders and human rights activists. When she was 14, she put the government of Canada on formal notice that she was going to go to the United Nations to challenge Canada at the upcoming review of the Rights of the Child Convention.
Little wonder she was nominated for the international Children's Peace Prize.
In Grade 9, Shannen and her older sister Serena left their isolated fly-in community to attend a non-Native high school in New Liskeard, Ontario. The two sisters lived with my family for a year. It was a hard year for Shannen. She missed her family, her community. She struggled hard to get caught up to the level of other students. But she was determined. She never missed a day of school.
One of the last times I saw her was when she and Serena spoke at the Ontario Federation of Labour Convention in Toronto. She blew the room away. Tough-assed union leaders cried when they heard her speak. There was something so vulnerable but so fierce about Shannen. She had moxy.
A few months later she was dead -- killed in a horrific accident south of Temagami. Shannen's death was a devastating blow to James Bay Cree. In a region where so many young people gave up hope and killed themselves, here was a youngster on fire. It seemed so unfair. So brutal.
Within days of her death, the phone in my office was ringing as national labour, education, and First Nation leaders called to say they wanted to carry on Shannen's work. And so, working with First Nation children's rights advocate Cindy Blackstock we launched the Shannen's Dream campaign. It is a national youth-driven campaign, coupled with a political motion (M-202) to end the systemic under-funding of First Nation students.
The campaign continues to grow and Shannen's story is being taught as part of the curriculum for students in Ontario.
This February, a group of Aboriginal youth will head to the United Nations to challenge Canada's record on the systemic discrimination against First Nation students. They will be led by Shannen's childhood friend 16-year-old Chelsea Edwards from Attawapiskat First Nation. Their report, "Our Dreams Matter Too," is a continuation of the work started by Shannen and her friends.
Prior to the UN meeting in Geneva, the Federal government will meet with Aboriginal leaders from across Canada. Education is expected to be high on the agenda. There are those in the department of Aboriginal Affairs who will tell you that pressure of Shannen Koostachin is still being felt, hence the move to take steps to address the chronic under funding.
And so what would Shannen think of all this? She really believed that kids could change the world. At her funeral, I read out the words she wrote when she was just 13-year-old: "I would tell the children not to be afraid. I would tell them to think about the future and follow their dreams. I would tell them to NEVER give up hope. Get up; pick up your books, and GO TO SCHOOL (just not in portables)."
You could have done so much more if you had the chance Shannen, but be rest assured, in your time here, you really kicked ass.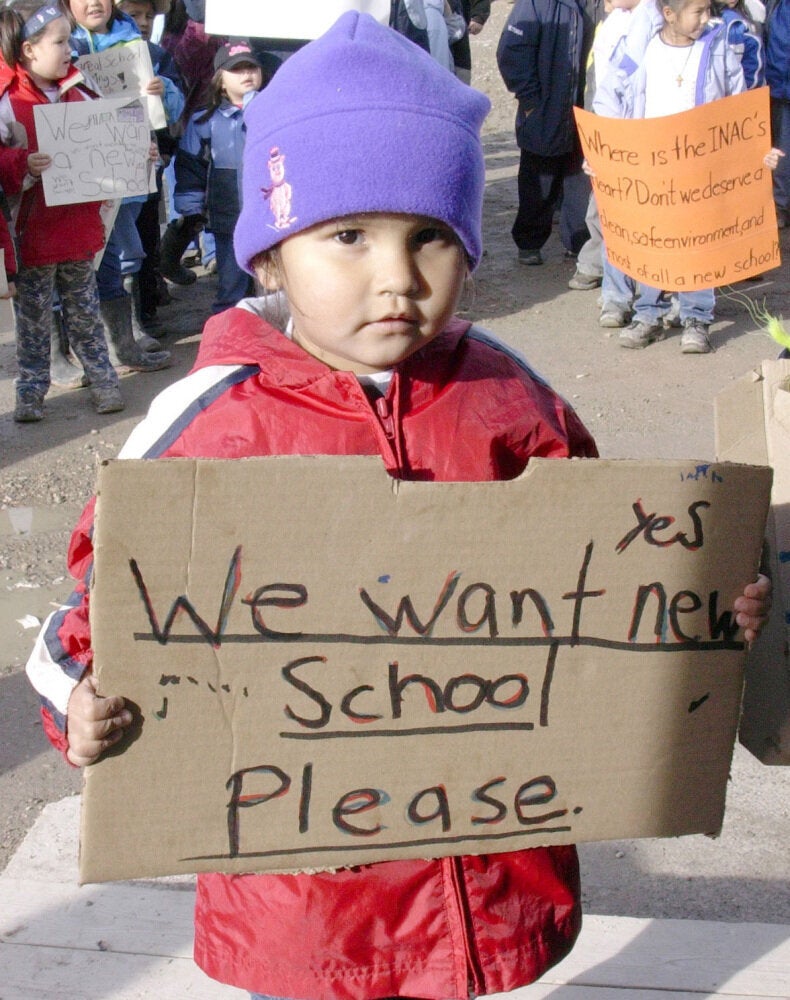 Shannen Koostachin "Really Believed that Kids Could Change the World"-from-mt-204113