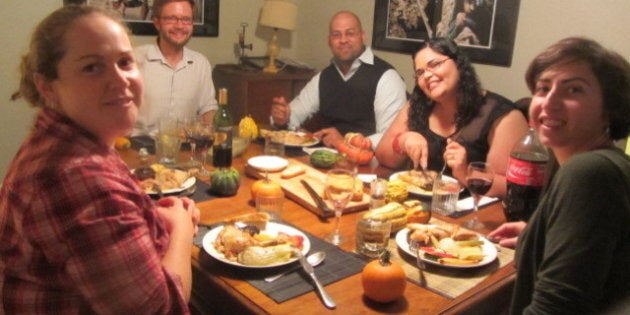 Would you invite a complete stranger into your home for Thanksgiving dinner? What about a whole family of complete strangers?
That's what Parker Mitchell and Kyle Baptista are asking Torontonians to do this coming holiday weekend. And in spite of the city's reserved reputation, people have stepped up to the challenge.
It all began a scant seven days ago when Mitchell, the co-founder of Engineers Without Borders Canada, approached his old colleague Baptista with an idea. What if they invited Canadians to open their homes and pantries to those who were new to the country to celebrate one of our most meaningful holidays, Thanksgiving? Mitchell's thought was to reciprocate some of the incredible warmth and hospitality he and Baptista had experienced in their work abroad with EWB and in their travels. For Baptista, the idea just made sense.
'You're often welcomed with open arms,' Baptista tells The Huffington Post Canada over the phone of his experiences in countries like Ghana. 'For new Canadians, our environment can seem cold in comparison."
So the two men set out to make things happen quickly. After a night of brainstorming at Toronto's Nuit Blanche, Mitchell and Baptista, the former creative director for EWB, created a website for Share Thanksgiving, Mitchell organized with some local community agencies to find guest families, and the two started spreading the word on Twitter and Facebook.
That's when CBC's well-loved morning host, Matt Galloway, saw their tweet and booked them on the city's top-rated morning radio show, Metro Morning.
'We had 1,000 hits to the website the hour after we went on,' Baptista says. And around 60 host families willing to share their dinner tables and give thanks with strangers.
'It's a naturally good idea,' Baptista says of Share Thanksgiving, which can help guests understand and enjoy the holiday, and allow everyone involved to learn more about their respective cultures. Settlement programs for new Canadians often offer similar introduction and integration programs like conversation groups and mentorship programs, but this program focuses uniquely on the simple celebration of giving thanks, and it's a small gesture Baptista thinks could "catalyze other acts of generosity."
There are no hard and fast rules to the volunteer project, and the Share Thanksgiving team is working with settlement agencies and organizations like North York Community House to safely match up new and host families in time for this weekend (so far they've had one shared dinner ahead of the weekend, which Baptista says was a great success). And Share Thanksgiving doesn't have to end after the turkey is gone, and those inspired by the event who can't participate for Thanksgiving can always host in the future, Baptista says. Nationwide and US interest has the group thinking about future events, and what with American Thanksgiving on the horizon...
'I would love love love for people to take [the idea] and run with it and change it and adapt it and modify it for their city,' Baptista says. There's no ownership over the idea, it's meant to be shared... much like the meal of thanks in store for this weekend.
Looking for other ways to help this weekend? Check out some ideas below: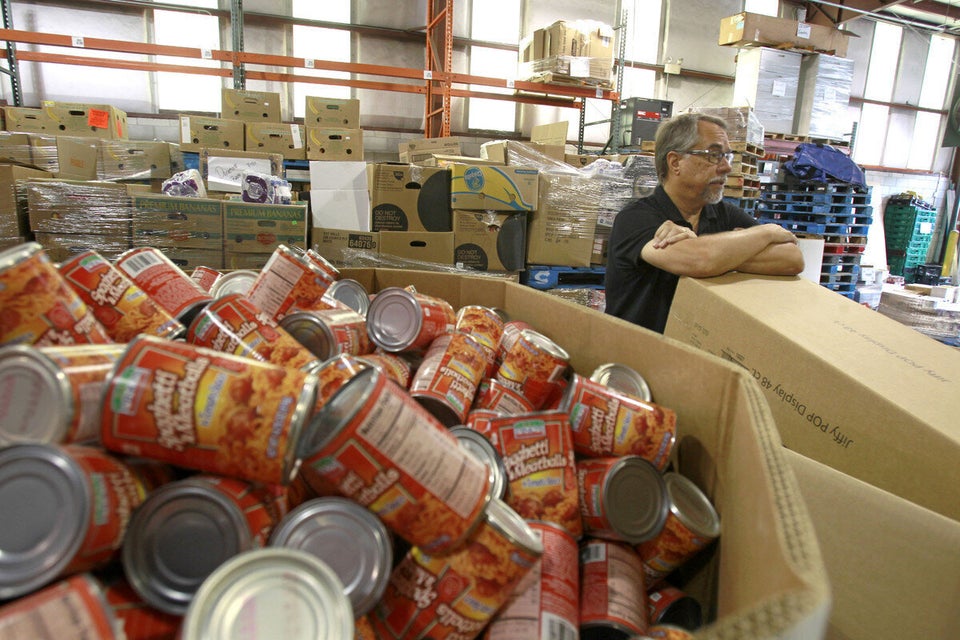 How To Help At Thanksgiving
Popular in the Community