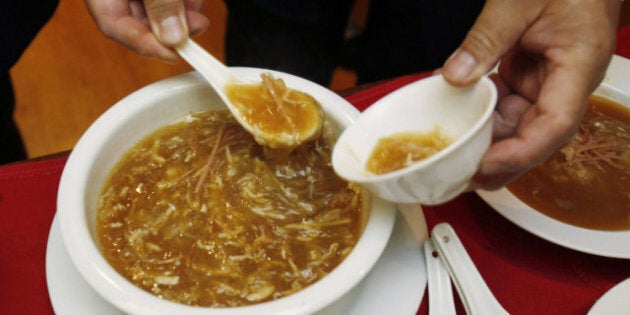 An underground animal rights group is threatening to spread rat poison in Toronto's Chinatown and poison food at Mandarin buffet restaurants, the head of the Toronto Chinese Business Association told The Huffington Post Thursday.
Barbara Chiu, the group's executive director, said she received a letter in the mail Tuesday from an organization calling itself Animal Liberation Canada/USA upset with the group's decision to fight a city of Toronto ban on the sale of shark fins.
"They see us, the Chinese, having lost the battle in the shark-fin ban ... And at the end of the letter it mentions that they are going to spread rat poison in Chinatown and in a particular Chinese restaurant as well," Chiu said. "They mentioned a Mandarin restaurant, you know the Mandarin Buffet?"
"We are a radical group of "concerned" who protect all wildlife. Warning to y'all. We now have folks in your Chinatowns spreading rat poison on meant, fish, fruit and vegetables. Hopefully some of you will be sick as a dog, which by the way you animal killers eat as well," the letter states.
Police were notified on Wednesday and the issue was passed along to the hate crimes unit, Chiu said.
The letter begins: "Hey, how's it going guys? I see you lost the big shark fin ban in Toronto. Thank God, less sharks suffering a painful death in the hands of you barbarians."
It continues: "You gooks come over here and don't speak a word of English and don't teach your kids English. The only English you know is, "you give me free."
Chiu told HuffPost vicious and insulting letters are nothing new.
"We have been receiving a lot of hatred emails since we have been voicing out for the Chinese businesses but those emails are just hatred emails insulting Chinese, that is totally fine with us but this one is a threatening mail with criminal activities that they intend to do to Chinatown so we just want to make it aware to the businesses in Chinatown," she said.
The letter ends with: "Our head office in the USA will be supplying us with e coli virus. Let me warn you don't eat at the Mandarin restaurants."
Aaron Ma, the dinning room manager for Mandarin's Yonge Street location told HuffPost he hadn't heard of any threats but wasn't particularly worried.
"This is news to me," he said.
Animal Liberation Canada/USA may be aligned with the Animal Liberation Front (ALF) a leaderless group known of its violent and criminal actions.
"We don't know who they are...for obvious reasons they remain anonymous," said Will Hazlitt, of the North American Animal Liberation Press Office, a group that is not directly related to the AFL.
Hazlitt said his group relays messages on behalf of the ALF when they receive anonymous tips about their campaigns. He said he had received nothing relating to Toronto's Chinatown.
The community is "absolutely worried" about the letter's threats, said Justin Poy, of the Fair and Responsible Governing Alliance, a group just formed to fight against what they believe are irrational bans such as on the shark fin.
"There will always be people and groups who hate and have prejudice. This kind of ban just incites them and gives them a reason, a purpose to target particular groups," he said.
"Nobody has come forward to take responsibility for the letter. We hope that it is just a hoax, that it is just an individual who is a little bit off and venting whatever beef they have against the Chinese people but, you know, this kind of letter is quite scary."
"We don't want to alarm anybody…We certainly hope that it will not curb anybody's desire to go to a Chinese restaurant."