Shawn Mendes just got his first tattoo and it's giving us all the Canadian feels.
Upon first glance, the 17-year-old's tat looks like a guitar, but when you look closely, all the Canadian details are revealed.
The decorative tattoo features Toronto's CN Tower alongside the city skyline as the neck of the guitar, while the body of the instrument shows trees reflecting in a lake.
Tsang posted a photo of Shawn and the fresh ink after it was completed.
"Look who came to get tattooed today! Thanks @shawnmendes for being a gem," Livia captioned an Instagram photo of Shawn, which has over 9,000 likes and endless adoring comments.
"OUR BABY IS GROWING UP," one user wrote.
And according to Mendes himself, the sound wave in the middle of the design is the "Stitches" singer's parents saying "I love you."
And if you're wondering if Mendes, who grew up in Pickering, Ont., cried during the process, he didn't. And Livia confirmed that.
"Yes, it is real, and no, he didn't cry 😜" Tsang wrote.
With Canada Day just around the corner, it looks like Shawn really nailed showing off his national pride!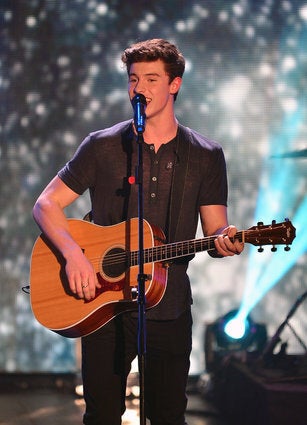 Shawn Mendes