The soccer fan who used vulgar language with CityNews reporter Shauna Hunt in a "FHRITP" video has been fired from his high-paying job at crown corporation Hydro One, Toronto Sun reporter Jenny Yuen tweeted Tuesday.

The CityNews reporter was filming a segment at a Toronto FC game when Simoes and some other men gathered around her. One shouted "F*** her right in the p****" into Hunt's microphone, and she confronted them on-camera about it. The prank has become an all-too-common problem for female reporters.
Simoes defended the use of the vulgar phrase, calling it "hilarious."
He can be seen laughing as Hunt tells another man that the words are "disrespectful."
"I don't care, it's f***ing hilarious," Simoes said.
Hunt then went to him and asked why it's so funny.
"It is f***ing hilarious, we're not the only people, it happened in England," Simoes responded.
Hunt then pointed out that the trend has been around for a year.
Simoes then interrupted and said, "You're lucky there's not a f***ing vibrator near here, because in England, it happened all the time, it's f***ing amazing and I respect it all the time."
Finally, Hunt asked what his mom would think. To that Simoes said, "Oh my mom would die laughing eventually."
Someone with the same name is listed in a news release as an alumnus of the Laurier University Golden Hawks who took part in open tryouts for Toronto FC in 2006.
Simoes was also listed as a midfielder with AC Hydro One of the Ontario Hydro Soccer League.
Maple Leaf Sports and Entertainment, which owns Toronto FC, said earlier Tuesday that it would ban fans who uttered the phrase in the CityNews video.
It also said it would provide more security for female reporters doing live hits at any of the organization's games.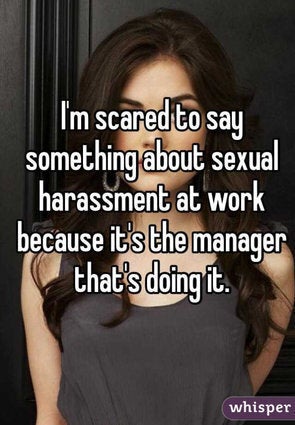 Tales Of Sexual Harassment At Work
Popular in the Community