Thomas Mulcair and Justin Trudeau disagree on many things, but both support Hydro One's decision to fire an employee who went on camera to defend a lewd prank on a female journalist.
On Tuesday Shawn Simoes, who earned more than $100,000 last year as an assistant network management engineer, lost his job after video surfaced of CityNews reporter Shauna Hunt being harassed on-air.
In a clip seen around the world, a Toronto FC soccer fan shouted "f**k her right in the p***y" in Hunt's microphone last weekend. Many female reporters have faced similar harassment.
Hunt's decision to confront some of the men laughing about the incident ultimately spurred Simoes to call the prank "hilarious" and tell the reporter people all over the world do it.
"You're lucky there's not a f***ing vibrator in your ear, like in England, because it happened all the time. It's f***ing amazing and I respect it all the time."
News of Simoes' firing delighted many online but also sparked discussion about employers terminating staff members for inappropriate conduct outside of work.
Both the Liberal leader and NDP leader suggested Wednesday that Hydro One got it right.
"I think it's first and foremost important to congratulate the journalist for standing her ground and taking on the bullies," Mulcair said when asked about the incident after the NDP caucus meeting.
"Beyond that, what we see is that Hydro One is tough in applying and enforcing a code of conduct with somebody who's got a relatively senior job."
The NDP leader added that sort of message should be "received and understood by the Canadian military." Mulcair was referencing a CBC News report saying Gen. Tom Lawson ordered the military to ignore key recommendations from an investigation into sexual misconduct.
Mulcair later took to Twitter to laud Hunt.
Trudeau also told reporters Hunt deserved praise for her "courageous sharing and shaming of these individuals."
"I think Hydro One acted appropriately and properly in demonstrating that there is zero tolerance for the kind of harassment and misogyny that was apparent in that video," he said.
When asked if the military should take a lesson, the Liberal leader said that, as has been shown on Parliament Hill, "cultures need to adjust and change" To put an end to bullying and harassment.
Justice Minister Peter MacKay was also asked Wednesday if police should crack down more those who spew obscenities at reporters.
MacKay said that while each case can be different, if the language is offensive, threatening, or derogatory, complaints could be filed with the cops.
"I think that the reporter in that case showed a lot of courage and a lot of integrity in exposing that type of behaviour," he said. "It doesn't matter whether it's at a ball park, a soccer field, a playground, the House of Commons or a scrum, it's not acceptable to behave that way."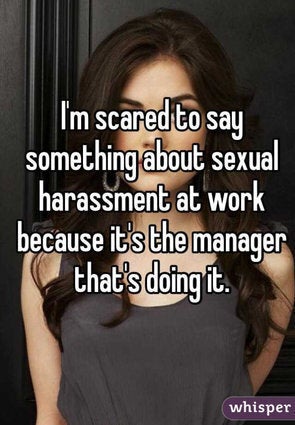 Tales Of Sexual Harassment At Work
Popular in the Community