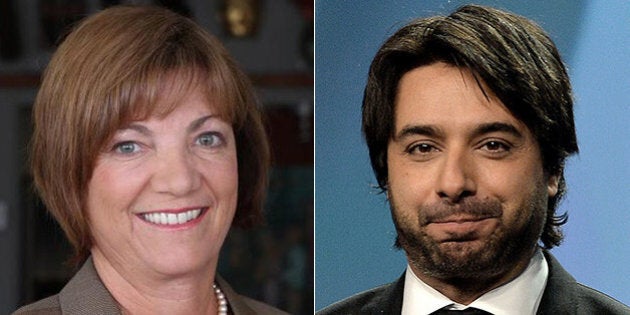 Amid further startling allegations about Jian Ghomeshi abusing women, former deputy prime minister Sheila Copps is under fire for questioning why the former CBC host no longer has a job.
Copps served as a Liberal MP from 1984 until 2004 and held a number of top cabinet posts. She was the first woman to serve as deputy prime minister and the first MP to give birth while in office.
Trigger warning: This article contains information and links about violence which may be triggering to survivors.
Copps began tweeting about Ghomeshi on Monday after he accused the CBC of firing him without good cause in a lengthy Facebook post. Her first tweets also take place after the Toronto Star detailed allegations from three women of violent abuse and an accusation from a former CBC employee of sexual harassment. It's unclear if Copps had read the Star story when she sent her tweets.
Copps was immediately criticized for her comments, as was Green Party Leader Elizabeth May, who posted similar tweets on Monday, but who has since taken them back. Criticism generally focused on how the allegations about Ghomeshi do not relate to "consensual acts" and that it remains difficult and rare for women to go to the police about abuse.
Despite the blowback, Copps again took to Twitter Wednesday night after CBC's "As It Happens" ran an interview with another woman accusing Ghomeshi of violence. Later that evening, The Star would publish another, more detailed, story that included an allegation of assault from "Trailer Park Boys" actress Lucy DeCoutere. All of Copps' tweets take place after the Star story was published online and shared widely on Twitter.
Copps' tweets regarding "bedroom behaviour" drew some of the fiercest attacks, but it was Rehtaeh Parsons' father Glen Canning's responses that generated the most response from other users.
Stay tuned for further updates.