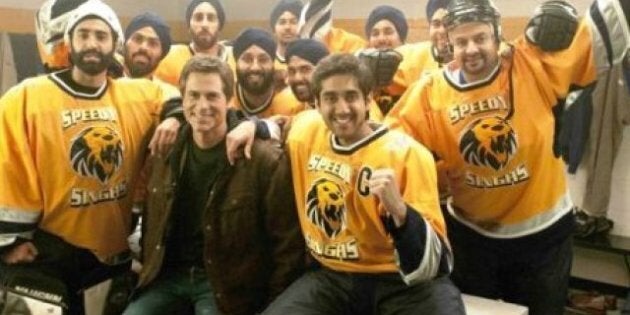 After being escorted down a long winding hallway I entered the hotel's banquet room to the ebullient sound of Hindi music and stomping feet, where dance king Shiamak Davar was rehearsing with his dancers and Bollywood actor Bobby Deol for the 2011 International Indian Film Academy Awards in Toronto. Anyone who knows anything about Bollywood knows that dance is an absolutely integral part of film and the IIFA Awards are no exception; Davar has been called upon to choreograph the stage show for 11 consecutive years simply because he's the best.
Life hasn't always been easy for Davar. Over two decades ago when he first started his school with seven students, traditional values and binding stereotypes in India provoked enormous backlash and harsh criticism. "Everyone made fun of me, they said 'you'll never make it, it's an effeminate thing, it's disgusting, you shouldn't do this,'" Davar told me he, yet he had the strength and vision to pursue his dreams amidst the condemnation. His female students were maligned as well for their tight dance clothes and passionate dance moves, told they were crazy and would never be able to marry.
Ironically, it's thanks to one of Davar's first female dance students that he broke into film and forever changed dance in the Bollywood film industry. Gauri Khan, then girlfriend and future wife of Bollywood superstar Shah Rukh Khan, was a student of Davar's and Khan would often be at the studio to pick her up from dance class. At the time Khan was working on a film with the legendary Indian filmmaker Yash Chopra and approached Davar to come on board. Chopra told Davar "we want your different style, we want your freshness, we want your unique style" and when Dil To Pagal Hai released, it included the banner "Introducing Shiamak Davar." And the rest, they say, is history. Davar won the National Film Award for Best Choreography and was credited with changing the style of dance in Bollywood. The exposure was "unbelievable' said Davar, whose career has continued to soar since.
Though he's trained Bollywood beauties like Aishwarya Rai and Priyanka Chopra for Miss World competitions and dance numbers in films, Davar insists that it is his dancing school that is his main focus. With over 70,000 students in dozens of schools in cities across India and the world, he's eager to teach people of all ages, all shapes and sizes, and interestingly, all levels of physical ability. One of the most fascinating things I found when talking to Davar was his obvious passion for inclusivity -- disabled children are welcomed as students and even incorporated into his theatre shows, he works with children suffering from polio, cerebral palsy, HIV/AIDS and even sex workers -- all because of a belief in the healing power of dance.
Keep reading to learn more about Davar's fascinating journey through the world of dance.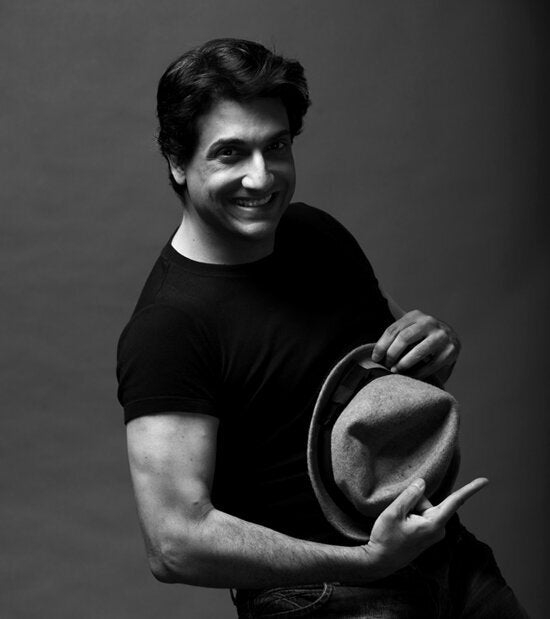 You had a passion for dance and performance even as a young child?
As a child I used to sing, act, and dance all day long! At seven years old I used to sing and play the piano imagining I was Elton John and I thought I was a legend in my living room. My parents then knew that performing arts was the field for me. I actively took part in theater productions in school, sang at family and community functions and slowly realized my passion. I would make my entire family sit and I'd perform for them! Dance happened much later when I happened to visit Pineapple School in London. From then on there was no looking back. My spiritual guides, The Bhavnagiris, helped me realize the power of dance and today when I look back at my childhood, everything fell into place and all I have to ensure is that I keep walking on the right path.
You've said your parents were both quite academically oriented but that you struggled in school. Was it difficult growing up with parents who weren't in a creative field?
My parents were always supportive of my interest in performing arts but they also made me understand the importance of education. Though I did not have much interest in studies and spent most of time singing or acting, I ensured that I completed my education. Now when I look back I'm glad that I did finish my studies and I encourage all my students to balance studies and their passion.
When and how did you open your first dance school?
Performing arts was in my blood since childhood but dance happened much later and through the guidance of my spiritual guides, the Bhavnagiris, I understood that dance was my gift and I had to share it with the world. In the late 80s I started off with just seven dance students; today it's humbling to receive the love of so many students. For me, I understood the reach of dance and its ability to touch the soul of people and this is what drove me to take it up professionally.
There was a considerable amount of negativity shown to you and your dancers when you first started out, especially in terms of men being effeminate and women being unmarriageable. How did you react?
When I started off dance was not accepted at all. Taking it professionally was a big no-no for boys and girls alike. But I knew that this was the purpose of my existence and I had to stay strong and follow my passion. My dance company stood by me like pillars and we just trusted God. When you try doing something out of the ordinary, you must persevere and make it extraordinary! People might doubt your potential, the ability to make it happen, but your intuition always guides you. When people around me were negative, it made me stronger to keep going, and today when so many people encourage their children to join classes and take dance professionally, I feel so happy and content.
Dil To Pagal Hai was a major step forward for your career and changed the style of dance in Bollywood. What was so revolutionary about the film?
With Dil To Pagal Hai, there was a giant leap taken to transform dance from running around trees to actual choreography. At that time I had brought technique into dancing, given it a structure and made it more stylized. Today, this is what Bollywood dancing has come to be, it has a unique identity. It also has a western influence, with elements of jazz, hip-hop and modern contemporary.
For all my dance pieces, I work with my dance company who are well trained and have complete knowledge in technique. With trained dancers comes awareness and fitness, which sets them apart and gives the choreography that special edge. And there is a lot that goes into making every performance special, a complete package. Use of sets and properties and detailing given to costumes adds that little extra.
How did Indian youth respond to Dil To Pagal Hai?
Seeing fit, young dancers, people started relating dance to a fun way of staying healthy. And not only that, in the song "Chak Dhoom Dhoom", I feature my junior dance company, which encouraged parents to make their children start at a young age. That is when they have that fire, that energy and flexibility that they can use and develop to their advantage.
Today, I have toddlers of four to grannies of 64 who come and dance. For the youth it definitely became a 'cool' thing to dance at the time DTPH released. There has always been a tendency to ape Bollywood stars, and Karishma [Kapoor] and Madhuri [Dixit] with their dancing finesse did just that!
When did you start working with children who had mental and physical disabilities, as well as kids who had been through trauma?
I had undertaken a project for children with special needs called 'Dancing Feet' in India. I was so over whelmed by the experience that in March 2004 I started Victory Arts Foundation (VAF), a not-for-profit organization that used dance as therapy for various populations including the lesser privileged, people with special needs and HIV/ AIDS affected persons. VAF is a small way of giving back to the community, all that God has given us.
It was about taking the motto of 'Have Feet. Will Dance' one step further to ' Have Spirit. Will Triumph.' I wanted dance to reach everyone, to be able to bring a smile on their face and to heal them. Dance works as therapy, it heals. Music in itself is therapeutic, it's almost like meditation. With dance one allows their body to move in a certain way, express various emotions and let their inhibitions and frustrations out. It is a beautiful form of letting go.
You're from India and you now live in Canada, what do you love about both countries?
India is my home, the place where I started my dream from. There is this harmony in its diversity, a sanity in the chaos that makes India special. There is so much love in the people, Indians always find a reason to celebrate and take pride in their culture. India is very special to me, there is a sense of belonging, of homecoming.
Canada is a place where I find inner peace, it is my meditative home. I get more time to be with myself, to take time off and introspect. My closest friends are in Canada, it's like my perfect holiday home. It is also here that I branched out with my North American classes and it's been taken so well by all - my schools in Vancouver, Calgary and Toronto make me so motivated to spread the joy of dance all over .
You've accomplished many, many things since you first began dancing. What do you see for the future?
There is no stop to learning! There is always so much to do. My main mission is always to spread the joy of dance and make it reach global dance enthusiasts. My dance education programs reach out to students in schools and colleges, as I want to spread dance and fitness to children from a young age. Other than dance, I do wish to direct a film in the near future and I'm also looking forward to writing a book.
To learn more about Shiamak Davar and his international dance schools visit www.shiamak.com
This interview has been edited and condensed.