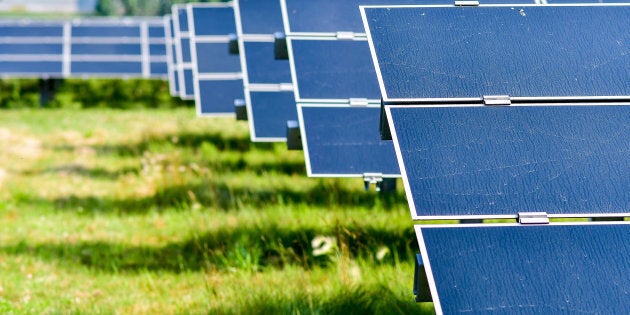 The shift to a renewable-energy economy has often been painted as a threat to Canadian jobs, because of the country's reliance on oil exports.
But a new report from the Columbia Institute says Canada could actually see a job-creation bonanza if it moved towards a net zero-emissions economy by 2050.
In fact, the country would create nearly four million non-residential construction jobs over the next 33 years if plans for the shift were executed, authors Tyee Bridge and Richard Gilbert concluded.
"If Canada is serious about meeting our climate commitments, we need to move faster in areas like renewable energy, green building construction, building retrofits, and transportation infrastructure," Columbia Institute Executive Director Charley Beresford said in a statement.
"Meeting our climate goals is good for the planet and good for the economy and job creation."
"This neither means nor implies the sudden end of the use of fossil fuels, but it does mean a shift in how fossil fuels are used and in what quantities."Bob Blakely, Canada's Building Trades Unions
The report estimates that the largest number of jobs would be created through the construction of green buildings and from retrofitting older buildings to have net-zero carbon emissions. About a quarter of Canada's carbon emissions come from buildings, and shifting to net-zero-emissions buildings would create just short of two million jobs over 33 years, the report estimated.
Another 1.18 million jobs would be created by moving to an electrical grid that relies entirely on renewable energy and nuclear power, the report estimated. That number is based on a model that would see 40 per cent of Canada's energy come from hydroelectric plants, 25 per cent from wind, 10 per cent from solar, five per cent each from tidal and nuclear power, and the remainder from geothermal and other sources.
More than half a million jobs could be created, the report estimates, through the development of "district energy systems" — water pipes that heat and cool entire neighbourhoods at once. Such systems are already in place in some parts of Canada, including in downtown Toronto.
Learn more about renewable energy and Canada's economy:
And another 247,000 jobs could be created through $150-billion-worth of investment into public transportation, including new rail transit projects, bridges, subway tunnels and dedicated bus lanes, the report estimated.
The report was commissioned by Canada's Building Trades Unions (CTBU), an umbrella group of 14 unions representing construction-related workers.
"This study shows the important and continuing role for our members as we transition to a low-carbon economy," CBTU's chief operating officer, Bob Blakely, said in a statement.
"This neither means nor implies the sudden end of the use of fossil fuels, but it does mean a shift in how fossil fuels are used and in what quantities."
Canada ratified the Paris Agreement on climate change in 2016, one of 159 countries who have formally committed to keeping global warming this century below two degrees Celsius above pre-industrial levels.
"Canada's ability to meet its Paris commitments will be based on the construction of new infrastructure for the generation of electricity using renewable sources," the report stated.