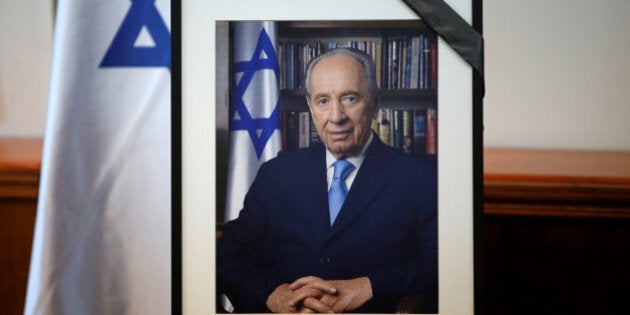 A man I greatly admired, Nobel Laureate Shimon Peres, passed on this past week. I was always struck by his courage, his vision, his eloquence, his optimism, and his natural ability to inspire. He was a warrior for peace until his very last breath.
Israeli Prime Minister Benjamin Netanyahu described him as "a great man of the world."
Former U.S. President Bill Clinton, described him as Israel's "biggest dreamer."
As U.S. President Barack Obama put it, "Even in the face of terrorist attacks, even after repeated disappointments at the negotiation table, he insisted that as human beings Palestinians must be seen as equal in dignity to Jews and must therefore be equal in self determination."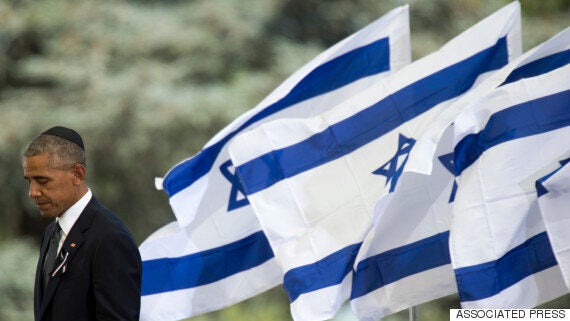 U.S. President Barack Obama speaks next to the flag-draped coffin of former Israeli President Shimon Peres during his funeral at the Mount Herzel national cemetery in Jerusalem, Friday, Sept. 30, 2016. (AP Photo/Ariel Schalit)
In addition to the above, I would highlight two other traits: Shimon Peres' lasting inspiration and impact on the Millennial generation; and his ability to appropriately adapt to the season, in fact ahead of the time.
As chance would have it, Shimon Peres passed away just as some of the planet's most promising future leaders were gathered in Ottawa for the One Young World Summit.
One Young World, a UK-based charity, this past week brought together young men and women from 196 countries to interact with one another and with speakers as diverse Canadian Prime Minister Justin Trudeau; former UN Secretary Kofi Annan; great humanitarian and musician Sir Bob Geldof; entertainment legend and committed social activist Cher; and brilliant young activist Emma Watson.
As a board member organizing the Ottawa event, I had the privilege of attending One Young World. It was, in many respects, an invigorating and stimulating experience. As one who assesses talent as an executive recruiter, it was heartening to see that the world has no shortage of bright, idealistic and engaged individuals, fully capable of moving into positions of responsibility and, yes, power.
Or, as Prime Minister Justin Trudeau put it when addressing Summit attendees: "You're not the leaders of tomorrow; you're the leaders of today."
I wasn't completely surprised by this -- there is ample evidence here at home in Canada that the sometimes maligned Millennials are a potent cohort, better educated and often more socially motivated than many of their elders.
What did surprise me -- and this brings me back to the death of Shimon Peres -- is how knowledgeable many of the attendees were regarding the arc and evolution of the former Israeli President's life story.
Peres, the last surviving member of the core group involved in the founding of Israel, was in many respects that nation's most security-minded leader. It was Peres, for example, who in 1963 negotiated with U.S. President John F. Kennedy to obtain Hawk anti-aircraft missiles -- the first of many formal arms agreements between the two nations. He twice served as Israel's defense minister; twice as prime minister; and twice as interim prime minister. In all of these positions he viewed Israel's security -- its very survival -- as paramount.
Many of the attendees knew this -- but also knew that over time Peres had shifted his focus on the pursuit of peace. In part this could be ascribed to his success making Israel more secure in an insecure Middle East. He is credited with providing the impetus for Israel's nuclear program, which acts as a deterrent against overt actions by hostile neighbouring states.
As he himself put it, "I have changed because the situation has changed," Peres said in an interview with Vision magazine. "When I thought Israel was in danger I was a terrible hawk. I thought it my duty to do whatever I could to defend Israel." He went on to say. "Once I felt we could (safely) go for peace, I changed."
Thus Peres is most commonly identified with a peace treaty with Jordan, the Oslo Accords and his winning of the Nobel Peace Prize.
There are several lessons One Young World attendees -- and the rest us -- can take from Shimon Peres' example. These lessons, and their inspiration, have been largely covered over the past few days. I will focus on a few of these lessons.
Shimon Peres was the last towering figure from Israel's founding generation -- and he is now gone.
First, humans are not immutable. People can and do evolve in approach and action, particularly when context demands it. This is something that I have to keep in mind as an assessor of executive talent, as the ability to adapt based on new information of altered circumstances is critical to success in a fast-changing world.
Second, it is often the hard-liners or those who seem most dug in who can bring about real movement and obtain results. It was Richard Nixon, the anti-communist zealot who famously -- and even shockingly, at the time -- opened up relations with "Red" China. Nixon was able to bring along many of his fellow American conservatives into this new way of thinking simply because he was Nixon. In a sense, Peres served a similar purpose -- few doubted his commitment to Israel's security.
Similarly, in business, it is not unknown for a firm to assign responsibility for big, transformational projects to an individual whom many would have expected would be in opposition. There are risks in doing this, but the upside can be high as an entire organization takes note that the change effort must be serious, if this individual is leading it.
One could not help but wonder, as television brought us images of Prime Minister Benjamin Netanyahu standing head bowed in front of Peres' casket, if this harder line leader couldn't leverage his support even more to bring about a more lasting peace. Granted, Netanyahu has repeatedly called for direct face-to-face negotiations and discussions with the Palestinian authority without conditions, only to be rebuffed. Having a willing partner is of course paramount.
Thinking more broadly, I think the young people gathered in Ottawa are drawn to stories where individual human behaviour can be altered to achieve positive broader outcomes. They recognize that in the shorter term, at least, they need those of us over the age of 30 to not only listen to them, but change our attitudes and behaviour.
Shimon Peres was the last towering figure from Israel's founding generation -- and he is now gone. But in a very real sense he lives on by providing us an example of how one can cast off positions in the face of changing circumstances. And to be courageous. And to dare to dream that we can one day have peace on earth.
Appropriately, all of this coincides with the advent of the holy New Year season in the Jewish calendar -- a time when I and all others of good will wish peace on the entire world, on every level, spiritual, physical, individually and as members of a global community. Shalom.
Jay Rosenzweig is the founding partner of Rosenzweig & Co., an international executive search firm based in Toronto. He also served on the advisory board for the just-concluded One Young World Summit in Ottawa.
Follow HuffPost Canada Blogs on Facebook