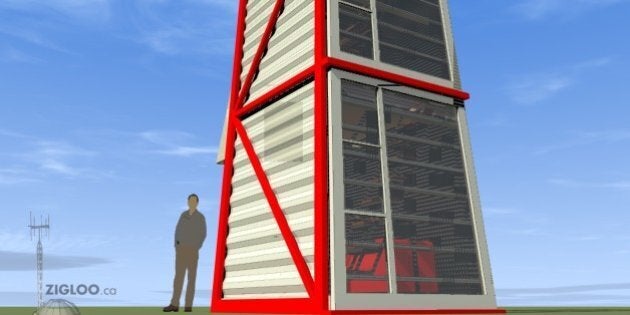 Keith Dewey is the mastermind behind Zigloo, a company that focuses on small and innovative home designs. One of his concepts is the tallHAUS; it's a shipping container home that stands upright and is just 76 ft. sq.
The tallHAUS would have five levels: a lounge on the first floor, a kitchen on the second, a bathroom on the third, a queen-sized bedroom on the fourth, and a rooftop deck on the fifth.
"It is a purely conceptual design that would need a very large cash infusion to make it become a reality," Dewey told The Huffington Post B.C. in an email. He said there are no plans to mass produce the design right now because its criteria is so specific.
"Some people run marathons, swim pool laps, or bike around town to stretch their muscles," Dewey said. "For me, I like to flex my design muscle by giving myself a design challenge. TallHAUS is the result of a challenge to build a full house in less than 100 sq. ft. of land."

Standing Shipping Container Home
Like this article? Follow our Facebook page

Or follow us on Twitter