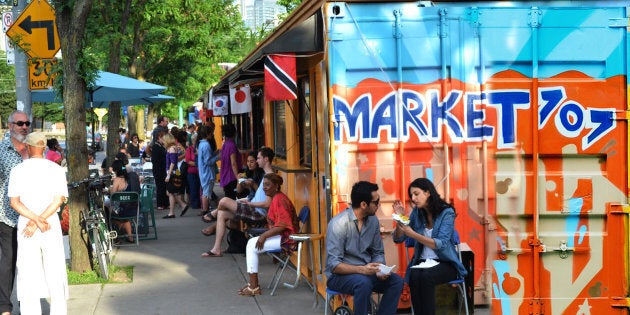 Visiting Ghana a few years ago, some unusual kiosks caught the eye of Kevin Lee. Local vendors had cut windows and doors into abandoned shipping containers and turned them into storefronts.
"Clothiers, butchers, hairdressers — each day families went into the container they rented to ply their trade," recalls Lee, executive director of Scadding Court Community Centre in Toronto.
They can become anything.
Lee returned home to the huge, deserted sidewalks surrounding his downtown community centre and had an epiphany. He called up Storstac, a company that up-cycles shipping containers, and had two retrofitted containers plonked down outside the centre on Dundas Street. He invited neighbourhood entrepreneurs — those who couldn't afford the astronomical cost for a brick-and-mortar Toronto storefront — to set up shop in the containers for less than $25 a day.
Seven years and 15 containers later, Scadding Court's Market 707 is home to 23 businesses, many owned by new Canadians and refugees, in a thriving neighbourhood hub.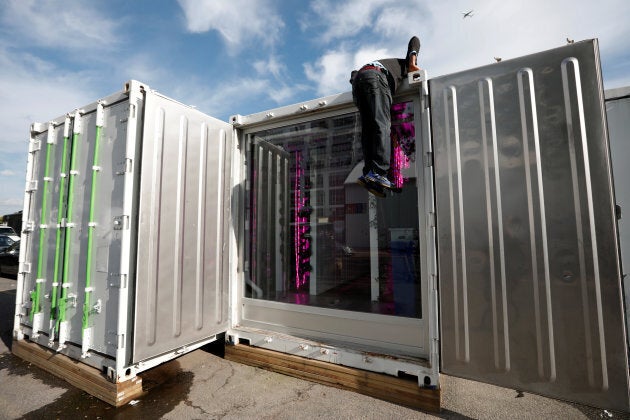 Market 707 is a creative new lease on life for these ubiquitous giants that would otherwise have gone to waste.
There are more than 17 million shipping containers around the world, bringing us avocados from Mexico and smartphones from China. Unfortunately, these prodigal crates rarely return home. It's cheaper for manufacturers to build new containers for their goods than to send back old ones. Megatonnes of metal wind up rusting in dockyards. Like the vendors of Ghana, entrepreneurs are using shipping containers like huge Lego blocks — they can become anything.
After Hurricane Harvey ravaged Houston, Texas, one local farmer's crop withstood the blow. His storm-resistant hydroponic farm-in-a-box, made by Boston-based Freight Farms, provided fresh veggies for area residents.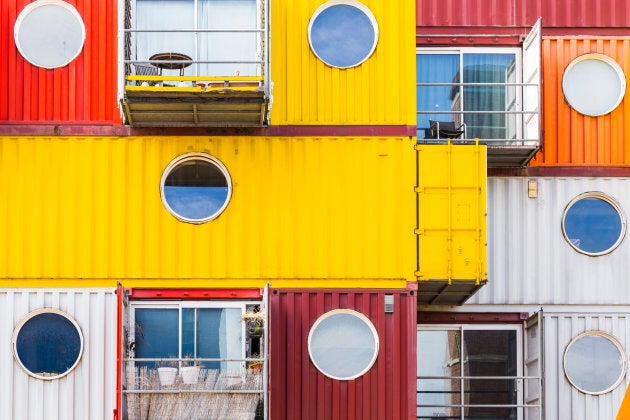 Container homes have been a fad for years now, and not just for eccentric hipsters. Community organizations like Vancouver's Atira Women's Resource Centre have found them a less-expensive option for social housing for marginalized and abused women.
Clinic in a Can, in Wichita, Kansas, turns old containers into mobile doctors' offices, medical labs, and even fully-equipped surgical units. The pods can be quickly deployed to natural disaster zones. Stick a bunch together and you have an instant hospital.
Now, aspiring container entrepreneurs beware: it's not as easy buying one and moving in.
Many containers have been treated with lead paint or harmful chemicals and must be cleaned. You'll need doors, windows, insulation and special equipment for certain uses. Up-cycling a container for stores, like in Market 707, can cost $20,000 to $30,000, says Storstac founder Anthony Ruggiero.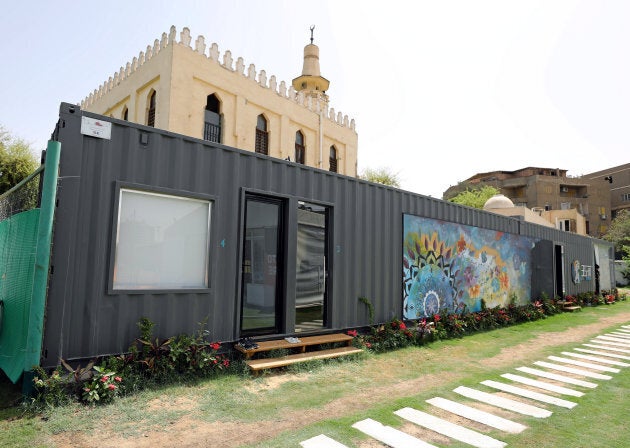 But it's worth the investment.
Charging incredibly low rent, the Market 707 containers still paid for themselves in just three years, Lee tells us. And they're creating economic opportunity in the community while generating revenue that funds Scadding Court's recreation and after school programs.
Mountains of old, rusted shipping containers are a monument to our insatiable desire for consumer goods and foods from abroad. Reincarnation means these metal boxes don't go to waste.
Craig and Marc Kielburger are the co-founders of the WE movement, which includes WE Charity, ME to WE Social Enterprise and WE Day. For more dispatches from WE, check out WE Stories.
Follow HuffPost Canada Blogs on Facebook
Popular in the Community