Some families out on a summer hike may encounter a curious critter here and there, maybe even a rare Pokemon.
But for one vacationing Peterborough, Ont. family, a stroll through Quebec's Gatineau Park put them in the path of a rare political creature: a shirtless Justin Trudeau.
Jim Godby told PTBO Canada that while he and his squad were hiking the Lusk Cave trail late last month, they heard a voice say, "This is the moment of truth. Do we stop here or continue?"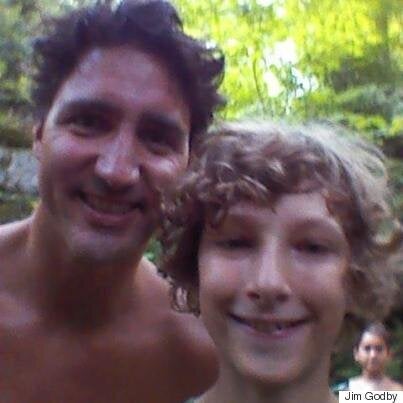 Prime Minister Justin Trudeau poses for a selfie with Jim Godby's son, Alexander. (Photo: Jim Godby)
"It certainly sounds like he likes to lead — even in his off hours," Godby told CBC News.
The two families had a quick chat, according to the Toronto Star. Grégoire Trudeau told them to check out the cave they had just exited and said it had a stream inside — which may be why her husband didn't have a shirt on.
"It was also cool to talk to the secret service guys!"
Godby's 13-year-old son Alexander grabbed a selfie with Trudeau, as one would with any photogenic creature that emerges from the forest.
"That was pretty neat for him," Godby told CBC.
There were also security personnel hovering around the area, Godby said, and they were "very nice people."
"It was very exciting for us and the kids. What are the chances we had such a random personal moment with the Trudeaus," Godby told PTBO. "It was also cool to talk to the secret service guys!"
The selfie quickly started making the rounds on social media and international outlets including the BBC, Time and BuzzFeed have picked it up.
Users on Twitter had a lot to say about the photo:
Emerging from caves shirtless isn't the only vacation activity Trudeau has recently dabbled in. The prime minister was spotted in Tofino, B.C. recently, according to CBC News, but this time he had a shirt on.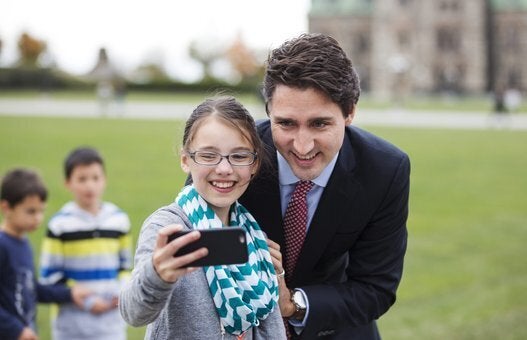 PM Trudeau Posing For Selfies