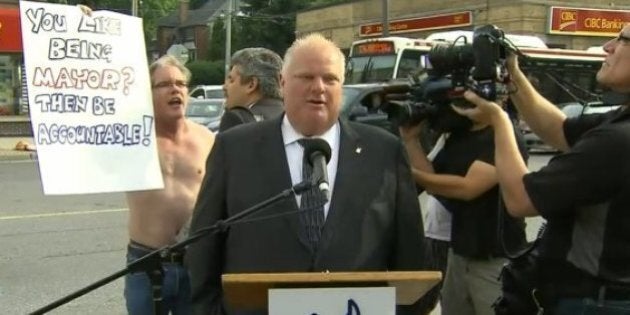 On Tuesday morning, a small group of topless activists crashed the mayor's news conference and shouted for him to step down.
Toronto Star reporter Jennifer Pagliaro captured a Vine of John Furr, the organizer of the so-called #shirtlesshorde that also protested a Rob Ford radio appearance last week, attempting to hammer home his central message.
"Resign, resign, resign," Furr is heard saying over and over.
And 680News has raw video of the entire, awkward episode. At one point, a Rob Ford staffer is heard threatening to call the police, leading to a few tense exchanges with Furr.
"I saw you kick him," a police officer says off-camera in the CityNews clip. "I saw it happen."
The mayor wanted to talk about his opposition to a transit plan to convert Eglinton Avenue into a boulevard and continued with his speech despite the interruptions. At one point, the mayor chuckled and said the demonstrators could "protest all they want."
But Killoran's spontaneous act of sweaty protest quickly led to Doug Ford deriding the teacher as a "left wing lunatic" who was "indoctrinating" his students to hate the mayor.
Doug Ford even went as far as to tell reporters Killoran made "racist slurs" at the mayor. When pressed about the claim, Doug Ford admitted he has a different definition of racism than most.
"It doesn't have to be about race. You can be a racist against people that eat little red apples. You can be a racist against people that have a drinking problem. You can be racist against people that are too fat," Doug Ford said. "So that's my answer to that."
But videos of the confrontation show Killoran wasn't challenging the mayor about drugs or alcohol. Instead, he was yelling for Rob Ford to answer questions about slurs he has made in the past and his business dealings.
"You're a corrupt, lying, racist homophobe," Killoran yelled.
Furr told reporters last week that he was inspired by Killoran and hopes to motivate other Torontonians to be a little less polite and start to express their distaste with Rob Ford.
"It's time to stand up," he said. "And when you see him, take off your shirt and say 'leave'".
"We are a shirtless horde and we are going to multiply like a virus," he told The Toronto Sun.
Toronto voters head to the polls on October 27.
With files from The Canadian Press