The federal government's response to this month's Vancouver oil spill is the target of the latest production by Shit Harper Did, a B.C.-based collective.
The group released a YouTube video Tuesday, showing their ambush of a Conservative event on April 17.
Protesters in white hazmat suits asked Industry Minister James Moore and North Vancouver MP Andrew Saxton if they would like to touch a piece of wood with oil on it. The residue was left from an estimated 2,700 litres of bunker fuel that leaked from a grain carrier into Vancouver's English Bay, and soiled several beaches.
Moore, who is also a B.C. MP, sidesteps a protester by answering: "I'm fine. Thanks" while Saxton replies, "'It's OK, I can see it very well."
The activist then retorts: "You can see it but you don't want to touch it, so why is on the shores?"
Moore again defended the response by the coast guard and other agencies after the April 8 spill, which he previously described as "world class," according to News 1130.
"80 per cent of the spill was cleaned up in the first 36 hours," Moore tells reporters, but then is interrupted by a protester who pushes an oil-stained rock close to the minister's face: "Here's some of the 20 per cent you didn't clean up."
Petition to re-open coast guard station
Aside from the stunt, the group highlights the continued efforts to re-open the Kitsilano coast guard station in Vancouver that was shut down by the Stephen Harper government in 2013.
It took the coast guard roughly six hours to surround the leak with an oil-absorbing boom earlier this month.
Fred Moxey, former commander of the Kitsilano Coast Guard, said if the station had been open, it would have been able to respond to the spill in 10 minutes or less.
Protesters delivered a petition with 15,000 signatures to Moore's constituency office on April 17, demanding the base be re-opened and that increased tanker traffic on B.C. coasts be banned. They argue that a potential spill from a vessel carrying oilsands, as part of the proposed Northern Gateway pipeline and Kinder Morgan expansion projects, would be catastrophic for B.C. waters.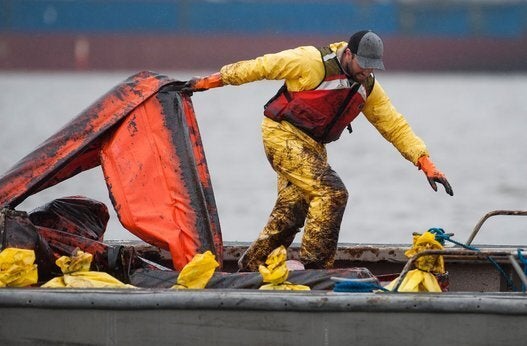 Vancouver Oil Spill, April 2015