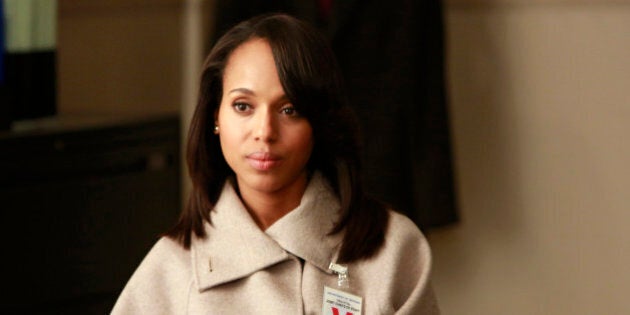 This year marks the 10th anniversary of the "Grey's Anatomy" pilot which means only one thing: we're going to use it as an excuse to analyze the evolution of style in ShondaLand, and how it's come to reflect the empire it's now become. (No big deal, right guys?)
From scrubs to sweaters and business suits to everything worn by Olivia Pope, ShondaLand has become a mecca of aesthetic gold. Each outfit works not just to reflect the character wearing it, but where they are, where they're going, and how they're going to deliver the next awe-inspiring monologue. Frankly, the world is better because of ShondaLand.
So here's how it's evolved over the last decade.
(Story continues below slideshow.)
1. Show: "Grey's Anatomy"
The year was 2005. Meredith Grey had yet to meet her Person (Dr. Christina Yang). Dr. McDreamy was just a gentleman Mer met at a bar, and the notes of Rilo Kiley's "Portions For Foxes" soundtracked one of the best opening scenes in TV history. Meanwhile, style-wise, we got the best of Seattle Grace's business casual: with Meredith in wide-legged slacks and a loose-fitting button-up, she's professional but not overdone -- just like the rest of her fellow residents. And frankly, nobody stands out. Seriously, nobody stands out. And they especially don't stand out when they're wearing actual uniforms.
2. Show: "Grey's Anatomy"
Lest we forget the end of season two, in which the original cast were given a chance to spring from their scrubs -- and/or sweater/jean combos -- and re-visit prom. (Also, it's the episode in which Denny dies, causing many of us to begin a two-year-long love affair with Snow Patrol -- but that's a conversation for another day.) For the first time since the series' inception, we could finally use clothes as a way of identifying the M.O. of the main characters. Izzie looked like a legitimate princess (which makes sense, since she went all-in over a patient), Christina (lover of the leather jacket) kept it basic in all-black (as did Meredith, who was fittingly trying to stay neutral regarding her feelings for Derek), and Addison wore red, making her stand out the most.
Which, admittedly, it probably why she got her own show.
3. Show: "Private Practice "
Addison Montgomery leaving Seattle shouldn't have been surprising to Kate Walsh fans (the woman can act), or to anyone who followed her style story on "Grey's Anatomy". Because unlike the residents (who wore pale blue), and her ex-husband and Mark Sloane (who wore navy), Addison's scrubs were colorful. She wore pink, red, pastels -- she was different. And to maintain that difference, her wardrobe was much more professional than that of the Seattle Grace doctors. Think about it: when she first met Meredith, she was wearing a black fur coat. (So talk about power.)
4. Show: "Private Practice"
And that power carried over to "Private Practice," where Addison continually asserted herself as a boss; as a woman who was human and flawed, but also professional, hardworking, and interesting. In contrast to "Grey's Anatomy," the show's characters displayed bold senses of style, with -- of course -- Addison taking the cake, via prints and dresses. Even among her fellow doctors at her new practice, Addison's prints stand out amongst the neutrals.
The best thing about ShondaLand is that the longer it's established, the more its heroes stand out through style. In Addison's case, we saw her break from the MD norm with bright prints and colours, but Olivia Pope went on to trump even that. In the very first episode, we see her wearing white. And not just once: we see her wearing white all the time. (This, in a city filled with neutral suit-wearing politicians.) Frankly, the woman has a gift for wearing the one tone most of us would ruin in just under three hours, and wearing it well. And from this we can take away the obvious: she is the star, she is at the centre of Washington, and when she's on scene, all focus goes to her.
This year especially we've seen style tell the story. After being kidnapped this season, Olivia Pope has taken solace in darker tones (greys, blues, light browns, and blacks), while characters like Abby and Mellie live in colour (and are also in the White House, where Olivia is not). Olivia's wardrobe reflects her world: tidy on the outside, but bleak within. Sure, her neutrals are worn via interesting pieces, but the lack of colour is arguably another means of control. Case in point: this week, when she wore colour (a little bit of bright blue) she lost control completely, meaning we might see even more greys and blacks before the season wraps up.
7. Show: "How To Get Away With Murder" (executive produced by Shonda Rhimes)
There's one thing all female leads in ShondaLand have in common: they greet us with a presence. Meredith Grey was wrapped up in a blanket after what was supposed to be a one night stand with her eventual husband. Addison showed up to confront Derek in a fur coat. Olivia Pope was a blazing knight, making anyone who's ever ruined a white coat jealous. Then, the first time we meet Annalise Keating, she's in red . . . leather. Just daring us to challenge her place as boss. (And adding a much-needed edge to the glorified office-wear being worn by her students.)
8. Show: "How To Get Away With Murder"
Frankly, costume designer Linda Bass said it best: "Annalise is a complicated, and 'messy woman' . . . her life is very complicated, but she is totally put together in hair and makeup and what she wears." Arguably, her clothes and hair are her armour -- which is something all of the ShondaLand residents have in common. Currently, Olivia Pope is hiding behind neutrals. Meredith Grey blended in with scrubs, and Addison drew attention with prints. While Rhimes doesn't write "How To Get Away With Murder," Annalise still follows that M.O.: as a flawed, interesting human being, her wardrobe alludes to such. Because even though they hide how messy her life is, her clothes are still dynamic enough to cement her as a person we should pay attention to.