A supercut of several American news stations reading from the same script recently went viral — in it, we see a choir of anchors perform nearly word for word a problematic screed about "fake news" and its dangerous effects on democracy.
This is only the most recent example of the effects of media concentration in North America, and a dramatic one at that. But while Americans rightly express shock and concern for their democracy, we Canadians would do well to admit that there's something very familiar about the whole thing.
In fact, I'd argue we take for granted that, here at home, a few companies seem to own more and more of our media landscape — and we have yet to put up a real fuss. Certainly no groundswell of public outrage worthy of a viral moment.
Sure, we don't have any "Terrorism Alert Desk" segments in Canada — though, admittedly, I am a bit behind on Rebel Media's latest YouTube efforts — but our country's own airwaves have long been dominated by a handful of major corporations at the expense of local coverage, and community print newsrooms have been consolidating left and right to similar effect. Our media may not be reading off identical scripts quite yet, but we'd be fooling ourselves to think there isn't a problem.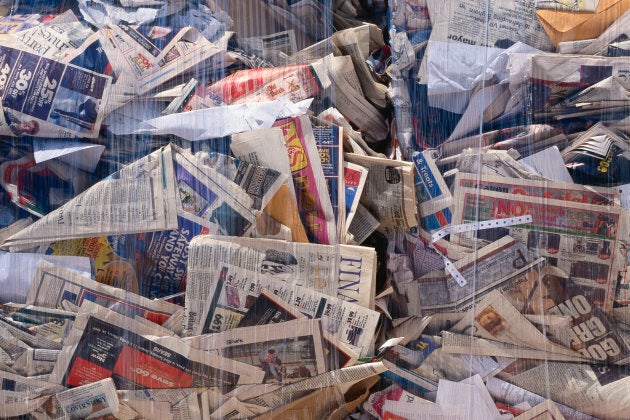 Over the past decade or two, ownership of Canadian media has dwindled to four major corporations — Bell, Rogers, Telus and Shaw — which now control 70 per cent of the country's mediascape. This includes a number of Canada's major print-media joints.
The result? As Canadaland's Jonathan Goldsbie helpfully illustrates in his smart tweet, a Sinclair-style recycling of content across several Metro News editions, owned by Torstar:
"This is extremely dangerous to our democracy."

"This is extremely dangerous to our democracy."

"This is extremely dangerous to our democracy." pic.twitter.com/fcC1MZ8hiG

— Jonathan Goldsbie (@goldsbie) April 3, 2018
Now, Metro's was a relatively benign editorial about a growing newsroom (cheers to that!). Mix in a political agenda, though, and the stakes are much higher.
A day after the endorsements — and two days before election day itself — several of the company's papers doubled down, running front-page political advertisements to the same effect:
Far less dramatic than copy-pasted scripts and endorsements is the more everyday by-product of media concentration — the homogenization of local news, which is damaging on a smaller, but more consistent, scale.
If you're lucky enough to be served by a community newspaper, you may have noticed that it, well, is anything but. A combination of tightening newsroom budgets and regional focus have resulted in publications consisting mainly of pages upon pages of syndicated content.
More from HuffPost Canada:

Torstar-Postmedia Deal That Cost 300 Jobs Part Of Conspiracy, Competition Bureau Says

Torstar, Postmedia Offices Searched In Investigation Of Newspaper Swap

Employees Buy Prince Albert Daily Herald, Will Run It As Independent Newspaper
The trend of disappearing local news puts Canadian democracy at risk, writes Ryerson School of Journalism professor emeritus John Miller in an op-ed studying the broader implications of a shuttered local daily. He points out research suggesting that Canada's most engaged citizens also tend to be those who regularly consume local news.
These citizens, and all others, will lose out. The public interest is best served through access to information — and credible information, at that, with journalistic oversight of heightened importance in a "fake news" era. Local outlets inform voters on issues they care about most — those nearest them, which set the basis for higher-level policy. Without these outlets, discourse becomes an echo chamber. Fewer outlets with fewer owners carries a higher risk of partisan programming.
Yet, Canadians shrug when we see our local papers filled with more and more news from the big city next door. We sigh when flipping the channel produces yet another version of the same regional story. But we simply don't ask "why" often enough. We act like it's a problem to be solved by the media companies, or the free market, or the government. Maybe we need our own polarizing political figure to remind us of the importance of facts presented with fairness and in a way that matters to us.
We should take a cue from our shocked neighbours to the south and start making noise, because we'll be the architects of our own Sinclair moment if we don't.