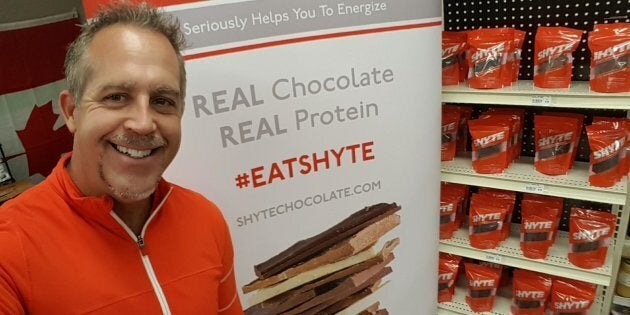 Kevin Richards wants you to eat Shyte.
The 46-year-old Canadian started his chocolate company in May 2017 after decades of being a "total junkie" for the delicacy.
"Since I was a kid I would eat my mom's bakery chocolate out of the cupboard," Richards, who is based out of Barrie, Ont., told HuffPost Canada.
"I would eat chocolate chips, anything that I could find that was chocolate. That was my thing."
His passion turned professional about a decade ago when his friends urged him to do something with his love of chocolate.
After taking an online course at The Chocolate Academy and then completing a two-week intensive course at one of its centres in Belgium, Richards became a master chocolatier in 2012.
After he dabbled with healthy chocolate as a side business, he decided to take his craft to the next level: Shyte.
And almost a year after he officially started selling his brand of protein-infused chocolate marketed with a cheeky name, Richards' brand has gone viral — in the U.K.
It all began on Thursday, when Richards said someone told him his product's hashtag #EatShyte — which is featured on his business cards and bags — was being shared in Scotland. Surprised, he looked up the company's name and came across an article on the Scottish Sun.
"#EATSHYTE: Canadian company Shyte Chocolate go viral on Twitter for obvious reason" its headline read.
Since then, Richards has received new online orders for Shyte from Scotland, Ireland, California, Virginia and right here in Canada. He sells his product at stores in Barrie and Toronto, as well as Lacombe, Alta.
"It's funny because I had planned on taking a few weeks off production and all of a sudden this article comes out and I'm like, well, I guess I've just got to build this up," he said.
The story has also been picked by the Daily Mail and The Sun. On Friday, Richards appeared on Dublin's The Ray D'Arcy Show.
"We were laughing and they said you're going to have to hire some people. I said 'yeah,' I've got to hire some Shyte-packers.' And they thought that was the funniest thing."
But wait, there's more. Richards said Scottish soccer club Tain Thistle has reached out to him to sponsor their team.
And though some users on Twitter and outlets in the U.K. have suggested Richards is unaware what his product name actually means, that is clearly not the case. He says he's wanted to use the name for years.
"It's amazing that when there's controversy it's whether people believe the product is real or not," Richards said. "That's what the real conversation starts and that's how it goes viral."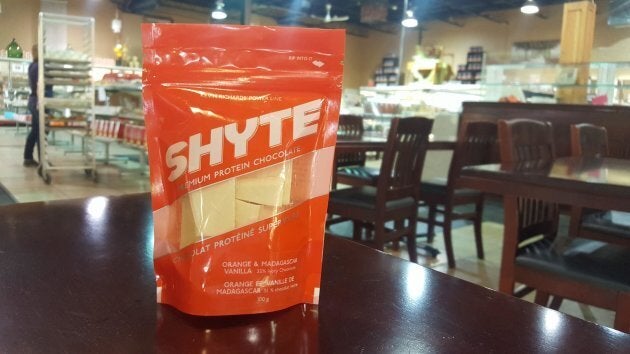 Richards noted he also liked the name because he's sick of "governments and everyone [online] saying we're offended." He loved the idea of "just telling people to eat Shyte."
And in case you were wondering, Shyte is also an acronym. It stands for 'Seriously helps you to energize.'"
Though he's swamped with a surge of orders — not to mention his other, more serious business Mr. Chocolate — Richards is enjoying the sudden interest in his product from across the pond.
Popular in the Community