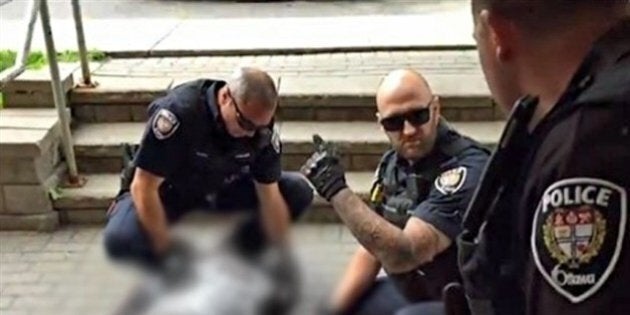 Abdirahman Abdi, an Ottawa resident, passed away under tragic circumstances. From what we learned from some witnesses and reporters, Mr. Abdi didn't seem to have an arm, a gun or any violent object in his possession. He died in front of his building, most likely looking for some help. That help didn't come. Instead, the police beat him and handcuffed him. His family that emigrated from Somalia, presumably to flee chaos and lawlessness, found themselves with the body of their loved ones laying in a pool of blood on the ground. Law and order are not necessarily synonymous with justice and peace.
Abdirahman was black, Somali and Muslim. Many people said that he suffers from some mental health issues. All the ingredients came together to make of him the "perfect" candidate for profiling, arrest and suspicion.
It is not a secret that there have been many incidents in Ottawa and Ontario in the past years related to the issue of race and profiling. In our strong desire to be seen as culturally different and more sensitive than the United States, we can't hastily dismiss that race is not an issue in Canada, and particularly in Ottawa. Last year, the Canadian Civil Liberties Association summarized the history of racial profiling and policing.
Police accountability has never been a strength on the federal, provincial and local levels. We are still lacking independent civil and bodies that would investigate the actions of law enforcement when such tragic incidents happen.
Despite the existence of some institutions like the Ontario Ombudsman, there is a lot to be achieved in that direction to entrench accountability in our system, especially in police forces. Even when race isn't involved, investigations about police forces are still shrouded in secrecy and the public isn't always provided with a full picture.
Accountability goes beyond the case of Mr. Abdi. Accountability is the glue that holds together a diverse society with democratic institutions.
The mayor of Ottawa, Jim Watson, didn't attend the vigil organized by the city councillor of the area, Jeff Leiper. He was even late in issuing a statement to offer his condolences to the family. That is very disappointing.
Reasons like vacation or holidays are not understood in these emotionally charged moments. If his absence means something, it means that he implicitly sided to "protect" his police officers. This is not a sign of leadership from a politician. He should be fair and objective, but most importantly in these tragic circumstances, he should show compassion.
Community groups are not only an exotic photo opp to be taken during cultural festivals and folkloric dances in order to show the multicultural aspect of our Canadian culture. Community groups need and deserve leadership in times of sorrow and questioning.
Last fall, Ahmed Hussen was the first Canadian Somali (York South-Weston) to be elected to Parliament. That was portrayed by national and even international media as a huge symbol of integration and refugee success stories, and indeed it was.
We also understand that the death of Abdirahman Abdi didn't happen in the riding of Mr. Hussen and that he isn't necessarily obligated to be commenting on all events about Canadian Somali community. Nevertheless, at one point he was the national president of the Canadian Somali Congress, and the death of Mr. Abdi is not just any death. In that regard, there is some moral responsibility that to our knowledge wasn't shown. Multiculturalism can't be just a static symbol, it should have real impact on people's lives, especially when some affected communities are struggling for answers and reassurance.
After the 9-11 attacks, former Prime Minister Jean Chrétien went with a delegation of Canadian politicians to visit the Ottawa Main Mosque. His gesture showed leadership and sent a sign to the Muslim community that despite the difficult times, they were safe in their own country.
Alexa McDonough, leader of the New Democratic Party at that time, stood up in the House of Commons, famously saying that "Muhammad, Fatima and Osama are Canadian names" after some Muslim kids were reported being bullied in schools for having the same name as Osama bin Laden.
Of course, these were heavier and much more difficult circumstances, but the behaviour and attitudes of politicians tell more about their leadership than the events themselves.
Follow HuffPost Canada Blogs on Facebook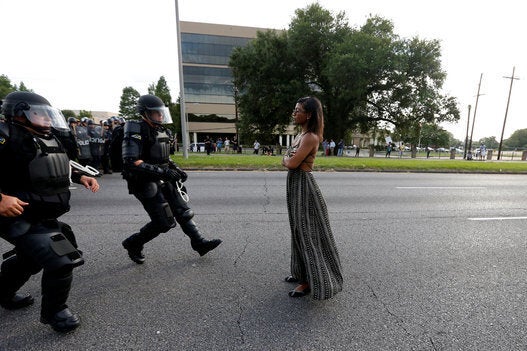 Black Lives Matter Protests In The U.S. 2016
Popular in the Community