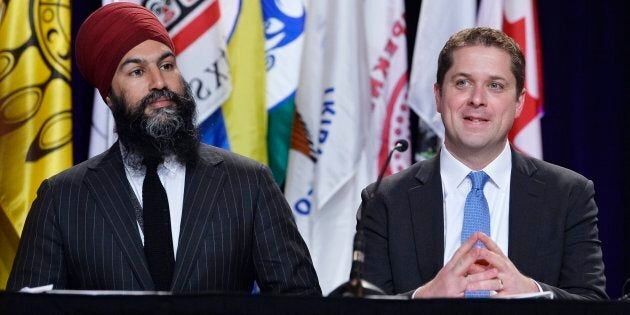 The leaders of Canada's four main opposition parties can agree on one thing at least: the prime minister has no good reason not to call byelections in three vacant federal ridings.
Conservative Leader Andrew Scheer, NDP Leader Jagmeet Singh, Green Party Leader Elizabeth May and interim Bloc Québécois Leader Mario Beaulieu all made their case in a joint letter released Tuesday.
"While the parties we lead disagree on what solutions are best for the challenges facing Canadians, we are in complete agreement that Canadians deserve to have elected representation as soon as possible," it reads.
"We urge you to do what's best for Canadians in these ridings and immediately call the by-elections for all vacant seats in the House of Commons."
Earlier: Singh announces he's all in for Burnaby South
The leaders noted that Trudeau called a byelection Sunday in the Ontario riding of Leeds-Grenville-Thousand Islands and Rideau Lakes, which became vacant when veteran Tory MP Gord Brown passed away in May. The vote will take place on Dec. 3.
Yet the prime minister raised some eyebrows by not calling votes in other ridings without MPs, particularly the B.C. riding of Burnaby South that Singh hopes will provide a path to the House of Commons.
Though the NDP leader announced in August that he would run in B.C., the riding was only formally left vacant last month when longtime NDP MP Kennedy Stewart stepped down to successfully run for Vancouver mayor.
The Quebec riding of Outremont, held for years by ex-NDP leader Tom Mulcair, has been without representation since he officially quit in August. The Ontario riding of York-Simcoe is also without an MP since Conservative stalwart Peter Van Loan stepped down last month. That resignation was made official in early October.
"Your decision to delay the other three by-elections denies hundreds of thousands of Canadians their simple democratic right to be represented in Parliament and have their voices heard," the letter reads.
"The longstanding tradition in Canada is to call the by-elections for all vacant seats at the same time. However, you have offered no clear explanation as to why you only called a by-election date in Leeds-Grenville while the 334,000 Canadians in Burnaby-South, York-Simcoe, and Outremont should continue to go without federal representation."
But the prime minister does not need to make a decision until the new year.
According to Elections Canada, a byelection must be called within six months after a seat is vacated. Trudeau needed to call a vote in Leeds-Grenville-Thousand Islands and Rideau Lakes by Oct. 30.
PM scoffs at NDP 'sanctimony'
Based on the timing of the vacancies in other ridings, as declared by Elections Canada, Trudeau needs to call a byelection in Outremont by Jan. 30, in Burnaby South by March 18, and in York-Simcoe by March 30.
Under fire from the NDP in question period Monday, Trudeau said it has been "mere weeks" since those three ridings became vacant and that byelections will be called in accordance with the rules.
"The sanctimony from the NDP on this is, as always, amusing," he said.
NDP MP Peter Julian pressed the issue again Tuesday, noting the support from other leaders across the political spectrum.
"Will he listen to parties representing 150 members of Parliament and call the vote now?" Julian asked.
"We look forward to calling them soon and look forward to campaigning against people who are so enthusiastic about the democratic process," Trudeau said in response.
Singh sat out other byelections
New Democrats have accused Trudeau of being "petty" and "manipulative" for not extending a leaders' courtesy to Singh, who does not have a seat in the House.
Liberals are quick to point out that Singh took a pass on three byelection races last December — in the B.C. riding of South Surrey-White Rock, Newfoundland and Labrador riding of Bonavista-Burin-Trinity, and Ontario riding of Scarborough-Agincourt — as well as one in the Quebec riding of Chicoutimi-Le Fjord in June.
Singh also sat out two byelections in October 2017 that took place mere weeks after he won the NDP leadership: one in the Alberta riding of Sturgeon River-Parkland and another in the Quebec riding of Lac-Saint-Jean.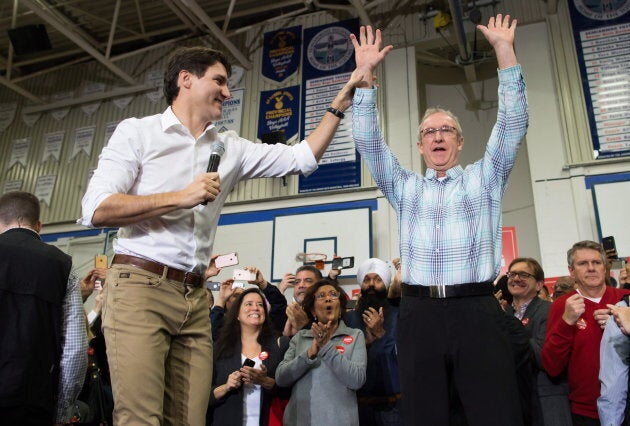 It remains to be seen if Liberals will run a candidate against Singh once the Burnaby South byelection is called, or honour a Canadian parliamentary tradition of allowing party leaders an easier route to the House.
Liberals and Progressive Conservatives stepped aside for Stephen Harper in 2002 when the then-Canadian Alliance leader, who was without a seat, ran in a Calgary byelection.
In August, Green Party Leader Elizabeth May announced she would not run a candidate against Singh, saying at the time that she wanted the leader of "an important part of the political spectrum" to serve in Parliament.
With a file from The Canadian Press