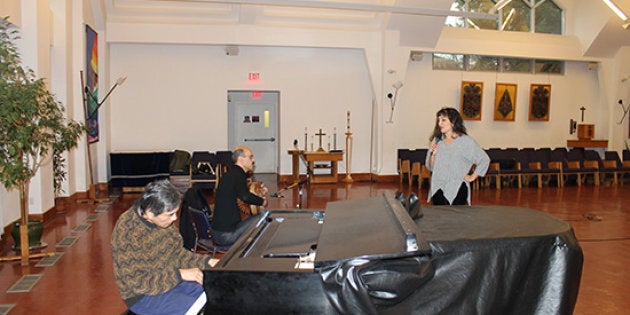 The other day I found myself in a 100-year-old Anglican Church in Vancouver, in a place called rather fittingly, the Sanctuary.
At St. Mark's, the sanctuary, with its vaulted ceilings and exquisite acoustics is sought after by musicians as a performance space, and today was no exception.
I was there to rehearse for a benefit happening the evening of Friday December 7th for Syrian refugee relief and emergency aid to Gaza, with funds directed to Doctors Without Borders and the ICRC's Middle East fund.
On the same day that marked the death of jazz pianist Dave Brubeck -- known not only for the popular Take Five but also for his groundbreaking work incorporating world music into American idioms - I rehearsed with a truly international group of musicians -- in a uniquely Canadian setting.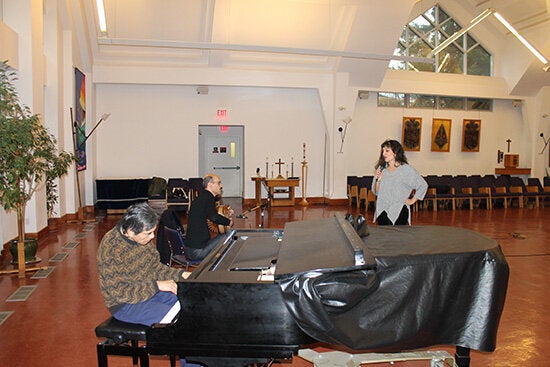 There we were -- myself whose great grandparents were Christians fleeing Ottoman ruled Syria for the Northwest Coast of Canada a century ago, jazzer Doug Louie, whose grandparents came here from China at the same time -- albeit with a head tax in place -- and Hossein Behroozinia, a master of the Iranian oud or barbat. Hossein, who came here a decade ago and has recently opened a classical Persian music academy in North Vancouver, brought a young percussionist with him, Arjang Ataollahi who left Tehran six months ago for a new life in Vancouver. Soon Kurdish-Iraqi flamenco/maqam performer Baraa Safaa Ali would join us.
We were gathered together in preparation for a fundraising concert that will also feature poetry in translation -- by Syrian poet in exile Adonis -- as well as the late great Mahmoud Darwish -- and a special performance by local Middle Eastern dancer Rahma Haddad.
In short, it will be a true gathering of the tribes -- and one finished off with a peace circle dance in Aramaic lead by members of St Mark's Anglican congregation.
As Doug and Hossein carefully tuned the barbat to the piano, and Arjang played some Persian rhythms on his drum as I sang an old jazz standard, it struck me that there was more than mere musical harmony at stake here. As we got ready to rehearse a somewhat orientalized version of Autumn Leaves (which I sing in French to boot!) I thought again of a region in upheaval and the power of culture to unite disparate elements.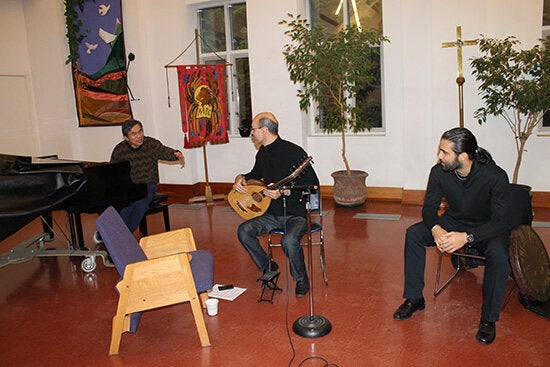 I thought of my old friend in Cairo, Yehia Khalil, a Christian Egyptian-American who has continued to perform at his jazz centre in Zamalek -- happily ensconced next door to a mosque -throughout his country's ongoing political strife.
I also thought of Kamilya Jubran of the Palestinian group Sabreen -- who for several decades have mixed traditional music with jazz and blues elements.
I remember her saying once in an interview, "We tried violent resistance and that didn't work, We tried non-violence and that didn't work either. Sometimes it seems all there is left to do is to sing."
And I thought of Syrian writer Samar Yazbek, whose book Woman in the Crossfire -- a gripping account of the Syrian novelist's dangerous work documenting ant-regime activism -- I reviewed recently for the Globe and Mail.
Amidst her poignant call for a unified, non sectarian resistance, she offers a moment of pure heartbreak -- that moment -- so familiar to me from research in Iraq for my book Dancing in the No Fly Zone -- when you realize your nation has become one of refugees.
After catching a televisual glimpse of Angelina Jolie visiting Syrian refugees in Turkey, she writes, "My heart skips a beat. Syrians are now displaced persons; celebrities adorn themselves with them."
Well my friends and I are far from the Angelina Jolie world of celebrity -- although one could argue that Hossein is the John Williams of the Persian classical music world. And the Sanctuary is a long way from the reality of a war zone.
Or from the refugee camps in Jordan, Turkey, Lebanon -- and ironically Iraq (once it was Iraqis who fled to Syria) where en estimated half a million (unofficially registered) Syrians languish in wintry camps 75 per cent of them women and children. (last year the ICRC and the Syrian Arab Red Crescent supplied over a million Syrians with basic necessities like clean drinking water and food rations).
It's certainly a long way from Gaza, where Doctors Without Borders recently dispatched an emergency response team -- and where they've had a presence since 2000 -- and a specialized surgery program in Khan Yunis since 2011. And where the ICRC and the Palestinian Red Crescent recently supplied ambulances, critical medicines, dressing materials and fuel to a besieged population. (over 150 people were killed there during the recent conflict and over 1000 wounded)
And it's a long way from the Bekka Valley hill town where my great grandparents -- newlyweds at 16-fled for a new life in Canada. But I think of them now -- and of all the stateless people and refugees and displaced in the region. Their family name Mussallem is a clan with old Ghassanite roots, that encompasses folk from all three major regional faiths and, legend has it, was changed to indicate "man of peace" after one too many violent conflicts.
I think of them now as I still hold a candle for peace in a region where no single conflict can be contained within relatively new borderlines, and where civil war, occupation and millions of refugees are ongoing, inter-connected realities. Realities that affect us, and move us even here on the edge of the Pacific, so far from the Mediterranean sea.
Sometimes, it does seem like all there is left to do is sing. But if you sing from the right place -- and with the right group of friends -- it can be a balm for your heart, and a prayer for peace.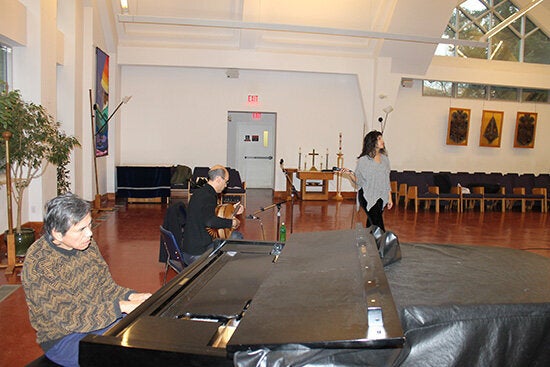 Popular in the Community