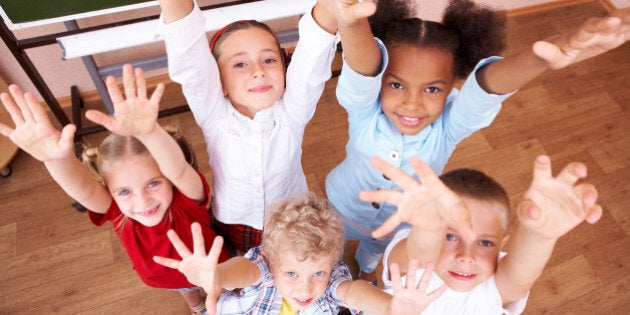 Research in pedagogy shows that children learn much better in smaller classrooms. Tim Hudak, if elected, has promised to increase classroom sizes and the student-teacher ratios. The Ontario elections could very well be a vote on the learning outcomes for millions of school-going children.
Comparative global research on learning has shown that smaller classrooms allow teachers to tailor their pedagogy to meet the needs of young learners and create more one-on-one interactions between teachers and students. With hard evidence supporting the efficacy of small classroom sizes, one wonders why the Conservatives would recommend otherwise.
Parents everywhere are perpetually stressed about the quality of education their children receive in schools. Without exception, parents would like to provide the best education their children could have. In Ontario, where most schools are operated by the provincial government, the quality of schooling is determined, to a large extent, by the government guidelines. Tim Hudak, the leader of the Ontario's Progressive Conservatives, is campaigning to increase the classroom size by two to three students and the student-teacher ratio, in addition to numerous other proposed cuts to the Ontario's education system. This may require parents to learn more about learning before they vote on June 12.
Kevin Watson and his co-authors at the University of Notre Dame in Australia undertook a comparative study of the impact of classroom size on learning outcomes. Their research, published in 2013 in the Journal of International and Comparative Education, concluded that "class size reductions function to provide opportunities for more student-focused pedagogies and that these pedagogies may be the real reason for improved student academic performance." Why should we then go in the reverse and risk Ontario's young learners by increasing classroom sizes?
It is relevant to recognize the motives behind Mr. Hudak's plans to increase classroom sizes. The Conservatives are deeply, and rightly, concerned about the Ontario's growing public debt and the continued budget deficits. Mr. Hudak is campaigning to balance the budget and reduce province's debt. All else being equal, these are sound policy objectives to achieve sustainable economic growth in Ontario. However, cutting costs to balance the budget should not translate into cutting corners. Increasing classroom sizes and reducing teaching staff may do more harm to learning than good to balancing the books.
Mr. Watson and his co-authors reviewed several studies from the developed world including the three multi-year landmark studies done in the United States that analyzed the learning outcomes of thousands of students across hundreds of schools in three different States. The three studies while differed in their research methodologies were unanimous in their findings: students in smaller classes outperformed those in larger classes.
The Student-Teacher Achievement Ratio (STAR) project (1985-1989) compared the learning outcomes for small class sizes of 13 to 17 students against those with 22 to 26 students enrolled in the kindergarten, first, second, and third grades. The carefully designed study, which maintained class sizes over the five-year period and randomly assigned students and teachers to small and large classes, involved 7,000 students in 300 classrooms in 79 schools in Tennessee.
The STAR project concluded that "students in the smaller classes outperformed students in the larger classes whether the larger classes had an aide or not." The Wisconsin based Student Achievement Guarantee in Education project, which started in 1996 and lasted for five years, also concluded that first-grade students in smaller classes "performed consistently better than students in schools with 'normal' size classes." The California Class Size Reduction Program also found that even when one controlled for gender, poverty, language proficiency, and ethnicity, the students in small classrooms of no more than 20 "made small but statistically significant gains in achievement when compared with students in 'normal' size classes." The U.S.-based studies also revealed that students from disadvantaged communities benefitted more from smaller classroom sizes than the rest.
The Canadian experience is no different. Two studies, one from Ontario and the other from Alberta, reviewed by Kevin Watson and his co-authors concluded the same. The Alberta study analyzed the learning outcomes for first graders in Edmonton who were put in classes of 15 or fewer students, and were subjected to other learning enhancements. The Alberta study "reported substantial improvement in academic scores after five months."
The Ontario study reviewed the impact of the province-wide classroom size reductions by Ontario's Liberal government that required 90 per cent of all primary school classes to have no more than 20 students, with an overall maximum limit of 23 students. The government provided additional resources for teaching staff and other infrastructure to assist the schools in meeting the provincial mandate. The authors found positive outcomes from reduction in classroom sizes that included "more meaningful communication in class, more frequent one-to-one work with students, increased group work as well as a greater diversification in teaching strategies particularly in literacy."
The individual attention young learners receive in smaller classes enhance their learning. At the same time, one must note that the gains seen in learning in the early years are not necessarily sustained in the long-run. Other factors, such as teachers' training and evaluation (a worthwhile initiative of the former Ontario Conservative government) and enhanced learning methods are equally important in improving the learning outcomes.
School-going children will not be voting next week. However, the outcome of this election has a direct bearing on their future welfare. It is up to their parents, and others who care, to cast an informed and educated vote on June 12.
Popular in the Community