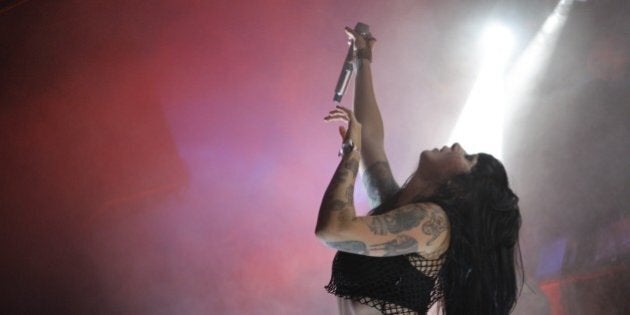 NXNE 2014 kicked off its sprawling music segment on Wednesday June 18 with hundreds of bands playing across the city. Here are the highlights that we caught and come back for more reviews throughout the 20th North-by-Northeast festival.
Red Bull Sound Select @ Tattoo Rock Parlour
Even though it was 1 a.m. on a Wednesday, the crowd at Tattoo on Queen West was pulsating with excitement. The Red Bull #SoundSelect showcase had already featured crowd-pleasers Young Magic and Autre Ne Veut that night, but Wednesday's secret guest, Sleigh Bells, had the many sweaty, denim-vested patrons anticipating a rowdy good time.
They were not disappointed.
From the minute the band walked on stage it was bright lights, noise city. Vocalist Alexis Krauss did not stop dancing, while her partner in crime guitarist Derek Edward Miller spent the night shredding noise pop notes. Crowd-pleasers included their more popular tunes, "Infinity Guitars" and "Crown on the Ground," but the raging mosh pit seemed to know every song by heart. The whole venue was rumbling and vibrating and dancing like crazy.
"We're playing tomorrow at Dun...Dundas Square. Is that how you say it?" said Krauss at one point during the show. "But this is amazing." Or maybe she didn't say any of that. My eardrums are still ringing.
NXNE reviews continue after slideshow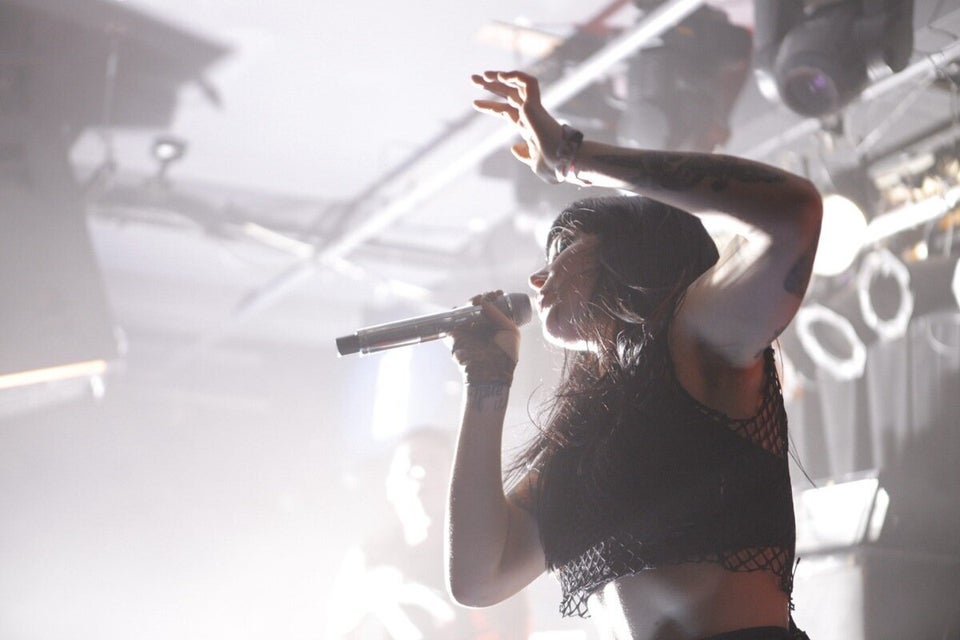 NXNE 2014: Sleigh Bells
Mio Squirtcar @ Queen Street
The chance to see Har Mar Superstar on a streetcar was too much of an attraction for a rhyme-loving music fan to ignore. And so I bailed from the NXNE opening party and boarded a streetcar, but this one had been remade into a mobile stage which will be ferrying music fans up and down Queen Street to watch everyone from The Pizza Underground to Reggie Watts.
But it kicked off with absurdist R&B singer Har Mar Superstar, whose voice always transcends the shtick as he belted out tunes like "DUI." Unfortunately, streetcars are rather thin and have no raised stage, which meant the sight lines weren't exactly ideal. But the novelty of having a band in motion mostly made up for it.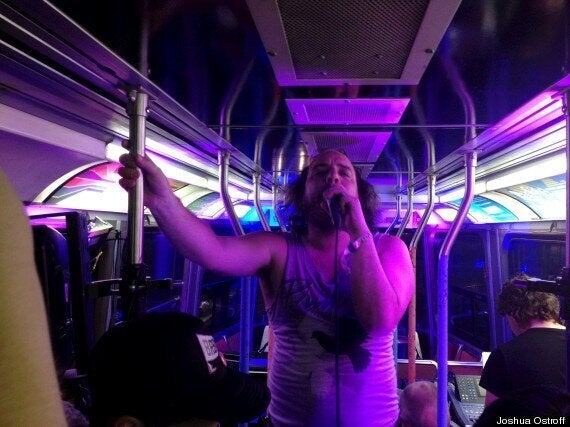 JPNSGRLS @ Bovine Sex Club
On first impression there was something immediately dislikeable about JPNSGRLS' frenetic rock 'n' roll, most likely due to the whiff of puppetmaster lurking in the rafters hoping they'll be the next Incubus-meets-Fall Out Boy. An association with Marianas Trench, Canada's pop-rock placeholder until something better comes along, does them no favours either.
Despite this, though, there was something of tremendous worth circling agonizingly around edges of what JPNSGRLS were doing. It might have been the occasional jerky musical swerve that suggested a secret Mars Volta record collection. Or maybe it was the groove of "The Unicorn Song" recalling the era when Red Hot Chili Peppers didn't exclusively write ballads about California. More likely it was the band's single "Smalls," which kicked off with a Nirvana flashback before turning into a showcase for lead singer Charlie Kerr to yelp his way charismatically across the Bovine stage.
White Cowbell Oklahoma @ Magpie Taproom
Long-time NXNE chaos magnets/boogie rockers White Cowbell Oklahoma chose instead this year to do a (relative) low-key, off-the-official-grid Wednesday night party at the Magpie Taproom. Things started inauspiciously when mere seconds into the band's set the power blew, leaving the whole bar in complete darkness. A drum solo, a clap-along, and lead singer Clem Clemsen gamely wading into the crowd to shake hands and personally thank everyone for coming while waiting for the power to return ably problem-solved the lack of electricity.
The band, who've become a legit three-guitar shred attack over the years, powered through well-known tracks like "Monster Railroad," "Cheerleader," "San Antone" and "Faster Than Sin." For an act whose theatrics once rivaled GWAR's, the relatively simple accompaniment of two go-go girls and band MC Chainsaw Charlie's lighting of fireballs in the bar (which Clemsen described as "Great White Cowbell Oklahoma") only served to put the rawk in greater focus and show that WCO have truly become masters of their craft.
I was hoping to see Mauro Pezzente and his bass complement this two-piece, but they didn't necessarily need him. Though they only played four songs ("Wish," "123," "Bricks," "Coiled At The Bar") over about 25 minutes, each one echoed in my head for an hour after. Maica Armata's vocals are the main thing on offer, here, and they did not disappoint, starting off as an sharp instrument interplaying with the rumbling low treble of her guitar and getting more loose as the set went on and the songs allowed for it. As of "123" the songs got more rhythmic and less bare.
The third song, "Bricks," was, to me, the set's climax. It was a ballad, in a way, alternating from soft to loud, mournful to violent, placid to what-the-fuck-is-happening. Its alternations were jarring, and allowed the song, if it could, to have narrative flow: this is the story; this is the aftermath. It sounded like a Cormac McCarthy short story bathed in blood and regret.
The following comes directly from my hastily-scribbled notes, and I make no apologies for my fugue state.
Wow, what an entrance — immediate and secure and dominant. Cocksure. Masculine. Triumphant.
There's a construction to these songs that borders on the abstract, what with their looped and echoed vocals that feel less like a showoff and more of a statement.
A great band is a versatile band. Thus Owls seem like they can come mystical and enchanting; or thoughtful and instructive; or rustic, raw, and real.
Peaceful and haunting. Thoughtful. Thoughtful. Thoughtful. Full of thought. Music that makes you want to find out what the songs are about, and songs that make you want to learn how to write music to encircle your best ideas.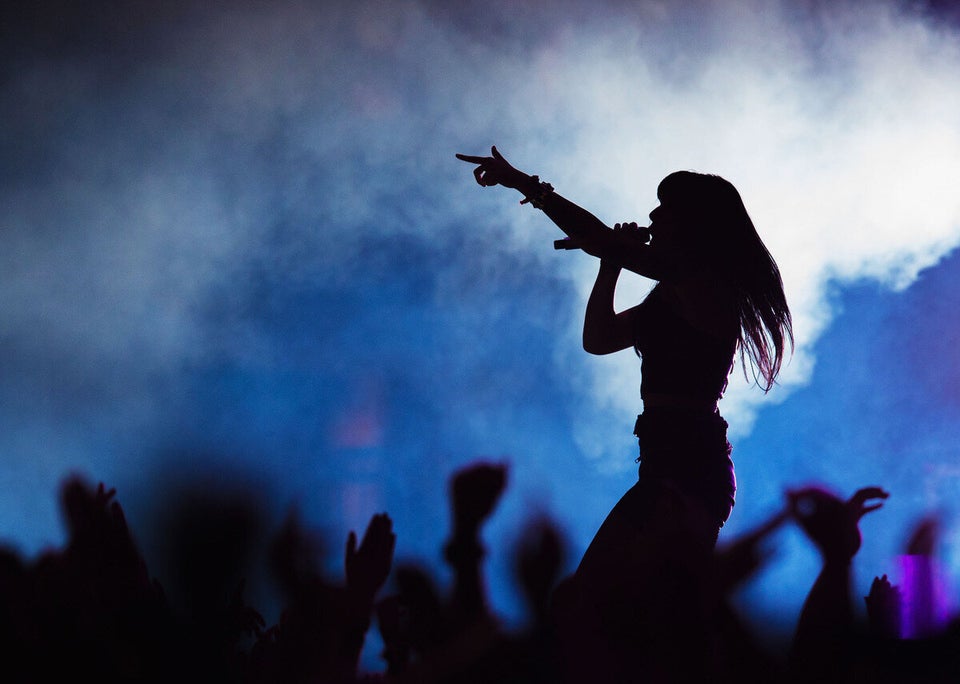 Summer Music Festival Guide 2014
Popular in the Community