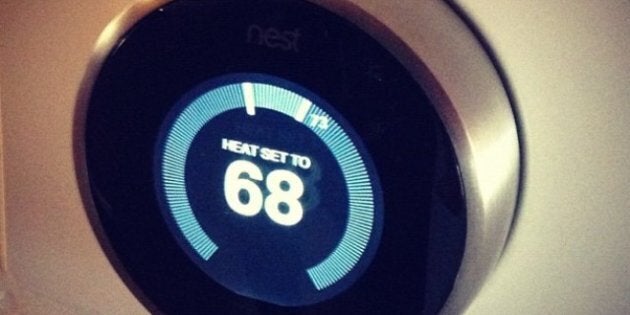 Imagine if your alarm clock would not only wake you up, but also communicate with the rest of your household essentials by starting your coffeemaker, toasting your morning bagel, highlight pressing emails you'll want to read first thing and setting your shower so that the moment you turn on the water, it's at the precise temperature you personally prefer? We might've scoffed at this Jetson-like concept not long ago, but with the number of advancements made in the next era of appliances, such a day may not be too far away. Some of the latest you might find you won't be able to live without.
The latest smart home appliances that can help make your day-to-day life more convenient and enjoyable
A refrigerator that helps you lose weight
Exercise paired with a healthy diet is often the combination recommended for shedding pounds safely and effectively, and now your fridge can help you get rid of that muffin top. Just rely on your fridge to keep your food cold? Pshaw. A new one from LG comes with a health manager that can be customized for each member in your household (it's voice-activated, too) to provide help in maintaining a healthy diet, giving you notices when you run out on certain groceries and communicating directly with your smart oven regarding recipes that can be chosen based on your health goals. Forgot your grocery list at home? No worries; pull out your smartphone and it can tell you what's in the fridge and the expiry date on that milk based on the info you've input (yes, you need to pitch in to help it be smart).
A thermostat that adjusts your home's temperature according to your lifestyle
If only all new dating prospects focused as much on learning as much about you as the latest home thermostats, such as the Nest thermostat. Once you answer a few basic questions, the thermostat then learns what temperatures you like and creates a schedule just for you. The more you help it get to know you, the more money you can save on energy costs. Designed with activity sensors, this thermostat can also detect when you're not at home so it can adjust your home's temperature automatically, bringing the temp. to a comfortable energy-saving level while your house sits empty.
A television that helps you indulge in social media
Adore tweeting along with your favourite television shows (or simply just always being tapped into all of your social media outlets)? The latest connected TVs, allow you to indulge right on your screen while watching Breaking Bad and all of your other favourite shows. Also, given their internet capabilities, you can stream directly from sites such as Netflix.
A showerhead that encourages you to shower efficiently
If you're keen on being kinder to the environment, you can start with cutting down on your shower time to a mere five minutes. The new Lok low-flow showerhead boasts an analog clock counting down your five-minute shower time so you're always aware of how much more time you have left (but don't worry about being stuck with shampoo in your hair as you're learning to shave time off your routine—the water doesn't shut off on its own). It also features adjustable compartments so you can keep your soap, shampoo and conditioner just within reach, making your shower even more efficient.
A vacuum you can control remotely so you can kick back and relax
If vacuuming is your most despised household chore, the robotic vacuum may be just what you need to keep your floors tidy. LG's vacuum can be controlled by your smartphone, so you can switch it on from the comfort of your warm, cozy bed, for example. Want to check how well it's dealing with all of that fur your dog has shed on the floor? The vacuum comes with a built-in camera so you can get a visual on it as it sucks up dirt and debris.