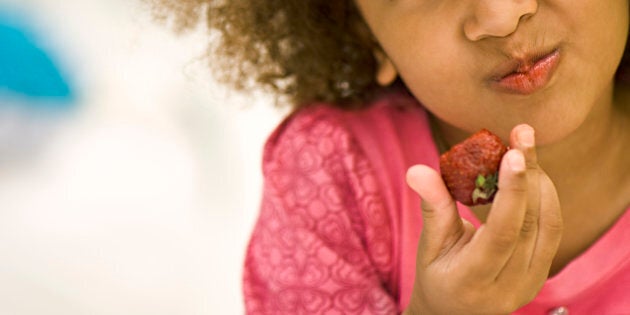 We're going to take a stand and say, no, there is not. From the moment they're born, you're either fighting exhaustion to feed your baby from your own body during a 2 a.m. three-hour power-nursing session while your nipples threaten to fall off, or you're scalding your hands sterilizing plastic nipples (also at 2 a.m.) while trying not to gag over the stench of formula and hoping your baby doesn't notice that their favourite brand of bottle was discontinued (but, oh, they notice).
Before you know it, you're dodging spoonfuls of applesauce, watching your toddler throw entire plates of food on the floor (while screaming ... always while screaming), bargaining with your pre-schooler to PLEASE SIT IN YOUR CHAIR, begging your nine-year-old to at least try the salad, and wondering if your teen can live off of pizza alone.
So, when a parenting snack hack comes along, we are ALL IN. And this one is genius.
Snack boxes — also known as muffin tray snacks, also known as toddler buffets, and also known as kiddy bento boxes — are here to change our lives.
All you need is a muffin tray (you know ... that thing under your stove that's never been used even though you swore you were going to make fresh, steaming, sugar-free muffins for your children every weekend), or an ice cube tray, or one of those little plastic containers you probably used to store your beads and gimp in as a child, and a variety of healthy snacks.
"It's a brilliant idea that carries magical powers to increase the excitement over healthy snacks by at least 74.3 per cent," Ottawa mom Beth Ricci of Red & Honey wrote on her website.
Some of her kids' favourite fillers include fresh fruit, nuts, dried fruit, crackers, cheese, popcorn, carrot sticks, snap peas, jerky, hummus, and hard-boiled eggs, Ricci adds, while noting that a good snack tray "totally can count as lunch."
"Man what a help they are!" writes mom Lauren Brennan of Lauren's Latest. "My kids go crazy for these little babies and I don't have to hear the words 'I'm hungry!' for at least 37 minutes," she added on Instagram.
Brennan, who is from Ottawa and currently lives in New York, N.Y., writes on her website that her boxes usually contain snacks such as cashews, goldfish crackers, banana chips, cucumber, fruit, cheese and Oreo cookies.
You guys, you can even fit a glass of milk in the muffin tray.
Consider our minds blown.
Popular in the Community