Shoveling snow is a backbreaking necessity for Canadians in the winter months.
But one clever teen from Burlington, Ont. has turned a dreaded task into something fun.
Fourteen-year-old Julius de Paz was spotted shoveling his mother's driveway atop a hoverboard on Tuesday, The Hamilton Spectator reported.
And it's not the first time De Paz has used the hoverboard for household chores. His mother Jennifer Isabelle told the Spectator that he's also used it to sweep and take out the garbage.
"I think it's a great idea," she said. "[Julius] says he's going to do that with a lawnmower in the summer."
There is some question over whether it's a good idea to ride a hoverboard in wet conditions.
De Paz isn't the only one who's used the technology for domestic purposes. Various videos posted to YouTube show people using hoverboards to complete household tasks such as vacuuming, cutting the grass and even screwing in a lightbulb.
"Back to the Future Part II" predicted that hoverboards and flying cars would exist by this point in history.
They haven't quite arrived in the form in which they were predicted. But technology to make housework fun will do just fine for now.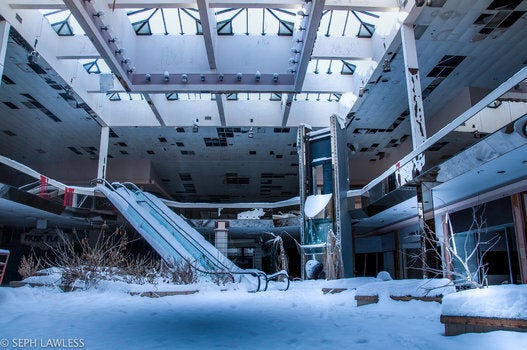 Enchanting Photos Of Snow-Covered Abandoned Mall Show Retail's Ultimate Decline
Popular in the Community