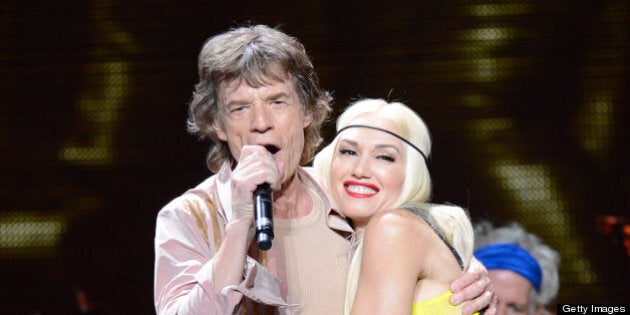 Much ado has been made about Gwen Stefani's lyrical flub while singing "Wild Horses" with the Rolling Stones last Friday night (May 3, 2013). Most of the comments poked fun at her mishap, telling her to rehearse etc. They're exactly the sort of comments you'd expect directed at someone largely seen by people to be some pampered "it" girl and/or a person not worthy enough to step on stage with a "Rock N' Roll Institution" such as the Stones and her slip-up more than proves their point. (See the video below).
But as someone who's had the privilege to step onstage with musicians I've admired since I was a kid, I can completely empathize with Stefani. You try singing "Wild Horses" with The Stones and see how well you fair. My guess is most people, including those who sing for a living, wouldn't even be able to cough up the word "wild" without choking on their own saliva. The fact that Stefani made it onto the stage without having a heart attack is impressive enough to me. If I was in the same position, they'd need paramedics following me until breakfast the next day, so fast would my heart be palpitating before and after.
The high chances of me screwing up in front of the Rolling Stones are not because I'm unprofessional. Trust me, I've logged my fair share of shows in front of my fair share of crowds, it's because I am fanatical for the Rolling Stones. When Mick Jagger hosted SNL last year and played songs alongside the Arcade Fire and the Foo Fighters, watching him keep up with bands much younger was impressive, but what was more impressive was the fact the Fires or Foos didn't collapse from sheer fandom playing alongside Mick Jagger. I don't even know if my hand could hold my guitar pick if Mick saddled up next to me to finish the line "couldn't drag me away."
I know this from experience.
Last fall, when Jello Biafra was in Toronto to play with his band The Guantanamo Bay School Of Medicine, he asked me to join him on stage and sing the Dead Kennedys classic, "Too Drunk To Fuck." Never one to pass up an opportunity to sing alongside the incredible Jello Biafra, whose distinct voice I've been listening to in my headphones for more than half my life, I jumped at the chance like a dog on Alpo. "Too Drunk..." was also a song that I had listened to a million times and with confident smugness believed I knew it like the "back of my hand."
That evening when I hopped on stage, I drew a blank, froze like a statue and basically looked like a jackass. I couldn't get over the fact that this song I'd been listening to for years was now being sung by me beside the guy who sang it. It was a huge moment and I blew it 'cause it just meant too much to me.
As much as I wanted to disappear into the carpet, I bravely ambled backstage after the show, meekly thanked Jello for asking me on stage and apologized for messing up the song. To my surprise and great relief, he shrugged it off relaying a similar story of him forgetting the lyrics to a Black Sabbath song when he stepped on stage with Reverend Horton Heat. It was exactly what I needed to hear and helped me elude what would've been an anxiety-filled month of reliving that humiliating moment over and over again in my head.
In fact, I think Gwen shows how genuine a Stones fan she is by flubbing the lyrics. You have to wonder how anyone can step on stage with Jagger, Richards, Watts and Wood on the first night of their world tour without being a little discombobulated. Twenty bucks says Stefani can out-sing anyone at a party when "Black And Blue" gets thrown on the stereo, too.
Gwen, don't listen to the naysayers. They're just jealous. Hell, I'm even jealous of you. You sang with The Stones and you looked great doing it, if I do say so myself. Nobody, even wild horses, as hard as they might try, can take that away from you.
Watch Danko Jones consider the difficulties of following the Rolling Stones.
Popular in the Community