According to a post on Sobeys' Facebook page, a shopper from Thornhill, Ont. had discovered a package of avocado halves by Calavo and the user's friend decided to post the image on the grocery chain's wall.
"Surprised and disappointed after a friend posted a picture of an avocado for sale at his local Sobeys in Thornhill, Ont. It's been pre-cut, then wrapped in plastic and cardboard. Avocado's have their own perfect, compostable, wrapping. Adding packaging to an avocado is strange to say the least. This is wasteful and I'm curious about the reasoning for Sobeys stocking avocado this way?," the user wrote.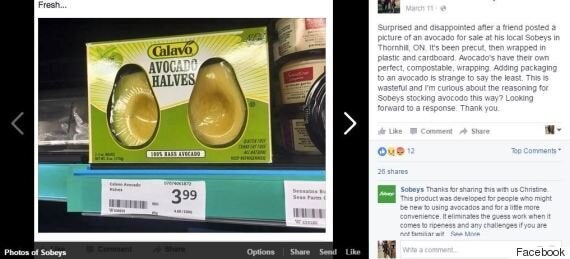 The grocery store responded to the comment adding the $4 avocado halves would be ideal for people new to eating the fruit.
"This product was developed for people who might be new to using avocados and for a little more convenience. It eliminates the guess work when it comes to ripeness and any challenges if you are not familiar with peeling and seeding a fresh avocado. The packaging is there to keep the fresh wholesome appearance and quality of the avocado without it browning prior to consumption."
But on Facebook, shoppers are just confused. Users are calling it everything from "lazy" to "distressing" to this comment which probably makes the most sense: "I'm pretty sure that package would take longer to open than an actual avocado...that is so ridiculous and wasteful!"
While some argue pre-cut packaged fruits and vegetables may be ideal for those who may not have as much mobility in their hands, the general conclusion yet again is this is just a waste of packaging.
According to Calavo, these refrigerated avocado halves have a shelf life of 55 days, and once opened, they must be consumed within 12 hours. And while we get some people won't eat a whole avocado in one go, we recommend this tip from The Kitchn to keep them from going brown once cut.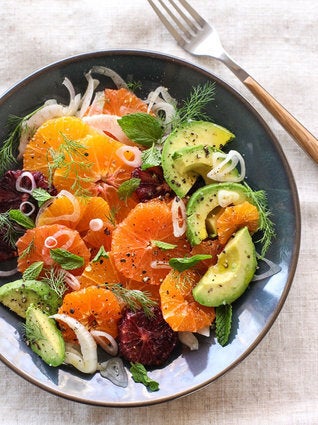 The Best Avocado Recipes