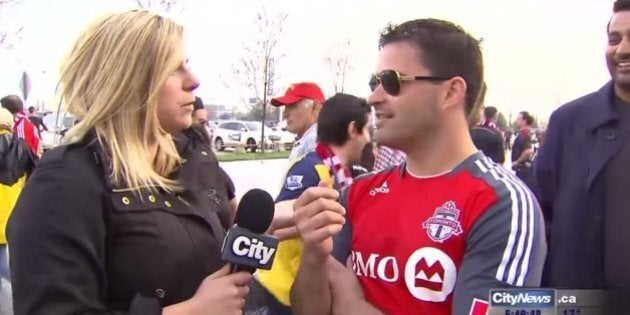 I've been a Toronto FC season's ticket holder for five years and I'm the mother of TFCs most devoted fan. He owns every branded item of TFC clothing in duplicate, his entire room is covered in Red's paraphernalia and he obsessively memorizes the stats of all the players. We've even travelled to watch Toronto FC in other cities. In short, we are uber fans.
He told me that his friends have known about the viral #FHRITP copy-cat "prank" for a while and he'd never really thought about the video bombing being awful until it made it's way to Toronto's own BMO field and I'd forced the conversation about it. He had some valid questions. Why hasn't the public made such a big deal about #FHRITP before now? Why haven't people spoken up as loudly in defense of all the reporters who didn't get the chance to confront the "pranksters" on camera? And if it's so bad, why hasn't someone been arrested?
He initially stumbled upon the "prank" a year ago via a Vine video with millions of loops. One of his classmates first posted a #FHRITP video on Instagram 47 weeks ago. Our kids have been sharing this offensive "prank" for a year and most of us hadn't really heard about it or thought to talk to them about it until this week.
Here's the important thing, #FHRITP is not simply a vulgar, viral "prank." Shouting "F--- her right in the pussy" is sexual harassment, verbal assault and a blatant threat of rape.
The effectiveness of the assault relies on victims being too shocked to respond. It isn't bold or funny; it is overtly sexist, cowardly, violent, disrespectful and disgusting. If the goal was 15 minutes of fame for video bombing then the viral trend could have used any clever phrase. But it didn't. It's centered on an ugly rape threat because assaulting women is funny?
One of the things that bothered me about some of the public reactions was the way many of us tried to get the masses to care about the harassment. Countless people asked how you'd feel if you heard someone say that to your mother/daughter/sister. It's a way to make it personal and forces us to step back and really digest the vulgarity, aggression and sexism in the words when you imagine them hurled at your loved one. But do we really need to personally know a woman to be able empathize, respect her and imagine why it's unacceptable to utter rape threats? Should we not all be immediately outraged to hear that about any woman?
The good news is that there were some shiny silver linings to the incident this week. Canadian media covered this story with unbridled enthusiasm. Ms. Hunt was positively amazing. Most people in my twitter feed agreed that it was good that the Internet exploded and that the public shaming of the harassers was loud and swift. Many applauded the MLSE for their strong and appropriate response. And we all wanted to high-five Hydro One for showing such leadership and courage in taking steps to fire their employee who was involved.
But is this enough? Is there anything else that could be done? Anything else that should be done to disrupt our rape culture and ensure young TFC fans really get why all this is so very wrong?
Yes, we should talk about how the MLSE organization can create an environment safer for female reporters and fans. We should watch closely and insist that they walk the talk with their promises of not tolerating this behaviour in the future.
But it's my son's idea that I like best. Kids his age don't care what the MLSE bosses or their parents on Twitter think about any of this. When they are not on Vine or Instagram, these teens go to the Toronto FC games and love the team and watch the broadcasts because of the players. It's the players' turn to step up and add their voice as role models by speaking out publicly against sexism, sexual harassment and violence against women. The appalling incident happened in their house so they need to be part of the clean up and the proactive solution in changing attitudes and influencing fans.
Lets take it onto the field too. Their most devoted 13-year-old fan thinks all the players should wear a warm up jersey emblazoned with the hashtag #ItsNeverOkay at the three upcoming home games in May's sexual assault awareness month. While the banned harassers won't see it because MLSE justifiably won't let them in the gate, everyone else will.
This isn't just about MLSE appropriately managing a public relations nightmare. They and the team have been presented with an opportunity to make a difference. They have a relevant moment in time to connect with the kids and the fans that they inspire with their sport and to let them know that violence against women in any form is never okay.
Ms. Hunt asked Shawn Simoes what his mother would say if she heard him. He said his mom would die laughing. I imagine he was wrong about that.
This soccer mom is definitely not laughing.
If you are a woman who was triggered by this story or have experienced any form of violence you can call the 24/7 Assaulted Women's Helpline at 866-863-0511. If you are living with intimate partner violence Interval House is here to help: http://www.intervalhouse.ca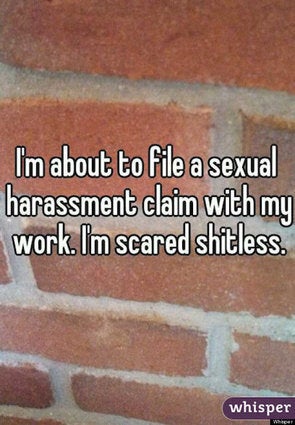 Women Who Reported Sexual Harassment