With files from Melanie Markham
My son Derrick dreams of Euro 2016 every time his head hits the pillow. The international men's soccer championship kicks off in France this coming Friday.
The last time the Euros were played, Derrick was just 10, more interested in toy soldiers than professional football players. Now, four years later, my son lives and breathes competitive soccer. His bedroom is plastered with posters of famous players and coaches.
Derrick has been super lucky. Because we pour much of our disposable income into supporting his football passion, he can train all year round. His brother Gavin has also caught the football bug, meaning our laundry is full of muddy jerseys and smelly soccer socks.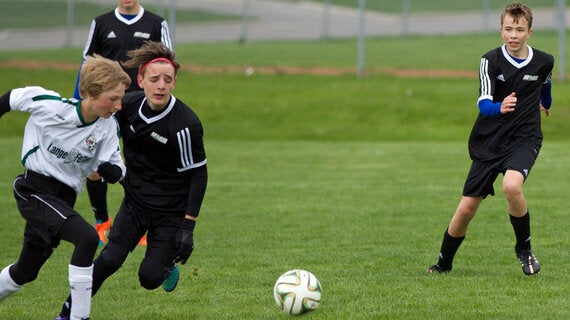 For my son Derrick (in red head band), winning that ball is like winning a battle. (Photo: Scott Higgins)
Nothing pleases my boys more than battering their bodies in regional tournaments, beneath the driving rain. Sleet is even better. They proudly share their bruises, happily nursing vendettas with rival teams.
I often tell my kids about soccer fans around the world, in places like South Sudan. Children are battered by the effects of war, long before they step onto the football field. Soccer, sometimes, is the one good thing in their lives.
When violence erupted in South Sudan in December, 2013, friends became enemies. Entire communities fled to safety within a United Nations base near Juba. Tens of thousands of people now live in this makeshift camp.
Vehicles enter and exit only through three heavily guarded checkpoints. Inside are hundreds of identical rows of rectangular shacks, each covered in the same white plastic.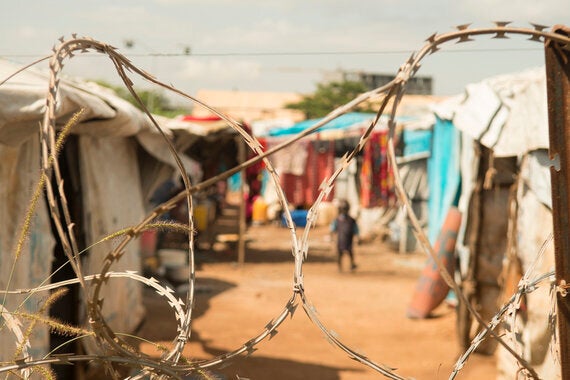 The makeshift camp outside of Juba is surrounded by barbed wire, to keep the war outside. But conflict often rages inside, as well. (Photo: World Vision)
Yesterday, I told my boys about two brothers in South Sudan very close to their ages. Their names are Liev and Phouch. The brothers were among the first to arrive in the camp. For the past two years, it's all that they've known.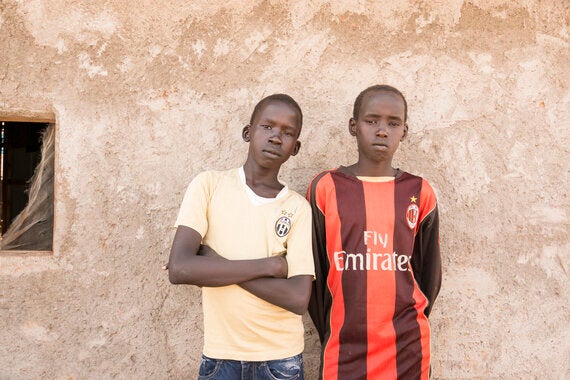 Brothers Liev (left) and Phouch are passionate football fans, like thousands of other children in the camp. (Photo: World Vision)
Inside the camp, soccer is a way of life. One of the largest shacks is "football central." The times of major soccer games are written across the plastic frontage. Inside, matches are screened on small televisions powered by solar generators.
Patrons must pay the equivalent of 20 cents Canadian per game to watch. But even at this low price, entry is well beyond the reach of most small football fans. There are a hundred other uses for 20 cents, most of which involve survival.
Like most of the homes in the camp, the brothers' home is impeccably clean and tidy. It only takes Phouch a few seconds to find the football they have inside their two-roomed shack. Then it's time to fall into the rhythm the brothers know so well.
In the small space between the rows of plastic homes, the brothers kick the ball to each other. Their skills are well-matched. Phouch's favourite team is Barcelona. His favourite players are Lionel Messi, and Neymar Jr.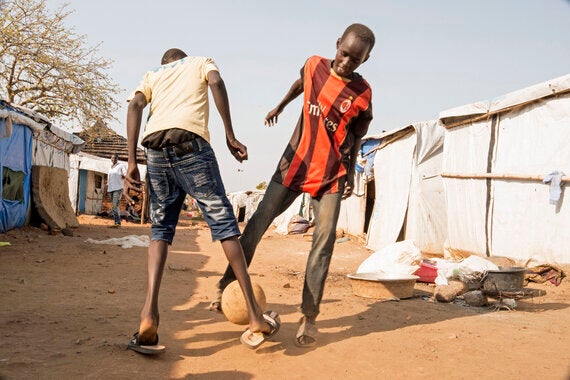 Children have a way of finding their own peace. For Liev and Phouch, this peace is on their makeshift football fields. They've joined a camp team that plays nearly every day.
Phouch says that the "only good thing" about living in a camp for displaced people is that his football has improved.
But no amount of football can change the basic facts of their lives. Here in Canada, my sons have their fair share of school and friend troubles. But Liev and Phouch live in circumstances no child should have to endure. The suffering they see around them is overwhelming at times.
"My neighbours have no food and water," says Phouch. He goes on to describe the violence, even within the camp.
"The worst thing is that people fight here... they beat each other," he says. United Nations peace-keepers do regular sweeps of the camp looking for, finding and confiscating weapons. But with increasing levels of violent crime in the country, it's not surprising that conflict seeps in.
Phouch shares that he would like to fix these things. But he realizes it's too much for a 12-year-old boy. For things to be right again, South Sudan needs peace.
I think of my own sons and all that soccer has given them. A chance to fight for something in a world where children still have relatively little power. An opportunity to limp off a field, battle-bruised and sometimes even injured, proud of their "war wounds." The dream of becoming a great player.
Then I think of Liev and Phouch, whose whole lives are a field of battle. Their war wounds are their destroyed home, their stolen education and the violent loss of their innocence. When Euro 2016 kicks off this week, these boys likely won't have the 20 cents' admission to watch.
As you drive past your local soccer field this summer and see kids enjoying the best that football has to offer, say a prayer for children forced from their homes around the world. Pray that soccer need not be the only good thing in their lives.
Follow HuffPost Canada Blogs on Facebook