The Sochi Winter Olympics are set to begin in Russia next month, and with that comes new controversy over that country's current laws affecting homosexuals in the country -- and how those laws might play into the Games themselves and affect its athletes, fans, and other sports professionals.
One 20-year International Olympic Committee veteran has just made it clear that he believes the Olympics are not the time for "politics" -- but shouldn't an international event built on inclusivity and the celebration of global talent be the perfect venue to talk about the ways in which that spirit is being threatened by the current host country and its leader, Vladimir Putin?
"It's absurd that a country like that sends sends four lesbians to Russia just to demonstrate that in their country gay rights have (been established)," Pescante was quoted by the Associated Press as saying on an Italian Olympic Committee meeting in Milan on Wednesday. One assumes that the "four lesbians" Pescante refers to are the three members of the American delegation who identify as homosexual: legendary tennis player Billie Jean King, figure skating gold medalist Brian Boitano, and women's hockey player Caitlin Cahow. Pescante further asserted that the Olympics shouldn't be an occasion to promote "rights that sports supports daily."
Aside from the fact of his bad math on the exact number of lesbians in the American delegation, Pescante -- who has been a member of the IOC for 20 years -- is unfortunately further misinformed on the state of support for gay, lesbian, bisexual, or transgendered athletes in the sports world. It is not the non-issue he would have us believe it is.
Support for LGBT athletes is certainly much more visible than it has been in the past, and several prominent athletes have spoken out against Russia's draconian anti-homosexuality laws. Organizations like You Can Play -- which is selling Russian-language shirts ahead of the games--are working to increase acceptance and diversity in sports all the way up to the major leagues, and several players and teams have expressed their support for the cause. But there are no male openly gay players in any of the four big sport leagues in North America, and other players have spoken out about how they were told to keep support for LGBT rights -- or their own homosexuality -- quiet. Former NFL player Chris Kluwe, for example, recently wrote a Deadspin piece alleging that his vocal support for same-sex marriage rights in the U.S. played a role in the end of his football career. And college basketball star Brittney Griner has stated in interviews that she was expected to keep her own homosexuality quiet while at Baylor.
Further, while LGBT people in Canada and the United States certainly still face important struggles in attaining equal rights and protection from discrimination based on sexual or gender orientation, their peers in Russia are dealing with a dangerous erosion of their freedom and safety. Though homosexuality has not been illegal in Russia since 1993, in recent years officials have denied permits for Pride parades and intimidated and arrested LGBT activists in the country. In June of 2013, the country passed a new law stating that "propaganda of non-traditional sexual relationships" aimed at minors was now banned; the definition of "propaganda" under the law is vague, as is its estimation of the targeting of minors.
This national law comes at a time when LGBT people in Russia face growing violence and discrimination. And Russia has made it clear they intend to enforce the law, including leading up to and during the Games; further, the country's sports minister said of visiting athletes "if he goes out on the street and starts to propagandize (homosexuality), then of course he will be held accountable." (The IOC itself does not permit Olympians to make political statements at the Games, and has said that this restriction applies to statements of support for LGBT individuals at Sochi.)
The Games are above politics, yes, in that they bring together athletes and sports fans of all countries in the spirit of competition and excellence. But that does not mean they are above humanity, and they should never be an arena for the denial of basic human rights. And GLBT rights are human rights.
The American Olympic delegation looks exactly as it should: it is made up of Americans who have excelled both in their chosen sports and in leadership. It represents excellence in American sport while making a statement about the ideal of inclusivity -- which does not mean that battle has been won in the United States or anywhere else, but its importance has at least been acknowledged. The sexual orientation of some of its members should be as irrelevant to outside observers as it is to their ability to serve a tennis ball, or score a goal, or execute a Tano triple lutz.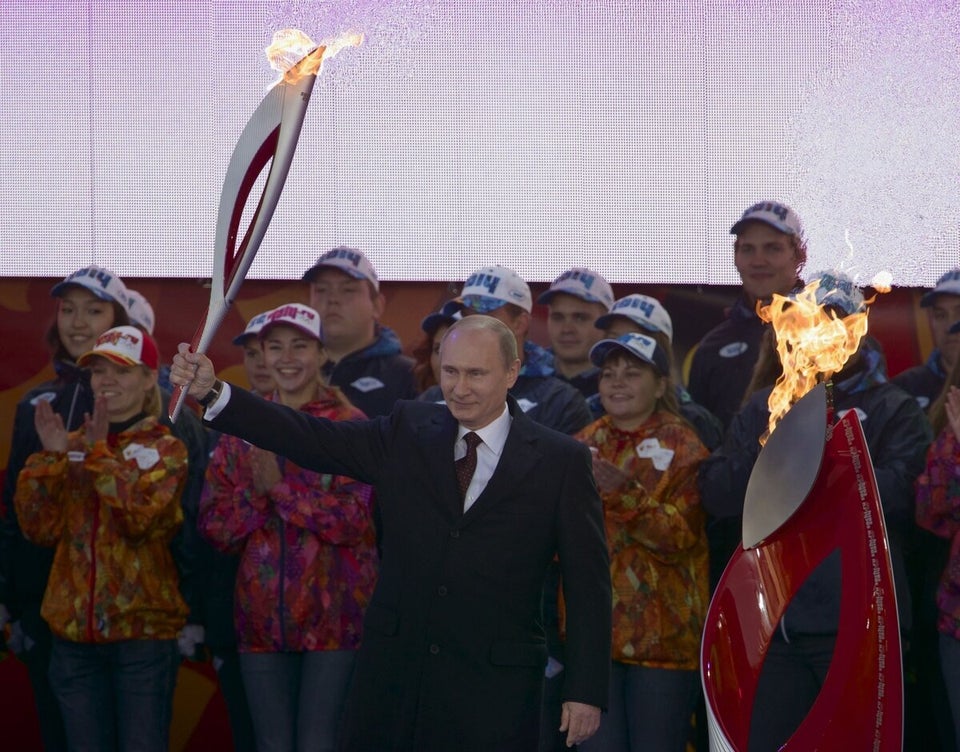 PHOTOS: 2014 Sochi Olympic Torch Relay