Today, on the eve of the Sochi Olympics, over 200 writers from around the world -- including Margaret Atwood, Salman Rushdie, and Russian novelist Lyudmila Ulitskaya -- published an open letter condemning the Russian government's attacks on free expression, and calling on Russia to create "an environment in which all citizens can experience the benefit of the free exchange of opinion."
Regrettably, as the globe's attention turns to Russia for a celebration of sport, the Russian reality is that Vladimir Putin's administration persecutes sexual minorities, brutally suppresses political dissent, and supports Bashar al-Assad's murderous regime in Syria, among other intolerable transgressions. All of these abuses rely on a culture of impunity and corruption, and the absence of the rule of law. As such, addressing these fundamental problems is essential to improving the human rights situation in Russia overall.
To that end, I recently chaired the inaugural meeting in Brussels of the Justice for Sergei Magnitsky Inter-Parliamentary Group. While working in Moscow as a tax attorney for a London-based investment fund, Magnitsky uncovered widespread corruption, which involved senior officials from six Russian ministries and deprived Russian taxpayers of over $230 million. In 2008, he testified against those responsible, and was subsequently arrested and imprisoned at their behest without bail or trial in Botkyrka, where Holocaust hero and honorary Canadian citizen Raoul Wallenberg was once held. Tortured in detention, Magnitsky refused to recant even as his health deteriorated, he was denied medical treatment, and, after excruciating suffering, he died in jail in November 2009 at the age of 37. Earlier this year, in a move that would make Kafka blush, Magnitsky was posthumously tried and convicted of the very crimes he had uncovered.
On the fourth anniversary of his death, our group -- comprised of 22 legislators from 13 countries -- met in an effort to bring Magnitsky's tormentors and murderers to justice, and in so doing, to promote innovative ways of protecting human rights in Russia. For example, we are seeking to rename the streets in front of Russian embassies in our respective countries after Sergei Magnitsky, just as the street on which the Soviet embassy in Washington was located was renamed after dissident Andrei Sakharov in the 1980s.
Our group is also pursuing legislative action. Given that the Russian government is unwilling to prosecute those responsible for Magnitsky's murder and the corruption he exposed -- indeed, certain officials in the Russian government are themselves complicit and have even been rewarded for their criminality -- it falls to members of the international community to bring them to justice as best we can. Accordingly, one of the primary initiatives advocated by the Inter-Parliamentary Group is the internationalization of the measures contained in the United States' Magnitsky Act, enacted just over a year ago.
The Magnitsky Act freezes the American assets of the guilty parties and bars them from entering the United States. Comparable measures have been recently been recommended by the Parliamentary Assembly for the Council of Europe, and I am hopeful that Canada will soon take similar steps; indeed, I have tabled a Private Member's Bill to this effect.
Such measures can be effective because Russian officials tend to store and spend the proceeds of their crimes beyond Russia's borders. They deposit their money in foreign banks, vacation at foreign resorts, send their children to foreign schools, and do business with foreign companies. Consequently, by denying them the ability to travel and trade around the world, European countries and countries like Canada are in a position to impose tangible consequences that may deter human rights violations in the future.
The Putin administration has responded to the U.S. law with reciprocal legislation targeting Americans who supposedly violate the rights of Russians, as well as by suspending cooperation with the United States in the fight against drug trafficking, expelling the United States Agency for International Development, and banning American adoptions of Russian children. Regrettably, an explicit Russian threat to ban adoptions by Irish parents was subsequently successful in derailing action in Dublin, where legislators had been poised to enact sanctions.
Yet, rather than be intimidated by the Russian reaction, the international community should be buoyed by it. Its swiftness and severity make clear that the measures passed in the United States -- and those being contemplated elsewhere -- can have a meaningful impact. Moreover, Russia's response serves to underscore the importance of internationalizing such efforts. Small countries acting on their own are susceptible to Russian intimidation, but a global movement would be much more difficult for Russia to counter with petty threats.
In an effort to create such a global movement, the first meeting of the Inter-Parliamentary Group coincided with the launch of a collection of essays edited by Russian-French journalist Elena Servettaz, entitled Why Europe needs a Magnitsky Law: Should the EU follow the U.S.? As I wrote in my contribution to the book, "human rights violations are always of global concern."
Thus, as the world prepares to gather in Russia in the Olympic spirit of unity and fellowship, those Russians who have been and still are victimized and persecuted by their own government must be front-of-mind. Indeed, their cause -- and that of Sergei Magnitksy -- must continue to burn brightly even after the extinguishing of Sochi's Olympic flame.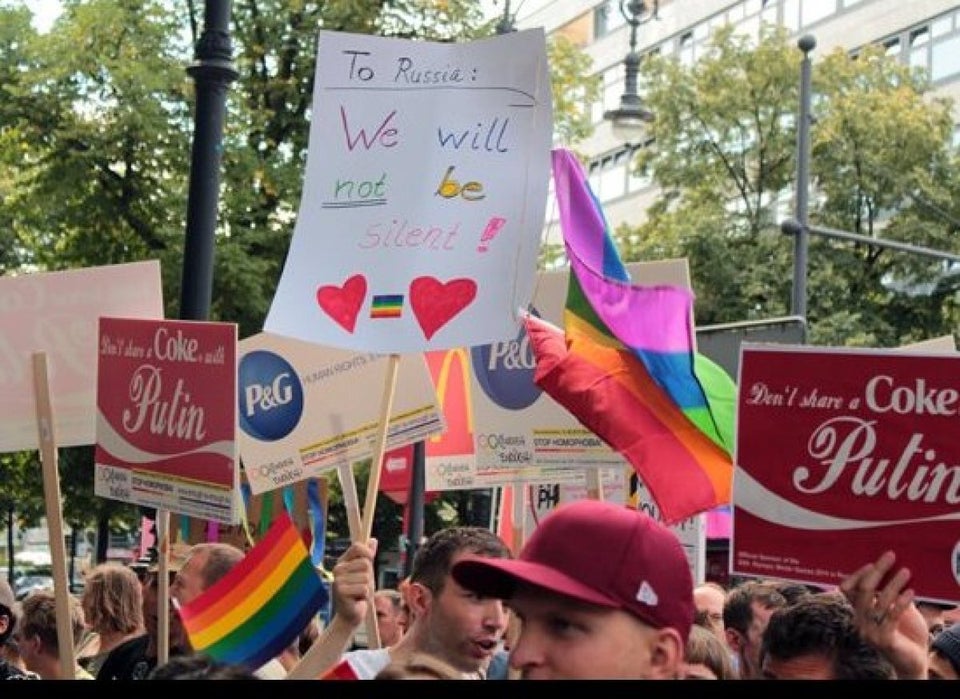 Anti-Putin Demonstration In Berlin: Enough Is Enough