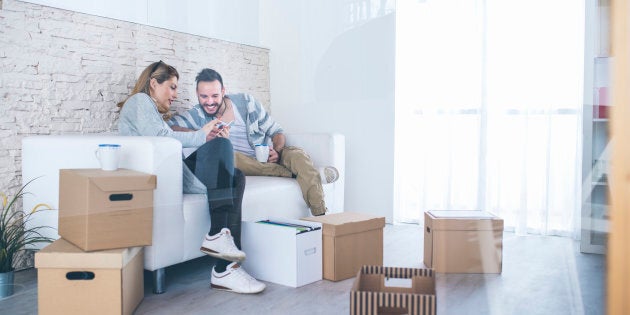 To say that social media has become part of everyday life would be an understatement. From headlines of fake news stories having major social and political implications to the recent milestone that Facebook hit 2 billion monthly users (that's over 25 per cent of the global population), social media has truly changed the way the world operates. To put these numbers into perspective, the following graph from TechCrunch shows just how many people use various social media platforms, and the numbers are staggering.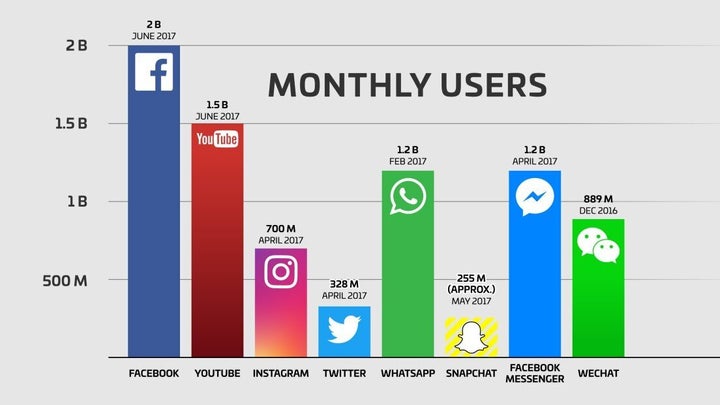 While many industries have been disrupted by technology and the integration of social media in daily life, the real estate industry has been transformed. Chances are that you have seen the changes first hand. Tweets from a friend saying they're looking for a new place to call home or Facebook posts consisting of real estate listings (with images, price, contact information etc.) are just some of the examples you have probably come across. Each platform attracts different users for a reason, and naturally each one has its own specific benefits. As a result, the real estate industry has been heavily influenced by social media and the way people use their favourite platforms.
As Canada's leading online apartment finder, we have been one of the leaders and pioneers of incorporating social media into the real estate category with over 300,000 + followers and fans on Twitter, Facebook, Pinterest, and Instagram. So our hyper-active team of social gurus decided to break down the benefits that some of the top platforms offer for those in the real estate market. We also did some research on the type of user that is most likely to use a specific platform, and all information regarding personality types is taken from the latest Myers-Briggs® Type and Social Media Report.
Twitter – Proof that 140 characters is all you need to communicate! At least, 300 million people think so. The use of hashtags and abbreviations makes it somewhat difficult to add a lot of written content in a Tweet, but it's extremely useful for sharing links to websites, digital listings and images. Furthermore, if you can get a real estate listing trending, you can reach a lot of people in a specific area or demographic. The Myers-Briggs report indicated that 44 per cent of users use the platform for making recommendations at least 1-2 times per week, although, 53 per cent of Twitter users never post any updates.
Twitter is also extremely useful for building up a list of followers that you want to communicate new opportunities and listings with. For example, a building owner can Tweet when units become available or showcase in-demand listings, and those who are interested can check out these tips on how to utilize Twitter to sell or rent your place. Conversely, property or building owners can communicate building updates and important information to their list of renters and keep everyone up to date on building news. However, it should be noted at this point most people prefer to receive important communication via email.
Facebook – It's not an exaggeration to say, 'everyone and their grandmother' is on Facebook. In the United States, more people use Facebook than those who don't and it's predicted to remain the most dominant social media platform (by a large margin) well into 2020. In terms of using the platform for real estate, the possibilities are endless, as there are no shortages of online tutorials of how to post real estate listings on Facebook.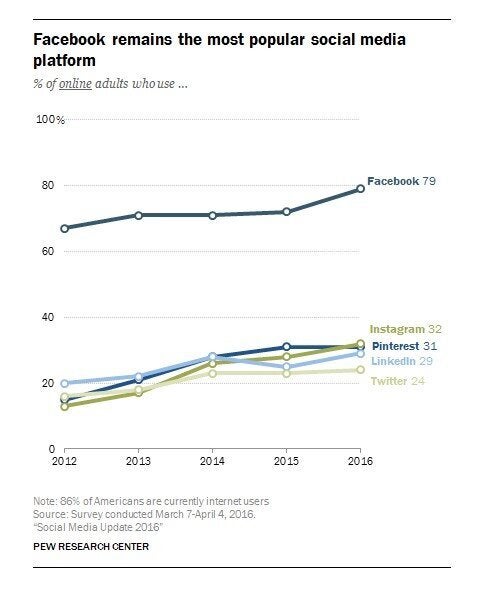 However, while it's possible to use Facebook to create listings that anyone can view, it's much more powerful than that. Your online listing can be shared with the click of a button, and with every software update there are more options for promoting and finding opportunities. You can take 360 degree photos and quickly post them, making it very easy to showcase the inside of homes or give a personal view of a property. Combine this technology with geo-located posts, and you have one powerful platform for real estate. Lastly, it's been shown that you are more likely to generate new leads with Facebook more than any other platform.
Instagram – The platform that proves a picture is worth a thousand words. Instagram focuses heavily on images, making it a great place to showcase pictures of your beautiful listing. There is a trend for sellers and property owners to create accounts for their listings, and you can share high quality images and videos to help promote yours. With the Hyperlapse or Boomerang feature, you can get creative and catch the eye of buyers and renters. Don't forget to utilize popular hashtags to make the most of your posts!
Pinterest – With approximately 175 million monthly users, Pinterest shouldn't be overlooked. This platform is driven by images, even more so than Instagram. Higher end listings with lots to show can do very well on this platform, as half of the Pinners in the US make over $50K a year, and 10 per cent making more than $125K. It's important to note that 81 per cent of Pinterest users are female, and the median age is 40, so listings designed for families can do very well. Just make sure your images are eye catching enough to attract the attention of Pinners!
LinkedIn – Despite this article on 10 ways to use LinkedIn for real estate, it's fair to say far more people use this platform to connect with employers than creating real estate opportunities. However, by creating a Group with work colleges and other people outside of your 'regular' social circles, you never know who you can reach when looking for renters or buyers. The lack of focus on images makes it a hard sell to utilize.
As these popular platforms become increasingly incorporated in our daily life, expect the frequency of real estate posts and related content to increase in upcoming years. Do you use social media platforms when looking for new real estate opportunities? Let us know which platform you use and why!
Follow HuffPost Canada Blogs on Facebook