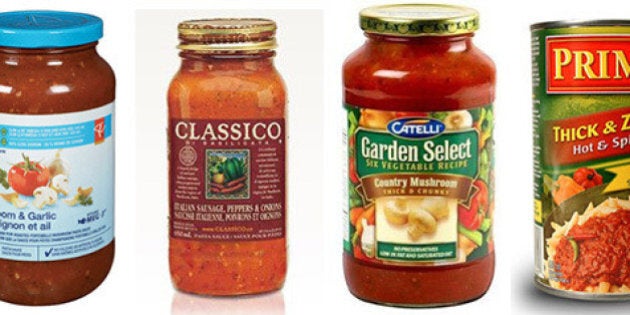 Digesting The Label is a series that takes a look at what exactly is in the food that we're buying and eating from a nutritional standpoint. Every two weeks, we'll examine a food and help determine whether or not it's all it's cut out to be .. or in some cases, even better for us than we thought. This week, we're looking at the sodium content in tomato-based pasta sauces.
It's no surprise there's sodium, sugar and probably some ingredients you can't pronounce hidden in your pasta sauce bottles, but because of their price and convenience, a lot of this can be overlooked.
When you are buying bottled pasta sauce, make sure you watch out for both the sugar and sodium content. Some of the bottles below rack up over 600 mgs of salt per half a cup — Health Canada recommends about 1,000 to 1,500 mg of sodium every day. Canadians eat about 3,400 mgs a day.
Of course, you could make your own pasta sauce simply my mixing onions, garlic, chopped tomatoes, basil and spices, or add extra flavour by adding veggies, meats, cheeses or red wine. If you want to cut back on even more calories and fat, avoid Alfredo and other cream-based bottled sauces. And remember, pasta isn't just about the sauce — keep in mind all the extras like the noodles, additional toppings like meats and cheese, and any sides you have with your meal.
We would like to point that if you don't have the time for making your own batch of pasta sauce, some of these brands below will do. And you can always half-and-half your sauce as well: use 1/4 of store bought sauce and add your own tomato puree.
Take a look below at some popular store-bought tomato sauces and let us know which ones you love/dislike the most!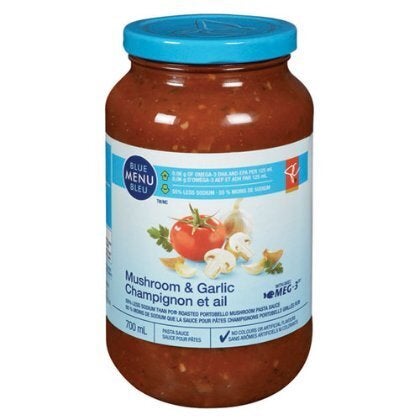 Sodium In Tomato-Based Pasta Sauce
Popular in the Community