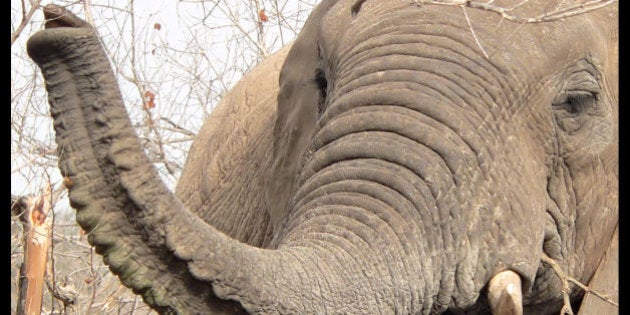 The saga of Nosey the African elephant has been escalated to The White House, as animal welfare groups renew their calls to confiscate the ailing elephant. This, after the US Department of Agriculture (USDA) recently renewed, Hugo Libel's license to exhibit the elephant, despite 200 Animal Welfare Act (AWA) offences and Nosey's deteriorating health.
Over the years thousands of phone calls, letters, emails, tweets, and complaints, have been sent to the USDA, and even 32 U.S. Members of Congress called for Nosey's re-examination. Recently, the California Environmental Institute (CEI), Save Nosey NOW (SNN), and Action for Nosey Now (AFNN) teamed up to strengthen their efforts to free Nosey. They claim that the USDA isn't living up to its legal obligation to protect her under the AWA. In an email interview with me, Richard Isley, the International Director at the CEI stated,
"I find it incredibly offensive that Tom Vilsack believes he is above the law, and he can continue to ignore the overwhelming evidence of Nosey's debilitating condition without someday paying for his arrogance and outright disdain for the animals he has sworn to protect."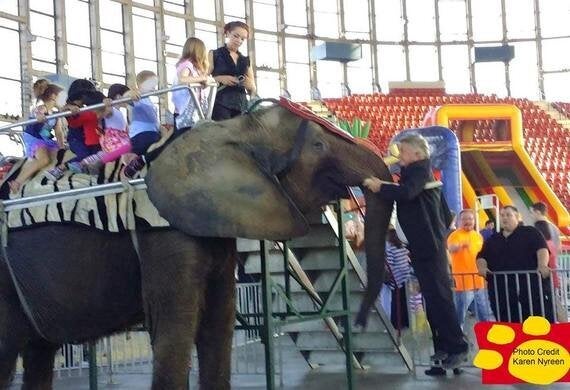 Nosey at a Fair in March 2016 lifting Hugo Liebel with her tusks with a burdened back, Photo: Richard Isley (CEI)
Dr. Philip Ensley, a well-known veterinarian echoes Isley's sentiments. He worked for 40 years in zoological medicine, and has been reviewing and consulting on cases of alleged elephant abuse and mismanagement. He became involved in 2014 through PETA, and has written numerous letters to the USDA about Nosey's miserable life, but his pleas have been ignored. In an exclusive interview with me, Dr. Ensley bluntly stated,
"There appears to be negligence and incompetence at every level, in particular within the inspection process and in the inability to recognize the inadequate veterinary care being provided to Nosey... Nosey is unnecessarily suffering, permanently disabled, crippled, and knowingly being maimed and this should not be permitted or allowed to continue when there is a reasonable remedy available."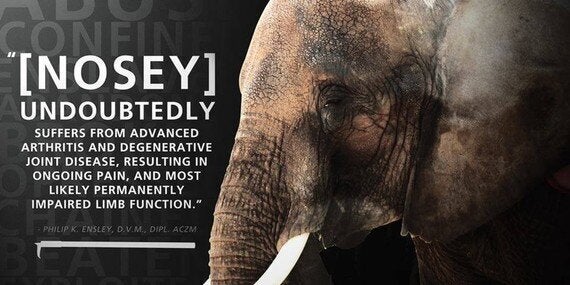 Nosey's bleak prognosis, Photo: Richard Isley, (CEI)
But unfortunately, nothing has changed Vislack's stance. Last year CEI, AFNN, and SNN created Nosey's storybook, and sent it to President Obama but have received no response. CEI's Isley says,
"He appointed Vilsack to this post at the USDA, and he can fire him as well. And he should...In my opinion, the only other people who can influence Vilsack are the Clinton's, who are still the most politically powerful family in the United States. And now we've contacted them."
Subsequently, CEI contacted Hollywood celebrities, including the Academy Award-winning actress Kim Basinger. Isley says,
"This began 5 months of difficult work getting an incredible amount of information to her that she had to study and reflect upon before she made the decision to contact Bill Clinton."
"I realize this is a long shot but someone has to know Thomas Vilsack, the Secretary of Agriculture who can instruct Mr. Kevin Shea Administrator of USDA/APHIS to revoke the license and confiscate Nosey."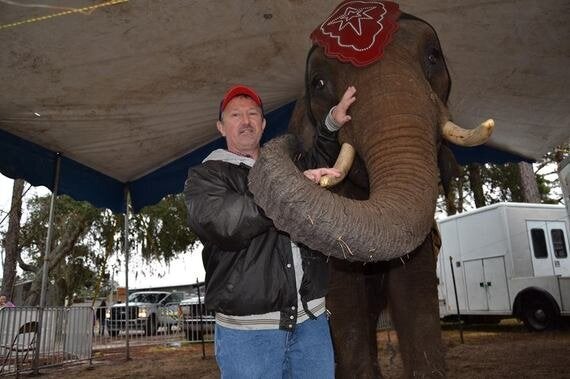 USDA Inspector with Nosey, Howard's Market, March 2016, Photo: Richard Isley (CEI)
As it turns out, the Florida Fish and Wildlife Conservation Commission (FFWCC), license renewal is coming up in early April and activists are closely watching. Karen Ess, Founder of AFNN says,
"We are hoping that our pleas for non-renewal will be heeded. If in the unfortunate case, that her permit is renewed, Friends of Nosey are stronger and more resolute than ever to advocate and prevail in her rescue."
Barbara Trask-Lovett who manages the SNN Facebook group has serious concerns,
"My heart aches for Nosey every time I hear that the FFWCC and the USDA have renewed the licenses for Hugo Liebel to continue displaying Nosey in any way he chooses. Nosey wasn't born for this kind of life, and the very people who are charged with protecting her never do. They continue to cite Liebel for the same things over and over. When does it end? When is it Nosey's turn to live her life? When can she go to sanctuary and be with others of her own kind?"
The harsh reality is, Nosey won't be going to a sanctuary any time soon. Dr. Ensley has revealed that during his December 2014 meeting with FFWCC officials in Tallahassee, it was announced that if the USDA/APHIS renewed Liebel's license, the FFWCC will follow suit. This means the 2016 FFWCC license renewal is a done deal, as the USDA granted in January. Dr. Ensley decries,
"In forty-six years as a veterinarian I have never seen such obvious failures to investigate cases of abuse reported to the highest authority. The Secretary of Agriculture has demonstrated a failure to enforce the AWA. The perception of covering up an obligation to properly investigate cases of reported abuse or suspected abuse remains boldly conspicuous. Secretary Vilsack has made an African elephant named Nosey a "poster child" for abuse."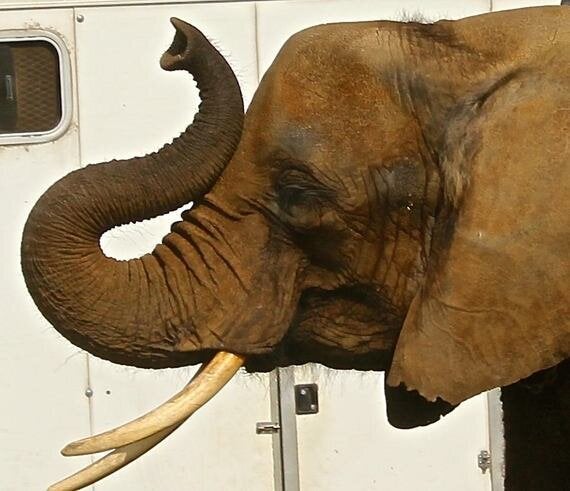 Nosey's Sad Trunk Curl at an Exhibition, Photo: Richard Isley, (CEI)
Meanwhile, as Nosey's fate hangs in the balance, Isley is calling on activists to stop personal attacks on Libel's family in the face of swelling public opposition. He says they are real people, who've lived their lives getting dressed up and performing, and as the crowds are getting smaller, and protests larger, they are realizing that their circus will soon be over.
"They are wrong in the way they have treated Nosey, and Nosey deserves her freedom, but sometimes people don't know what they're doing is abusive. Those children have grown up being taught some wrong lessons, to be sure, but they don't deserve the outright hatred and horrible names they've had to experience. There is no happy ending for the Liebel family."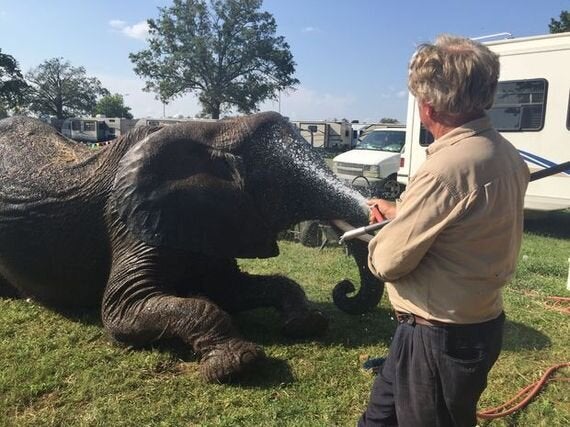 Hugo Liebel Pressure Washing Nosey, Duquoin Fair, Photo: Save Nosey Now
Popular in the Community