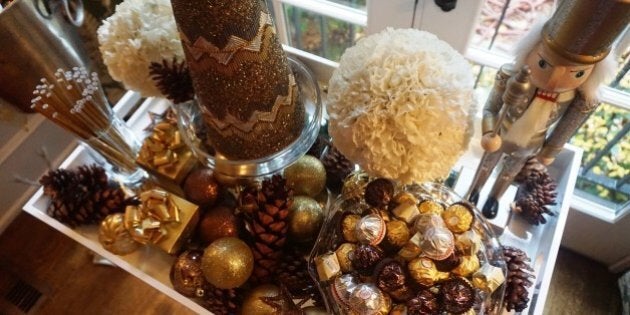 Leading décor and lifestyle maven Janette Ewen believes that you and I can craft a holiday-worthy home. While I appreciate her optimism, I'm uncertain about my skill set in this department -- but -- when an abundance of decadent chocolate is involved, hesitancy dissolves; and you not only have my curiosity, you have my attention ;)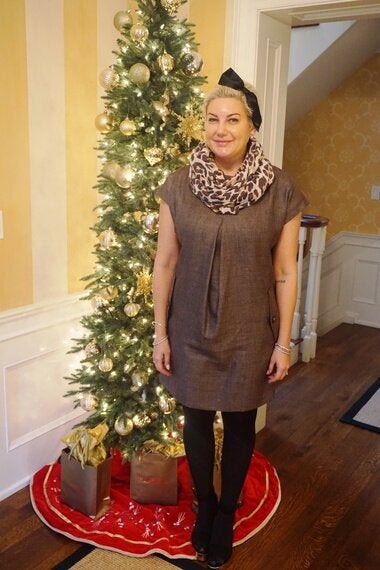 Ms. Ewen, the ever intrepid and talented designer, has transformed a home in Toronto into a lush winter wonderland. And the inspiration? A sweet symphony of sweets. So how could you not want to wield garlands and twinkling lights?
Janette predicts the next trend will be all about luxury. She informed me that the burly-rustic, lumberjack- cabin sentiment is departing and that now we're looking in the opposite direction for design ideas. But it's not outlandish bling we're headed towards, it's comfortable luxury (if there is such an expression). She combines woodland trinkets with her city of gold, which balances everything out.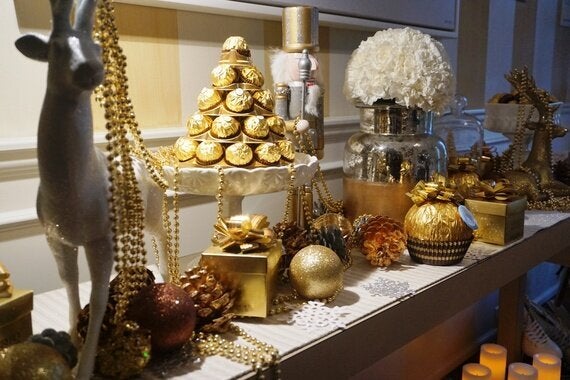 When you first enter the glimmering home, you walk into a welcoming environment. It's because the designs and decor pieces Ewen selected are familiar -- so you feel settled and relaxed. She dots the foyer with baubles and beads, chestnut-boxed presents with shiny silver bows and finishes the look with a bounty golden-kissed chocolate in glass goblets. To me, it's interesting to see how you can integrate food with design and still make it accessible -- in terms of interaction.
When a home is too dressed up it feels as though you're in a museum -- you're afraid to touch anything. That wasn't the case for me here. I felt at ease.. despite my accident-proneness and lack of depth perception (I have been known to accidentally bodycheck myself into a table, the side of a wall before -- but I digress :P ).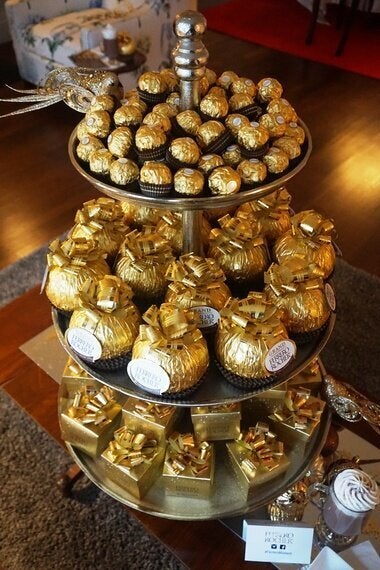 From the entrance, we enter the living room; there's an elegant flow to the design. It certainly helps that the home is spacious as well. Janette sets up "stations" -- gathering places and intimate nooks that help start conversations. There's a fun champagne bar set up as well as a multi-tiered pedestal of chocolates on the coffee table. On the mantle, there's a stunning contemporary reindeer art piece (Woodland Glamour, as she describes it), and flanked on both sides are silver and gold pine-cones, baubles, as well as an assortment of ivory pillar candles. For an effect of fullness, she places a long, broad mirror behind everything.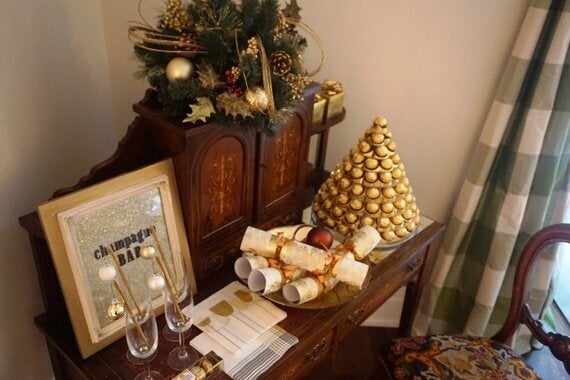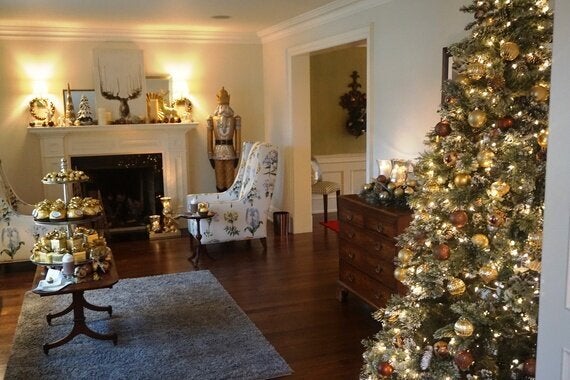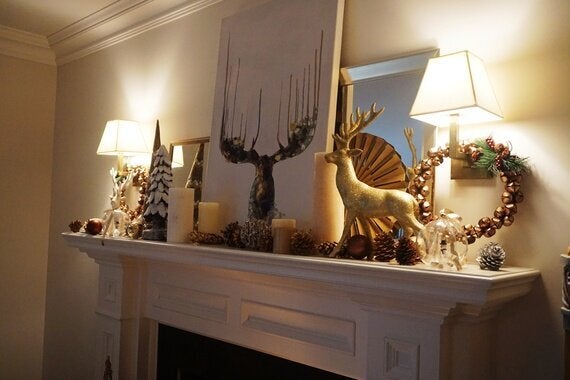 As I'm absorbing the holiday glitz, she mentions some valuable tips: if you want to prevent yourself from becoming overwhelmed, it helps to have a theme in mind. Janette also adds that many pieces that she got were relatively inexpensive (Home Depot, Home sense, Michael's Craft Store). Items such as the name cards, she made herself.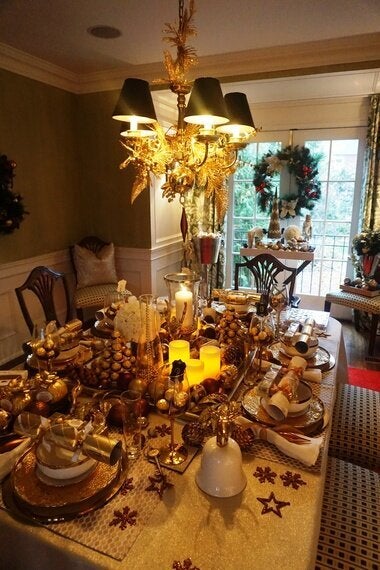 Meanwhile, she invests in sturdy, classic items that can be reused time and again (i.e. art from Mobilia and champagne cooler from Teatro Verde). As well, she's a fan of keeping many serving trays on hand for entertaining as well as rimmed mirrors for holding decorations in. Ewen is also cognizant of shapes and layering with sizes. Most prominently featured is the sphere shape which echos the Ferrero Rocher classic chocolate. But above all else, she stresses that you should have fun with design. Don't be afraid or uncertain to experiment, and look to Pinterest for ideas and layout. If you're new to the design game, there's nothing wrong with copying a idea you love and then sprinkling in touches of your own personality into the landscape.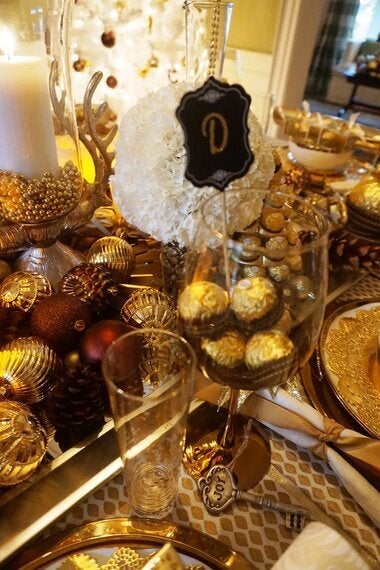 Well, one thing's for certain --- the personality I don when devouring chocolate is joy ;) And to add to my happiness, while we're seated at the dining room table, I'm introduced to a spectrum of new sweets for this holiday season. The box of chocolates is called the Golden Gallery.
It features new creations: Ferrero Manderly (hazelnut filling and whole almond), Ferrero Tenderly (white chocolate and hazelnut centre), as well as familiar favourites, the Rocher Classic and the Rond Noir (dark chocolate). While the Manderly has light citrus notes that I find refreshing, I really enjoyed the Tenderly. I'm not particularly a fan of white chocolate because it's usually too sickly-sweet, but with this one, it was an ideal balance of sugar and creaminess.
The biggest takeaway from this experience, other than my newfound appreciation for getting a space into the holiday spirit, is Janette's mantra of always having a sense of play when doing anything.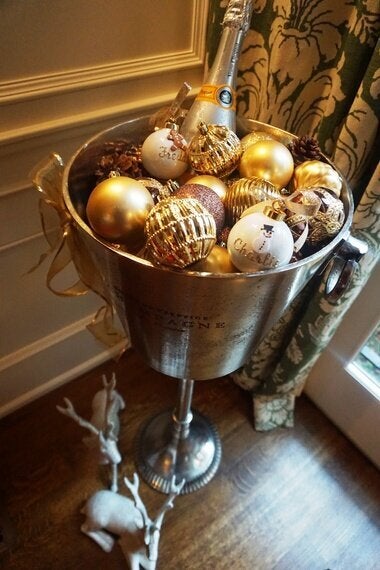 She provides additional suggestions for entertaining and decorating: Everything doesn't always have to be in symmetry when placing items around the home. Don't be afraid to add fresh florals to the mix, too (Janette uses white carnations, which have a great vitality and can last seven to 10 days).
Shop one week before for your items -- it's better to buy too much than too little, because you can always return what you don't use. As well, set up your dining area one day before guests arrive, so that on the day of the celebratory gathering, you can spend more time WITH your loved ones rather than running around making sure everything is "just right." Invest in quality plates and napkins; they can be easily jazzed up with inexpensive ribbons or doily.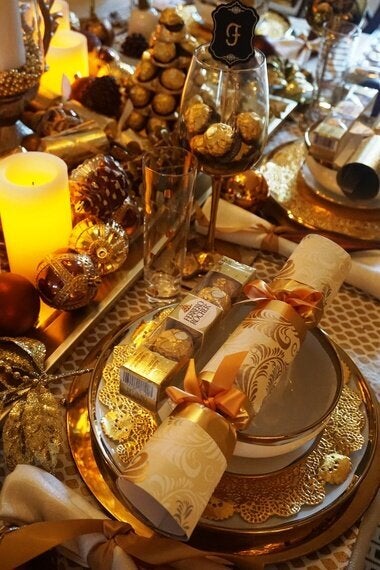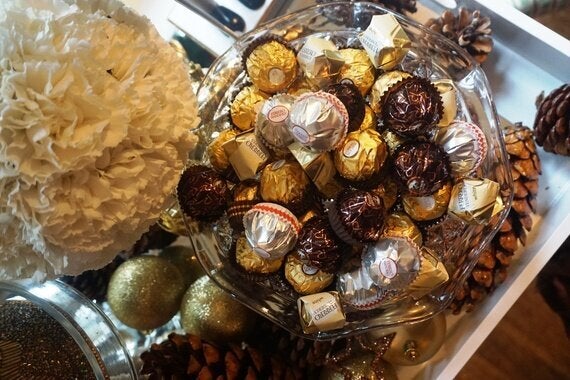 I hope these ideas give you inspiration for the upcoming festive time of year.
Happy decorating and happy eating!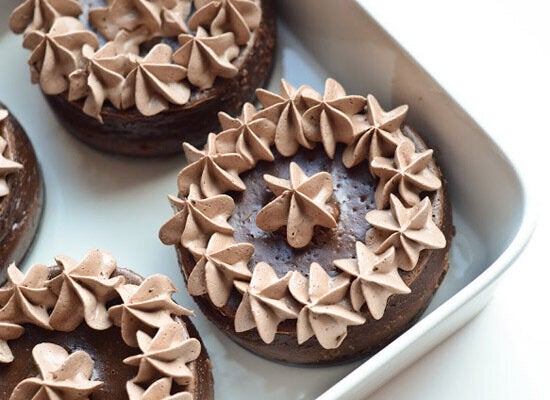 Ferrero Rocher Recipes