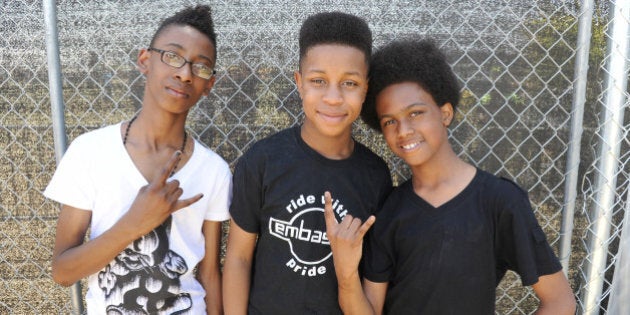 A Brooklyn tween metal trio made headlines in recent days after Sony signed Unlocking The Truth to a recording contract worth a possible $1.7 million. But there are others who hope the trio -- whose collective age is 38! -- know what they are getting into.
Spin reports -- citing an article by The New York Daily News -- the label made a commitment to guitarist Malcolm Brickhouse (13), drummer Jarad Dawkins (12) and bassist Alec Atkins (13) to produce two studio albums with the band. The label also has an option in the contract for an additional four albums.
Should six albums come from the group during the contract the band could earn $1,700,000.
The contract also calls for an advance of $60,000 for the band -- who played some stops on the Vans Warped Tour -- with a possible advance of $325,000 for their sophomore album. The deal was reportedly finalized after Sony flew Unlocking The Truth to Los Angeles for a private performance which solidified the deal. Because the trio are all minors papers were filed in Manhattan Supreme Court and will need court approval in New York State.
"It's so exciting," the drummer's mother Tabatha Dawkins told the newspaper. "We're jumping over the moon. What started out as play dates went to Times Square and now this. It's been one great thing after another."
However, while not wishing to rain on the youthful band's good fortune, there are other artists who hope Unlocking The Truth are getting good advice from a legal perspective. And there is a huge "if" right off the bat: the advances only become reality if the debut album sells 250,000 copies.
According to metal site Blabbermouth, Trivium bassist Paolo Gregoletto wasn't dismissive of the band but practical when considering what faces Unlocking The Truth.
"The young kids that were signed got a $60,000 recording budget for their first album and have to sell 250,000 copies to receive royalties," Gregoletto wrote according to the outlet. "That isn't a $1.7 million-dollar recording deal. I hope that they got a good lawyer and someone looking out for them."
Article continues after slideshow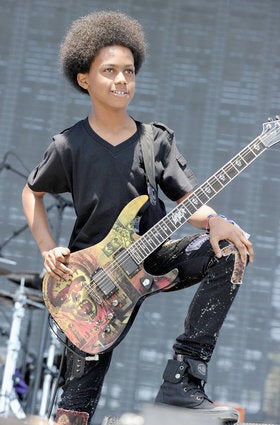 Unlocking the Truth Photos and Videos
Meanwhile, Metal Injection reports Mike Gitter, a veteran record executive now working at Razor and Tie, echoed similar sentiments.
"There is a MONGO-difference between a 60K deal (which probably includes a publishing component) and 1.7 million as klutzily intimated by The Daily News," Gitter reportedly wrote in a Facebook post. "Mini-Max formulas and subsequent options do not make for a deal of that preposterous stature as emphasized here."
The group, discovered by drummer Steve Jordan, is managed by Alan Sacks, best known as the co-creator of the hit '70s television series "Welcome Back, Kotter." They started playing together at age 5 but became internet famous by playing for free in Times Square and this year they were booked for Coachella and some dates on the Vans Warped tour.
There are already plans for a book to be released through Penguin during the holiday season about "people who are being bullied at school" and so they form a band. As band member Jarad Dawkins points out, "it's based on a true story."
"Since I wear nail polish, which is not normal ... people bother me about it," adds band member Malcolm Brickhouse in the video below about being bullied in middle school. "At times it offends me, at times it doesn't. So I just write songs about it."
A documentary on the band is also on the horizon