Sophie Grégoire Trudeau sent out an early message for International Women's Day this year — and it may not be what many were expecting.
In an Instagram post, the former journalist called for women to celebrate the men in their lives to "ignite change."
"This week, as we mark International Women's Day, let's celebrate the boys and men in our lives who encourage us to be who we truly are, who treat girls & women with respect, and who aren't afraid to speak up in front of others," Grégoire Trudeau captioned the pic of her and the prime minister holding hands.
"Take a picture holding hands with your male ally & share it on social media using the hashtag #TomorrowInHand," she continued. "Together, we can create a movement that inspires more men to join the fight to build a better tomorrow with equal rights & opportunities for everyone… because #EqualityMatters."
While the feedback from her followers has been mostly positive, many Instagram users aren't so sure IWD is the right day to be celebrating men at all.
"Really! Nothing says celebrating women, like celebrating men," one person commented.
"Or why don't we all share a picture of a woman who inspires us instead!!! Because men always get the credit," said another.
Calgary MP Michelle Rempel wasn't exactly pleased either, and wasn't afraid to sound off about the matter on Twitter.
Other Twitter users also joined in.
"There's lots of things you can do to be a better feminist as a man but here's a simple one: don't interrupt women, and notice every time women get interrupted in conversation," Trudeau declared last April.
Late Tuesday, Grégoire Trudeau posted a message on her Instagram page following the backlash.
"Well, now we're having a conversation!" she wrote. "Thanks to everyone for your feedback and pics! Love it. Our goal is gender equality, and fighting for it is going to require men and women working together — raising our boys and girls to make a difference, hand-in-hand."
"This is about recognizing that we should be allies on this journey," she added. "I look forward to talking more about this tomorrow at events with Plan International Canada and Equal Voice. Stay tuned..."
The 41-year-old later posted two videos, in English and French, sharing her thoughts on International Women's Day and gender equality.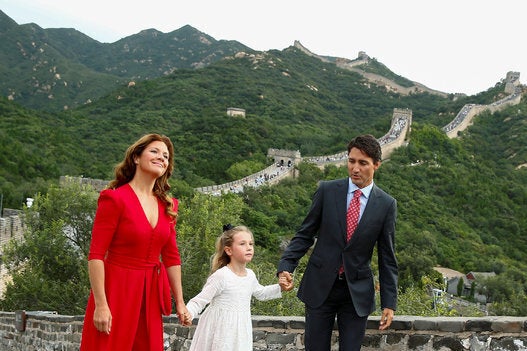 Justin Trudeau's Kids Through The Years